Olivia Wilde's Red Carpet Milestones
With a slew of new movies on the way, the House star is quickly becoming one of Hollywood's most sought after on the red carpet. Check out some of her biggest fashion hits and style misses to date.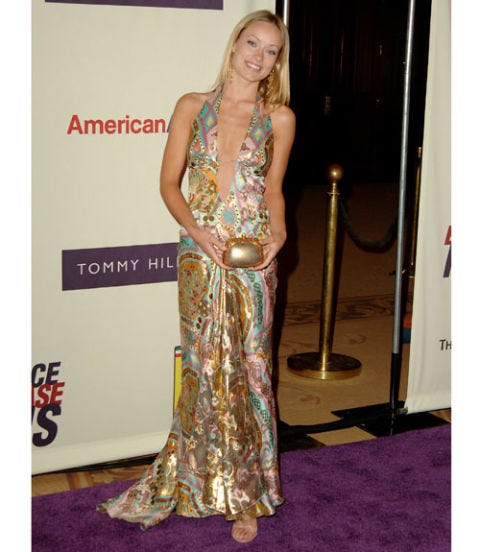 April 2005
This year saw one of Wilde's earliest defining roles: the grunge-y, tattooed and studded Alex Kelly on Fox's megahit, The O.C. But at the Race to Erase MS benefit in L.A., she looked anything but. With the dress' plunging neckline and metallic pattern pattern reminiscent of a Lisa Frank notebook, she displays her unique sense of style … and her killer bod.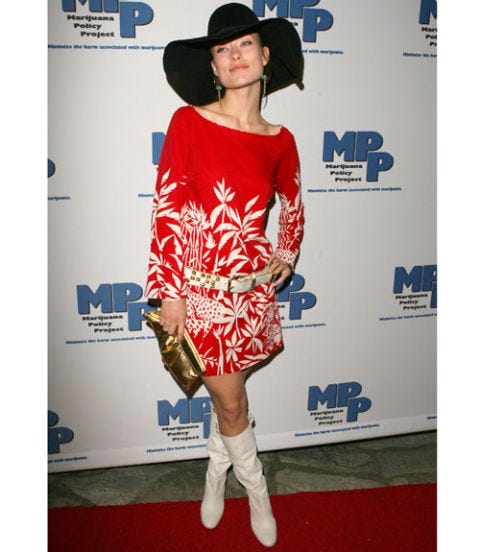 March 2006
The star paired a studded belt with this number for the Marijuana Policy Project Celebrity Fundraiser at none other than the Playboy Mansion. Not only does her crimson tunic sport dozens of marijuana leaves, but her oversized sunhat and go-go-inspired boots give the outfit its own personal flair. Of course, we give her credit for originality.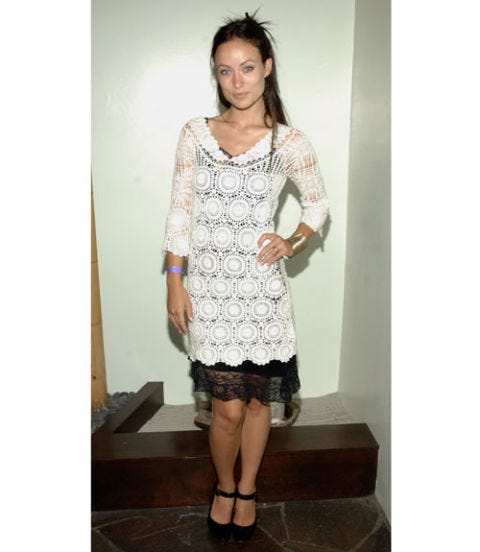 John M. Heller/Getty Images
July 2006
Fast forward five years, and the fashion world will see lace making a huge resurgence. But in 2006 when Wilde starred alongside Bruce Willis and Justin Timberlake in Alpha Dogs, crochet was still associated with your grandmother's closet.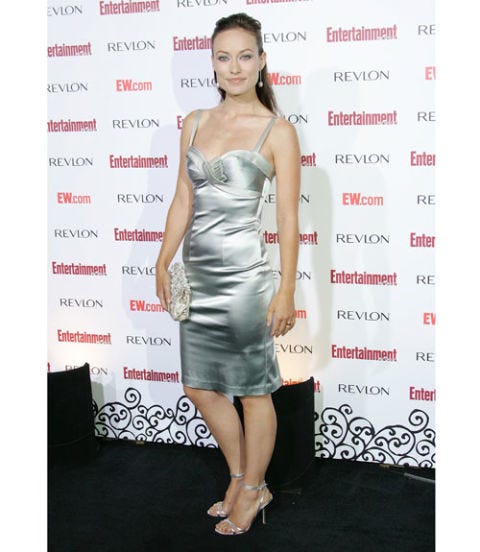 September 2007
The actress showed her curves in a silver, slim fitting cocktail dress at a pre-Emmys party in L.A. With accompanying shoes, clutch and minimal jewelry, this star's beauty shines through thanks to the outfit's stunning simplicity.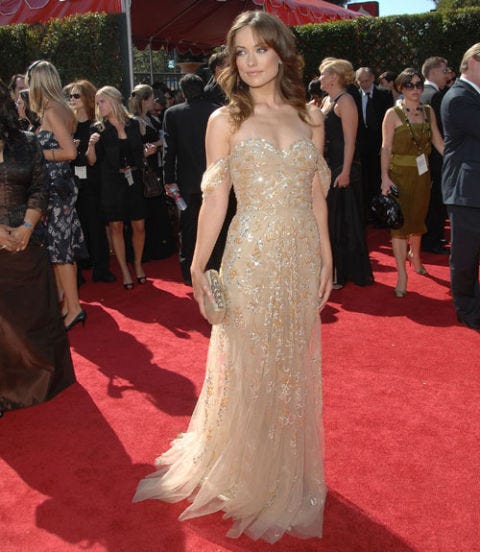 September 2007
A day later, Wilde debuted one of her most recognized ensembles on the Emmy Awards red carpet. The nude, embellished gown and slightly tousled hair depict a sophisticated, elegant glamazon. Proving just how versatile the actress really is, this look quickly made the top of many of the night's best-dressed lists.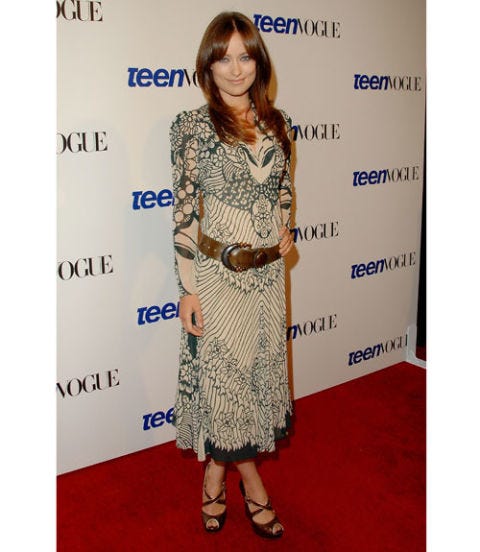 September 2007
Wilde went on to attend a Young Hollywood Party later in the month, where she favored a patterned, bohemian outfit over something more delicate. The dress' busy pattern, once again paired with a heavy, Western-inspired belt makes for a distinctive, casual outfit — perfect for a star on the rise.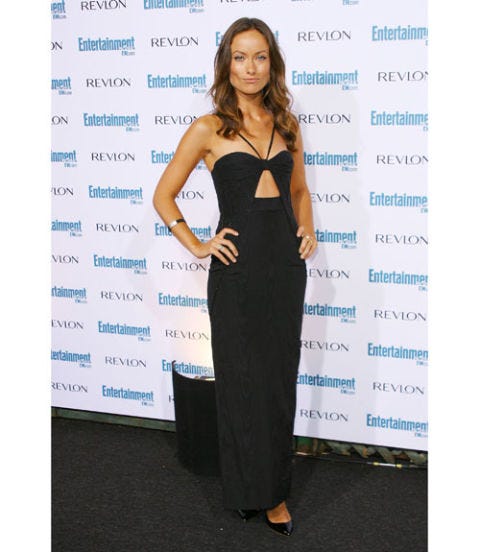 September 2008
In the year since 2007's Emmys, Wilde starred in Fix, a film fest favorite. At Entertainment Weekly's Emmys bash in Beverly Hills, Wilde bared her bronzed, slim body in this floor-grazing cutout frock. Simple, sophisticated, and sexy.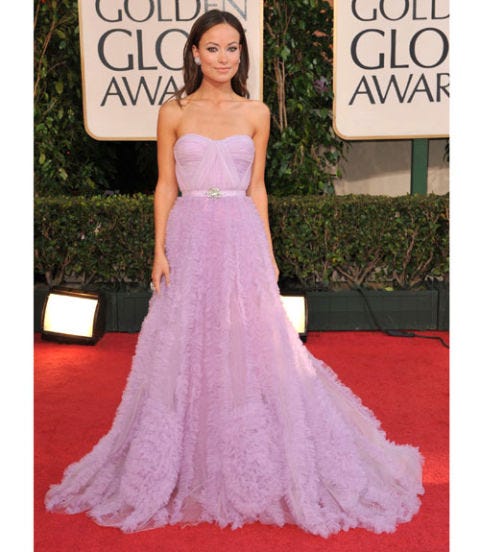 January 2009
At the Golden Globe Awards, Wilde once again traded in cutouts and chunky accessories for an awe-inspiring strapless lavender Reem Acra gown. She looked nothing short of exquisite with the dress' ruffled skirt and soft ruched bodice. At the end of the evening, she walked away as one of the event's best dressed, once again.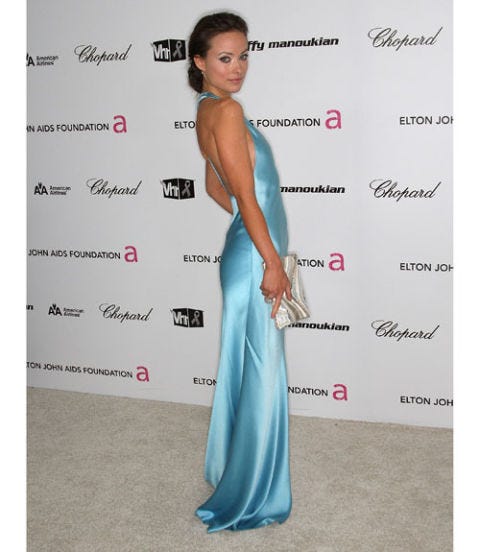 February 2009
Wilde reveals one of her favorite body parts, her back, with this slinky satin Ralph Lauren gown at the Elton John AIDS Foundation party in Hollywood. Sweeping her hair back in an elegant updo, she created a simple, lovely silhouette that remains one of her most stunning looks.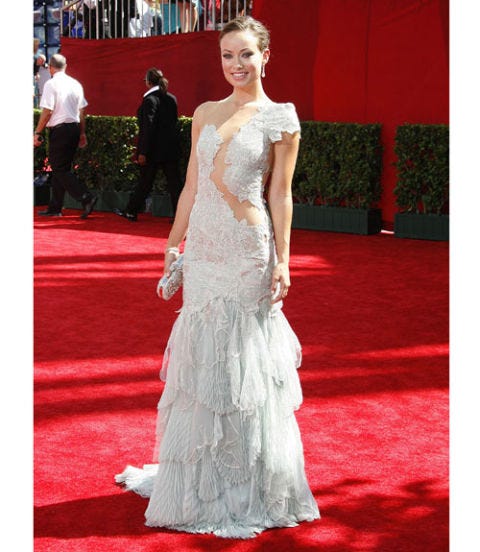 September 2009
In this absolutely astounding Marchesa gown, Wilde managed to wow yet another awards show audience at the Emmy Awards. Complete with a nude mesh back and powder white detailing evocative of Swan Lake, she certainly turned heads with this stunning number.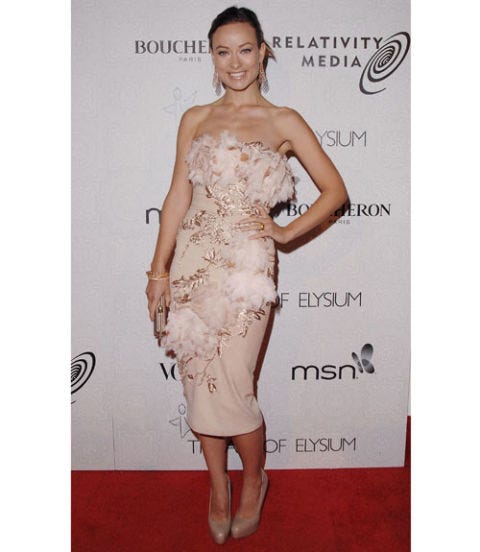 January 2010
Once again in Marchesa, Wilde wore a feathered floral dress at The Art of Elysium's Black Tie "Heaven" Charity Gala in Beverly Hills. And although it's less simple and elegant than her gowns in recent past, she still stuns with the dress' fit.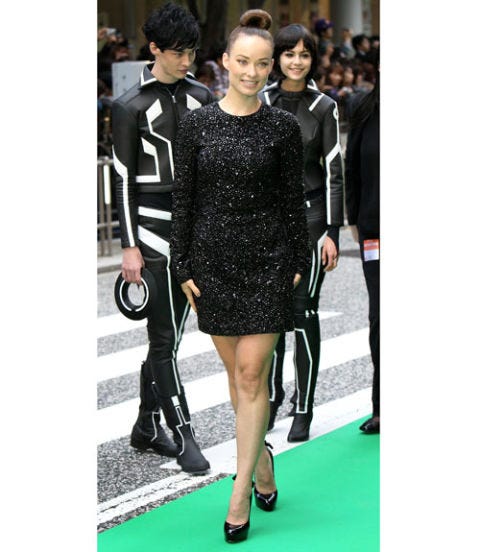 October 2010
Later in the year, Wilde channeled her best Quora imitation at the Tokyo International Film Festival opening of TRON: Legacy. With her sequined mini, patent pumps, and tighter-than-tight topknot, Wilde looked perfect for a night out on the town within The Grid. TRON fans, you understand completely.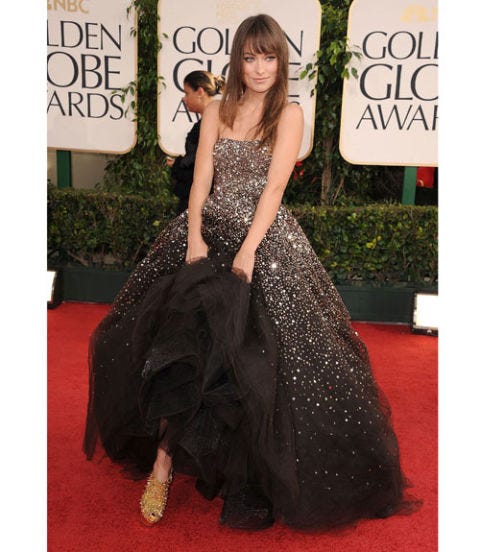 January 2011
At the Golden Globe Awards, Wilde stepped out onto the red carpet in what is fast becoming her signature: a sparkly Marchesa gown. The insanely huge skirt made this look an iconic one. And who can forget those killer gold shoes — spiked ankle boots from Christian Louboutin.
Pascal Le Segretain/Image Entertainment
January 2011
Shortly after the Golden Globes, Wilde jetted over to Paris for Haute Couture Fashion Week and made an appearance in the exact opposite of that voluminous gown — a pant ensemble. Here at a Gucci Dinner at the Italian Embassy, the star proves that she can rock whatever curveball fashion throws at her with a fresh take on harem pants and a quirky asymmetrical jewel-toned top.
This content is created and maintained by a third party, and imported onto this page to help users provide their email addresses. You may be able to find more information about this and similar content at piano.io