The 20 Greatest Movie Dresses of All Time
Inspired by our anticipation of Katniss Everdeen's Girl on Fire Dress, we present the best dresses to ever appear in film.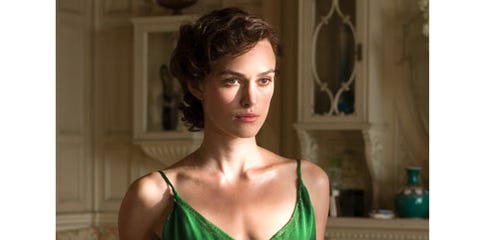 In anticipation of our untethered excitement over the premiere of The Hunger Games, and the moment we've all been waiting for, the big screen unveiling of Katniss Everdeen's Girl on Fire dress (we're really hoping for some CGI here, people!), we're counting down 20 of our favorite gowns ever to grace the big screen.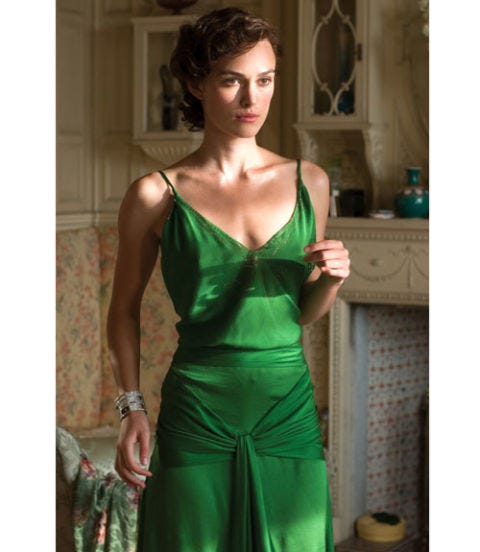 Keira Knightley, Atonement
Easily the best dress on film in the aughts, this floor-sweeping, slinky '40s evening gown by designer Jacqueline Durran had audiences green with envy. As Cecilia, Keira Knightley wore this tantalizing emerald backless number with spaghetti straps, a wide gathered waistband, high front-slit and perforated neckline in the super-sexy scene against the bookshelf with James McAvoy. A jewel of a gown, it's enough to make us renew our library cards.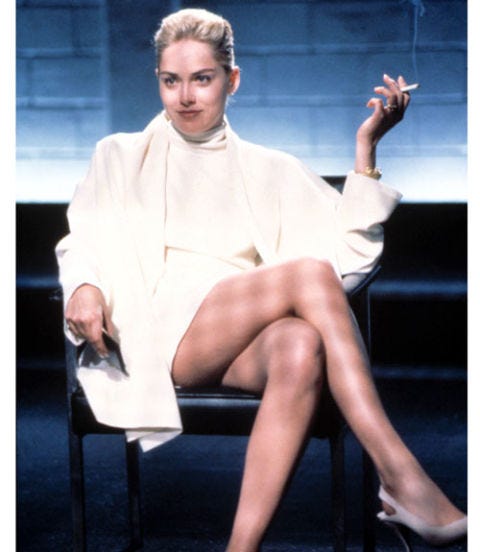 TriStar Pictures/Courtesy Everett Collection
Sharon Stone, Basic Instinct
Sharon Stone perfected minimalist, '90s chic in this crisp, short shift dress with a roll-neck and high-cut armholes when she made a quick, provocative wardrobe change before going downtown for police questioning. Made of winter-white wool crepe by Ellen Mirojnick, its innocent color became anything but during an infamous interrogation scene that left undergarments at an, er, minimum.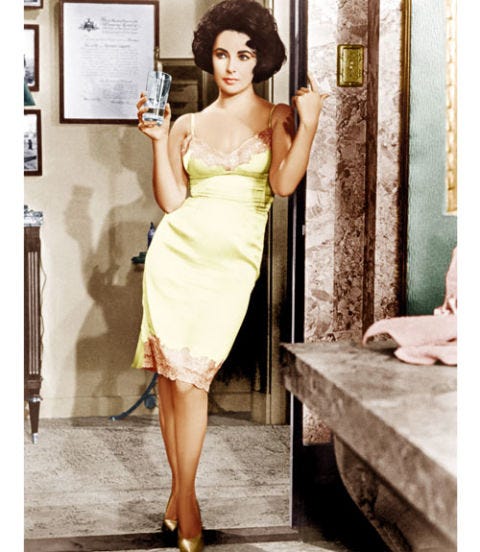 Elizabeth Taylor, Cat on a Hot Tin Roof
Technically, this goes under the dress, but leave it to Liz Taylor to make the full slips and heels she wore as feral cat Maggie in Cat on a Hot Tin Roof as much of a fashion-statement as her carefully-crafted Edith Head gowns. Lingerie as day-wear has never seemed so elegant.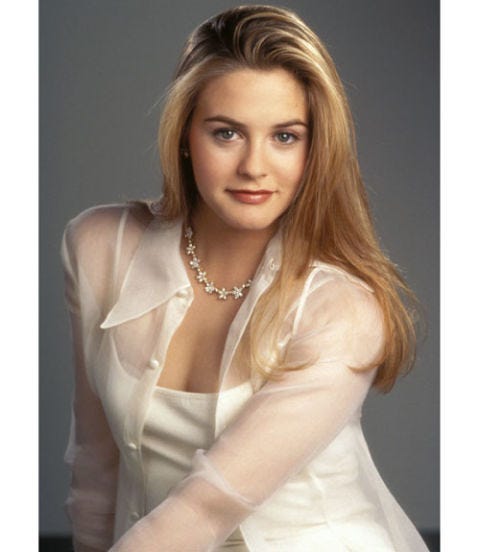 Paramount/Courtesy Everett Collection / Everett Collection
Alicia Silverstone, Clueless
From knee-socks to mixing plaids and argyle with sheer tops, Cher's enviable, remote-controlled closet stole our hearts, but never more so than with the simple, slinky white dress she donned for her ill-fated date with Christian, which spurred one of our favorite parent/child fashion exchanges on screen: "What are you wearing?" demanded her dad on her way out the door. "A dress," responded Cher. "Says who?" he insisted. "Calvin Klein." And we're not the only ones: Current Calvin Klein designer Francisco Costa recreated the dress for L.A. boutique Confederacy in 2010.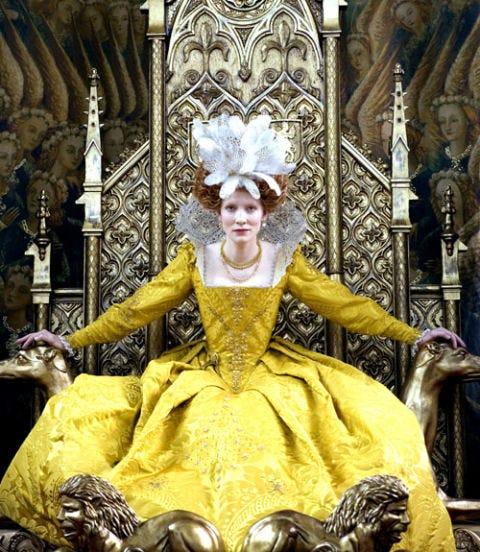 Laurie Sparham/Universal/Courtesy Everett Collection
Cate Blanchett, anything in Elizabeth: The Golden Age
While reviews of this sequel were mixed, no one doubted the magnificent royal wardrobe created for The Virgin Queen by costume designer Alexandra Byrne. From daring lace necklines to sumptuous fabrics and saturated colors (think glittering golds, rich reds and regal purples) the splendor's in the details, and on this set, more was always gloriously more.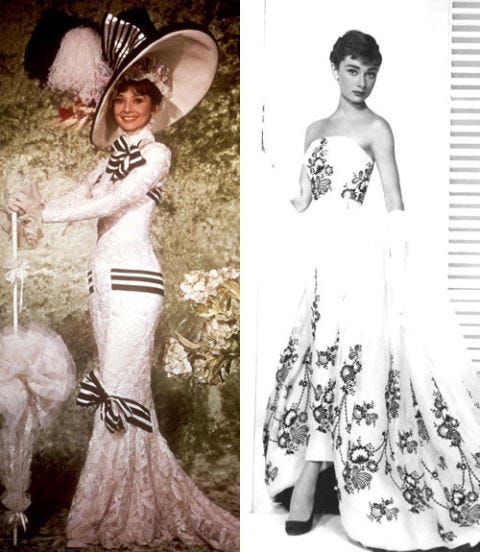 Courtesy Everett Collection
Audrey Hepburn, tie: Sabrina and My Fair Lady
Fashion icon Audrey Hepburn has worn department stores' worth of dreamy concoctions thanks to her bestie, Hubert de Givenchy, who designed many of her dresses on and off-screen. So, we had to declare a tie between Givenchy's uncredited heavenly black-and-white embroidered perfection in Sabrina (with a detachable train, natch) and My Fair Lady's big Eliza Doolittle ascot moment, a slim column lace dress wrapped in bold, contrasting striped ribbon. It won costume designer Cecil Beaton an Oscar for Best Costume Design in the process.
20thCentFox/Courtesy Everett /Everett Collection
Marilyn Monroe, Gentlemen Prefer Blondes
Oh sure, there's the white halter/steam vent dress. But, Marilyn never looked better — or more in her element — than dripping in diamonds and men in this floor-length, shocking pink, satin frock created by costume designer William Travilla and matching pink gloves as Lorelei Lee. Later copied by Madge herself in the "Material Girl" video, the original sold at auction for $310,000 in 2010. (And yes, ladies, this is the only time a large ass-bow has ever worked).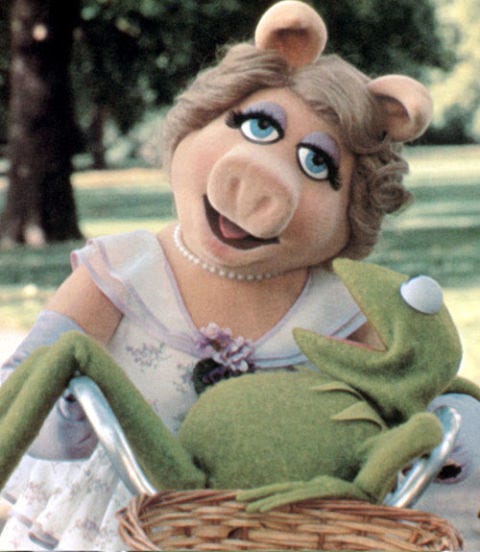 Universal/Courtesy Everett Collection
Miss Piggy, The Great Muppet Caper
We love this demanding fashionista's softer side, like the sweetly ruffled picnic dress she wore for a bike ride around a London park with Kermit. With purple piping and a precious floral print, Miss Piggy's soft curls added another dimension to her demure look — complete with wicker bike basket. How could a frog resist?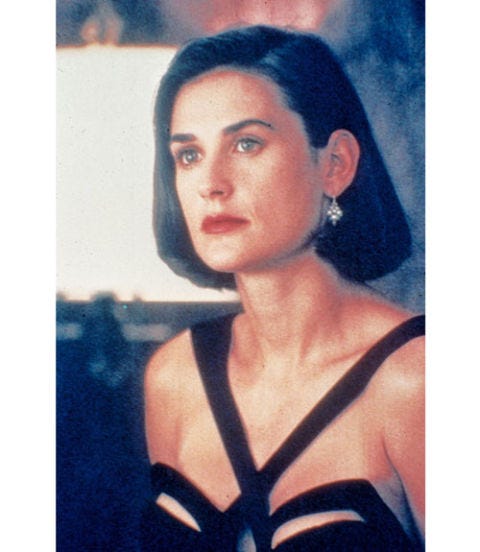 Mary Evans/Ronald Grant/Everett Collection
Demi Moore, Indecent Proposal
MC age alert: Our homecoming court was littered with rip-offs of the Thierry Mugler, strappy stunner that Demi Moore donned as Diana Murphy, the wife who was paid a million smackers to spend one night with Robert Redford. But, did she get to keep the dress?!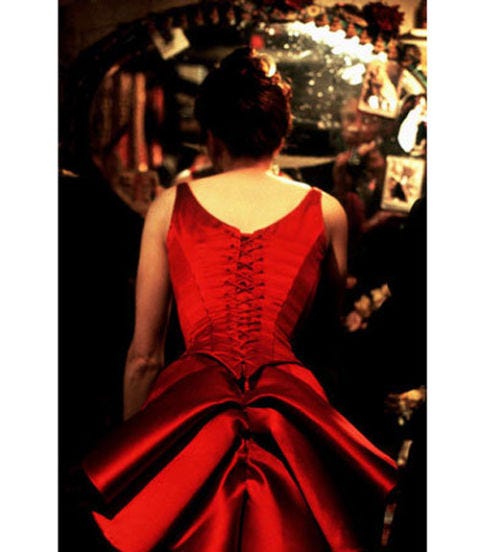 Nicole Kidman, Moulin Rouge
The stylish courtesan strutted her stuff in a lot of bedazzled corsets in Moulin Rouge, but when she was desperate to seal the deal with the unscrupulous Duke of Monroth, she slipped into this seductive, red silk satin stunner that laces up the back. Designed by Baz Luhrmann, Catherine Martin and Angus Strathie, the deep-V bodice also boasts an A-line skirt, train and prominent bustle — definitely a gown to sing about.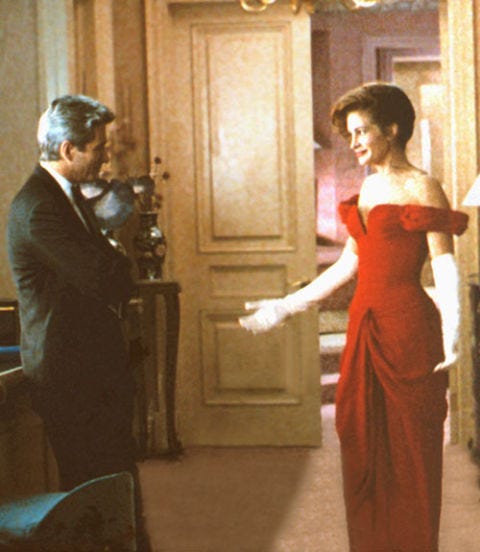 Buena Vista Pictures/Courtesy Everett Collection
Julia Roberts, Pretty Woman
Vivian's transformation from belly-baring hooker with the heart of gold to resplendent opera star in this gorgeously draped, shoulder-revealing scarlet dress was the work of costume designer Marilyn Vance, who later revealed that the studio originally wanted a boring, black dress. When Edward fell in love with her that night, we did too.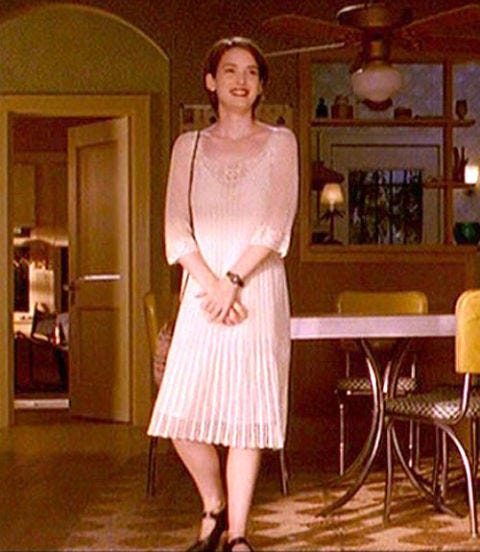 Courtesy: Everett Collection
Winona Ryder, Reality Bites
Our '90s grunge dream closet belonged to Winona Ryder as Lelaina, packed full of penny loafers, long floral print dresses, and '50s cotton dresses five times too large for her. But, the reigning star of her vintage collection was the crochet dress she wore for her documentary premiere. Paired with chunky Mary Janes and bright red lips, looking like "a doily" never felt so contemporary.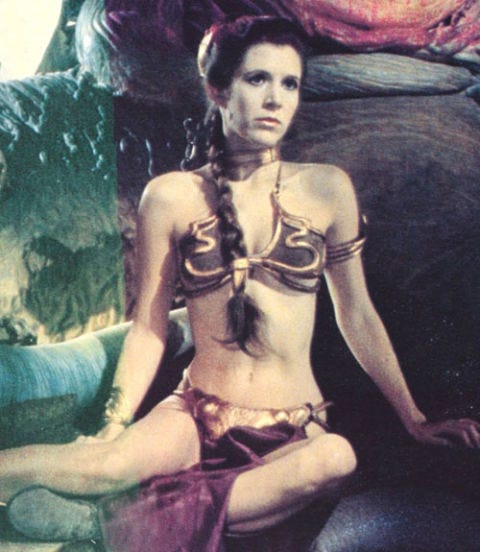 Mary Evans/LUCASFILM/Ronald Grant/Everett Collection
Princess Leia, Return of the Jedi
Something tells us that J.Lo's mad that an enslaved Princess Leia (Carrie Fisher) went there first. This iron-swirled bikini top and matching chiffon skirt designed by Aggie Guerard Rodgers still has fanboys swooning.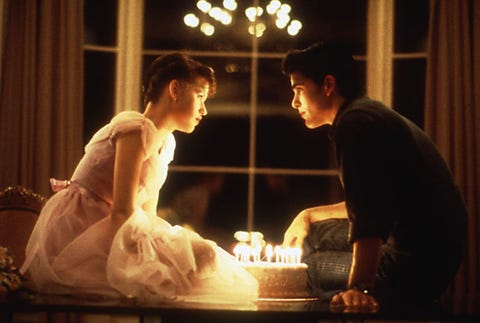 Universal Pictures/Courtesy: Everett Collection
Molly Ringwald, Sixteen Candles
Yes, yes, we know her character designed that pink sack in Pretty in Pink. But, it was in this over-the-top lilac bridesmaid's dress (sans matching floral head wreath) that our girl, Sam, got to smooch Jake in a kiss that still makes us go weak in the knees.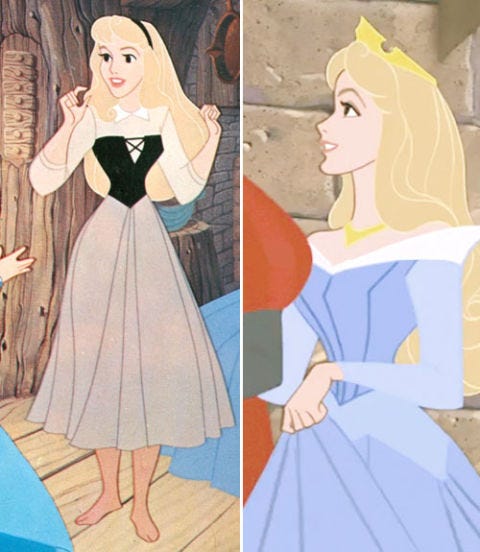 WALT DISNEY/Ronald Grant/Everett Collection
Aurora, Sleeping Beauty
Of all the Disney princesses, Sleeping Beauty's Aurora had a fashionable edge. From her preppy, puritan-chic day dress (so Marc Jacobs this season) to her geometric, off-the-shoulder gown with a highly-structured bodice (and fabric that changed from blue to pink and back again thanks to a fight between the fairies Flora and Merriweather), it's just a matter or time before Katy Perry or Nicki Minaj rip off this stage-worthy ensemble.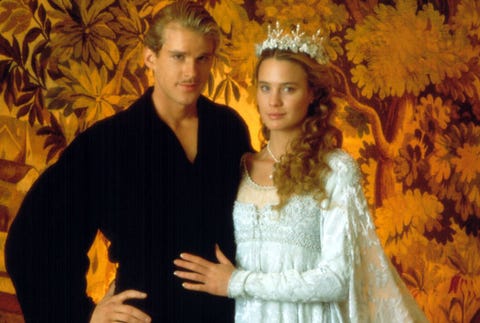 20thCentFox/Courtesy Everett Collection
Robin Wright, The Princess Bride
Want a wedding dress with a kiss of baby blue, flocked velvet and intricate pearl-work? As you wish. Princess Buttercup's bell-sleeve beauty is as delicate as it is escape-ready. Bonus points for the best tiara we've ever seen.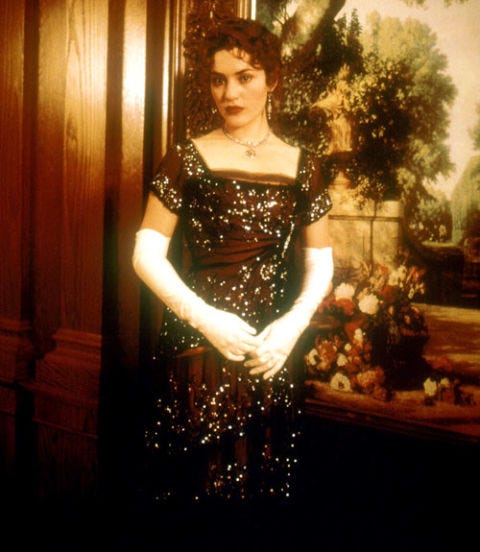 20thCentFox/Courtesy Everett Collection
Kate Winslet, Titanic
Not-so-gracefully dubbed the "Suicide Jump Dress," Rose thankfully had a change of heart before sinking this exquisitely beaded gown. Lined in lightweight, red silk satin, and embellished with an overskirt of jet-black beads and black lace and tulle, designer Deborah Lynn Scott's period masterpiece thawed our hearts to the frosty socialite (even if it couldn't do anything about that iceberg).
Paramount / The Kobal Collection / Fraker, Bud / Colour: Laurie, Jane
Grace Kelly, To Catch a Thief
As one of Alfred Hitchcock's favorite blonde beauties, Grace Kelly positively glowed in this wispy, ice-blue chiffon cocktail dress by Edith Head. Featuring a nipped-in waist, five layers of flowing fabric with a color-blocked stripe of darker blue — plus matching rosette and scarf — the only accessory you'll need to pair this eye-candy with is a toasty tan from the French Riviera.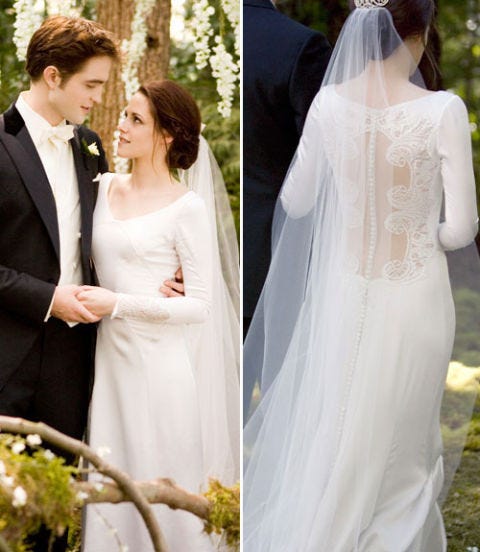 Andrew Cooper/Summit Entertainment
Kristen Stewart, Breaking Dawn
We admit it: in our vampire-loving hearts, Bella Swan's onscreen wedding dress was more exciting than Kate Middleton's — and Pippa's — real-life Royal Wedding ensemble combined. Designed by Carolina Herrera, Bella's gown is a sleek creation of crepe satin, French Chantilly lace and 152 covered buttons with a cut-down-to-there keyhole back (the better to tempt her otherworldly guests with). The CH original comes with a hefty $35,000 price tag, but for you Twihards, the Alfred Angelo knock-off clocks in at just $799. (Just BYO Edward).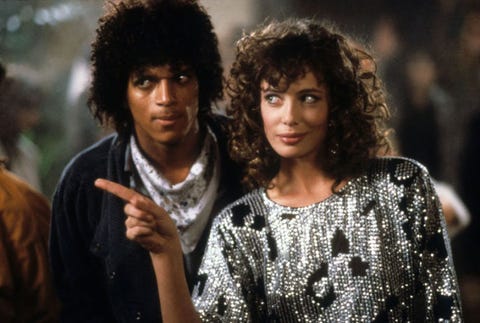 Mary Evans/UNIVERSAL PICTURES/Ronald Grant/Everett Collection
Kelly LeBrock, Weird Science
For our next New Year's Eve party, we're totally craving this silver, leopard sequined, backless '80s number that Lisa, the supermodel Wyatt and Gary created on Wyatt's computer, wore during the party of the decade. (We'd also take the ability to freeze party guests who annoy us).
This content is created and maintained by a third party, and imported onto this page to help users provide their email addresses. You may be able to find more information about this and similar content at piano.io