Editors handpick every product that we feature. We may earn commission from the links on this page.
Project Runway's New York
Project Runway wouldn't be the same without the backdrop of Manhattan woven throughout each episode. Here, a must-see, must-do guide to the city where designers never sleep!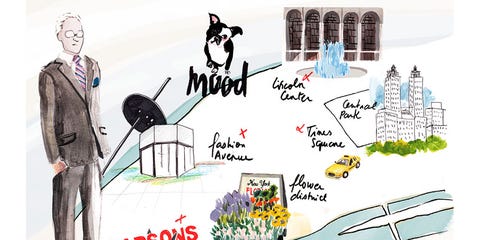 Cassandra Montoriol Alaux
Project Runway wouldn't be the same without the backdrop of Manhattan woven throughout each episode. Here, a must-see, must-do guide to the city where designers never sleep!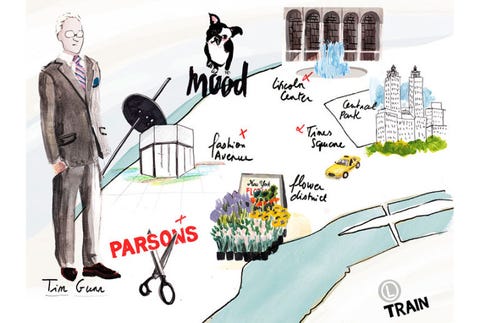 Cassandra Montoriol Alaux
SEE ...
The landmarks Project Runway made famous
MOOD
225 West 37th Street; moodfabrics.com
A one-stop shop for the chicest in designer fabrics, the only thing that draws more customers to Mood other than its eccentric collection of threads is its general manager's Boston terrier, Swatch. The Mood mascot has his own fan club, with many shoppers and PR sightseers refusing to set foot in the store before confirming that Swatch is working that day. Stop by for a chance sighting of PR's designers or to take in tens of thousands of fabric bolts, from an Oscar de la Renta silk print for $16 per yard to a heavily beaded Swarovski-crystal lace for $800 per yard.
PARSONS THE NEW SCHOOL FOR DESIGN
560 7th Avenue; newschool.edu/parsons
Design royalty Donna Karan was a sophomore at Parsons when she was wooed away by her first employer, Anne Klein. Marc Jacobs, Alexander Wang, and Jenna Lyons of J.Crew all call Parsons undergrad home, securing the design school's spot in the fashion hall of fame. The 116-year-old college is home to the workspace for Project Runway designers, as well as the site of many a meltdown and Tim Gunn lecture. We hear the security guards there love dishing little-known Parsons trivia to Project Runway diehards, so pop in for the campus scoop (300 people a day do!).
THE HIGH LINE
Gansevoort to West 34th Street; thehighline.org
Watch the sunset from atop the High Line, a one-mile stretch of elevated railroad tracks now converted into one of Manhattan's top attractions — a lush park that runs along the West Side of Manhattan. It's a go-to spot for season eight designer and Project Runway All Stars' April Johnston to take a breather. "I love the architecture and design of it," she says. "Plus, the almost-panoramic view is priceless."
FASHION WALK OF FAME
Seventh Avenue (35th Street to 41st Street)
Twenty-eight of New York's most influential designers are immortalized on Seventh Avenue, better known as Fashion Avenue, as part of the Fashion Walk of Fame. Established in 1999, the Walk highlights icons like Diane von Furstenberg, Calvin Klein, Betsey Johnson, and Marc Jacobs on a stretch from 35th Street to 41st Street in the Garment District.
THE FASHION CENTER KIOSK
Seventh Avenue and 39th Street; fashioncenter.com
Lost in an abyss of fashion? Visit the Fashion Center kiosk in the Garment District for help on everything from locating the nearest H&M to the best place to score a deal on grommets. You can't miss it — the famous needle-and-button and garment-worker sculptures flank the kiosk.
LINCOLN CENTER
Columbus Avenue and 64th Street; lincolncenter.org
You'll be hard-pressed to find a place brimming with more VIPs from fashion's top tier — fashion editors, models, socialites, and style-obsessed celebs — than Lincoln Center during New York's spring/summer 2013 Fashion Week (September 6 — 13). Project Runway hosts each season finale at the performing-arts hub, with finalists presenting their entire collections on its main stage. (Oh, and it has three world-class theaters, an opera house, concert halls, and is an amazing place for people-watching, too!)
THE HOLE
312 Bowery; theholenyc.com
If you're creative and looking for inspiration, stop in The Hole, a woman-run art gallery that houses experimental exhibitions, artists' books, and alter-native magazines. On September 4, Californian artist Eric Yahnker's mixed-media exhibition "Virgin Birth n' Turf" will open.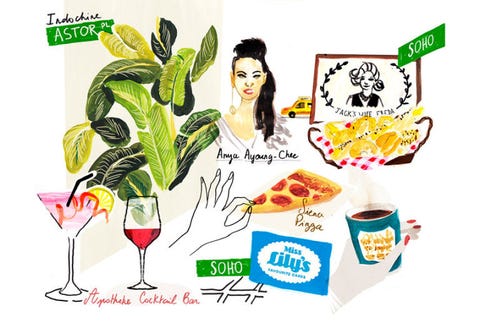 Cassandra Montoriol Alaux
SAVOR ...
Where Project Runway stars go to eat, drink, and unwind
BURGER JOINT AT LE PARKER MERIDIEN
119 West 56th Street; parkermeridien.com/eat4.php
"Burger Joint, tucked away in Le Parker Meridien, has the most amazing burgers and fries. You'd never know it, but that little shack packs a punch!" — April Johnston, season eight
MISS LILY'S
132 West Houston Street; misslilysnyc.com
"Being from the Caribbean, I love the vibe at Miss Lily's. I always get the curried goat; it reminds me so much of home." — Anya Ayoung-Chee, season nine winner
IDEYA LATIN BISTRO
349 West Broadway; ideya.net
"I love going to Ideya Latin Bistro in Soho with my girlfriends for brunch. The cozy and intimate atmosphere, huevos rancheros, empanadas, and Mojitos make it my absolute favorite!" — Kimberly Goldson, season nine
JACK'S WIFE FREDA
224 Lafayette Street; jackswifefreda.com
"I'm addicted to Jack's Wife Freda, a South African — Jewish-inspired restaurant founded by my brother Dean and his amazing wife, Maya. The vibe is cool and relaxed, perfect for a daytime bite or a nightcap. I always get the Peri-Peri chicken and the kale Greek salad, but all the food is delicious. You simply cannot go wrong!" — Kara Janx, season two
INDOCHINE
430 Lafayette Street; indochinenyc.com
"One of my favorite restaurants in town is the legendary Indochine. Its lush decor is one part Yma Sumac and two parts Marlene Dietrich, combined in an atmosphere that's super-glamorous." — Austin Scarlett, season one
BONDST
6 Bond Street; bondstrestaurant.com
"I love the otoro nigiri and lobster tempura at BondSt. The waitstaff is so accommodating — especially to their regulars. Plus, they're all gorgeous." — Mondo Guerra, season eight and Project Runway All Stars season one winner
APOTHEKE COCKTAIL BAR
9 Doyers Street; apothekenyc.com
"Apotheke Cocktail Bar is right up my alley — a unique, dark experience that reminds me of the 19th-century bohemian and absinthe movement in Paris." — April Johnston
THE BOX
189 Chrystie Street; theboxnyc.com
"The Box on the Lower East Side is a New York classic. Its cabaret feel is reminiscent of the city in the 1920s. I had its grapefruit Mojito on my birthday this year and it made me a believer!" — Michael Costello, season eight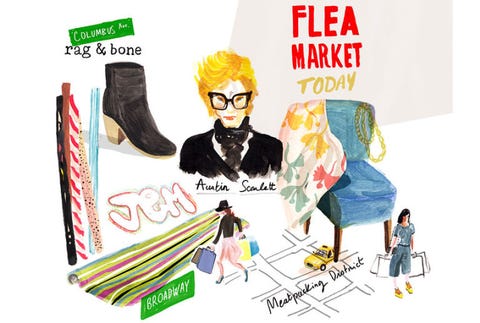 Cassandra Montoriol Alaux
SHOP ...
Don't take our word for it. Buy where the designers buy
MANHATTAN WARDROBE SUPPLY
245 West 29th Street, eighth floor; wardrobesupplies.com
"As a creative, I have a field day in Manhattan Wardrobe Supply. They have everything from storage solutions to sewing notions, crafting supplies to hair and makeup essentials. You go in for one thing and walk out with half of the store. And you can shop on their website if you're out of town." — Kimberly Goldson
TOPSHOP/TOPMAN
478 Broadway; topshopnyc.com
"I always find time to make a quick run to Soho's Topshop/Topman, and I'd advise everyone to do the same!" — Michael Costello
RAG & BONE
182 Columbus Avenue; rag-bone.com
"The Upper West Side is a one-stop shop for me and my crew. My absolute favorite store is Rag & Bone on Columbus Avenue." — Kimberly Goldson
WEST 25TH STREET MARKET
29 — 37 West 25th Street; hellskitchenfleamarket.com
"I've found so many of my favorite pieces at the 25th Street flea market. It's always such a wonderful adventure." — Austin Scarlett
JEFFREY NEW YORK
449 West 14th Street; jeffreynewyork.com
"Stopping by Jeffrey is a no-brainer — it always has the latest designer collections." — Kimberly Goldson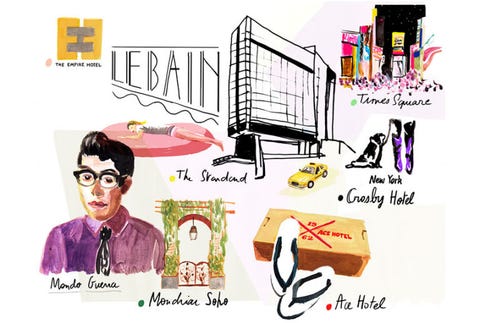 Cassandra Montoriol Alaux
STAY ...
Fashion doesn't stop at sundown. Spend your nights at one of the city's most stylish hotels
THE EMPIRE HOTEL
44 West 63rd Street; empirehotelnyc.com
Take the eye-grabbing neon sign atop The Empire Hotel as an indication of what lies beneath. Instead of retreating early to your room for a full night's rest, you'll want to spend after-hours rubbing shoulders with power players and beautiful people who pack the hotel's rooftop bar once the fashion shows — directly across the street at Lincoln Center — are over.
ACE HOTEL
20 West 29th Street; acehotel.com/newyork
The rooms at the tony Ace Hotel (some available in "loft" style complete with hardwood floors) are the closest you'll get to living in a Manhattan apartment without actually moving here. A magnet for young up-and-comers and their attractive social circles, the hotel manages to outdo itself with an of-the-moment gift shop curated by Opening Ceremony owners Humberto Leon and Carol Lim. Stock up on designer toothbrushes, Proenza Schouler toiletry bags, and gummy candies from France before you leave.
THE STANDARD
848 Washington Street; standardhotels.com
The Standard, true to its name, sets the bar for luxe hospitality. Its leather couches, marble bathtubs, and floor-to-ceiling windows are a favorite of celebrities and fashionistas. Spot them at the rooftop bar, Le Bain, where you can dance through the night in the DJ's lounge, and then take a dip in the oversize hot tub, positioned directly in the center of the club. It's the one place where you'll need your Pierre Hardy wedges and bathing suit at the same time.
CROSBY STREET HOTEL
79 Crosby Street; firmdalehotels.com
If it's good enough for Rachel Zoe, it's good enough for us! When she lands in New York, the super stylist unpacks at the Crosby, where each suite boasts its own unique design. The place is oozing with personality and feels more like your eclectic (but very glam!) artist friend's pad than a hotel.
MONDRIAN SOHO
9 Crosby Street; mondriansoho.com
Home to many a fashion presentation (Ann Taylor's holiday collection has shown here), the Mondrian is an elegant escape from the grittiness of the city. Adorned with whimsical chandeliers, oversize upholstered chairs, and theatrical lighting, it's no wonder the fashion crowd makes its way here every season.
This content is created and maintained by a third party, and imported onto this page to help users provide their email addresses. You may be able to find more information about this and similar content at piano.io