Sarah, Duchess of York's Royal Family Drama Explained
Let's start with the toe-sucking, shall we?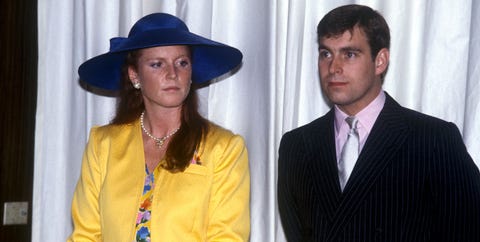 John Shelley Collection/Avalon
Getty Images
Sarah Ferguson became Sarah, Duchess of York, on July 23, 1986, when she married Queen Elizabeth's third child, Prince Andrew. Most people don't know that Princess Diana actually introduced Prince Andrew and Fergie (as she was often called), her brother-in-law and fourth cousin, respectively. (Yes, plot twist, Diana and Fergie were related.) But their bliss was short-lived. Ever since Sarah and Andrew announced their divorce plans in 1992, there has been some a lot of drama between her and other members of the royal family, including the Queen.
Naturally, the Duchess of York will be at her daughter Princess Eugenie's wedding on October 12 when she marries Jack Brooksbank—and nothing sheds a light on family dysfunction quite like a wedding. Behold: a handy beginner's guide to Sarah Ferguson's complicated relationship with the main players in the royal family.
This content is created and maintained by a third party, and imported onto this page to help users provide their email addresses. You may be able to find more information about this and similar content at piano.io