The 10 Best TV Soundtracks Ever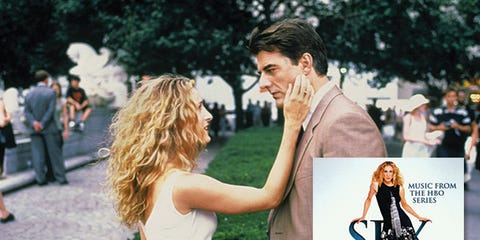 Whether they're currently eating into our social lives, ahem Scandal, or more of a distant memory à la Sex and the City, there are TV shows that are cut above the rest due in no small part to their music. In fact, some compilations have struck a chord with us so profoundly, they soundtrack our real lives. Here, you'll find our edit of the soundtracks that'll not only beef up your record collection, but could very well transport you to a different time or place. Early '00s Orange County or Atlantic City in the Roaring Twenties, anyone?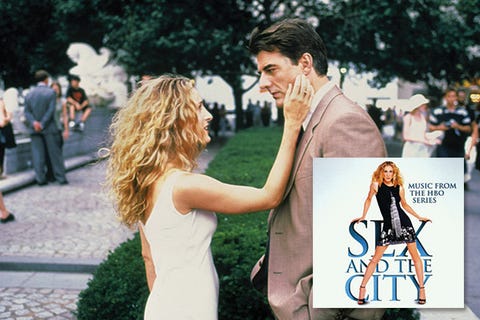 Sex and the City
Let's face it, Carrie Bradshaw's notorious catwalk tumble and subsequent recovery wouldn't have been nearly as empowering without "I'm Every Woman" blasting on the runway. The music on Sex and the City captured the essence of every New York woman with girl power anthems, tender classics, and '90s club jams.

MC's Top Three:
1. "I'm Every Woman" by Chaka Khan
2. "Try A Little Tenderness" by Otis Redding
3. "Calling It Quits" by Aimee Mann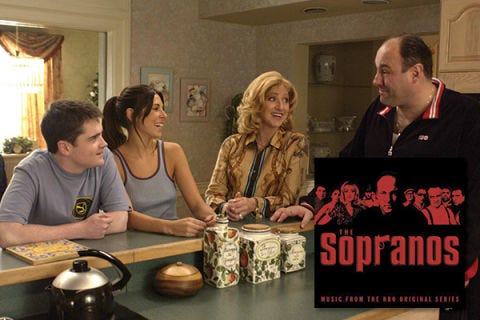 The Sopranos
Yes, The Sopranos had a surplus of Italian pride, pulling the best of Frank Sinatra, Frankie Valli, and Andrea Bocelli, but there's an impressive line-up of rock 'n' rollers such as Bob Dylan, Cream, and Van Morrison who fit right into the mafia storyline.
MC's Top Three:
1. "I've Got You Under My Skin" by Frankie Valli
2. "I'm a Man" by Bo Diddley
3 "I Feel Free" by Cream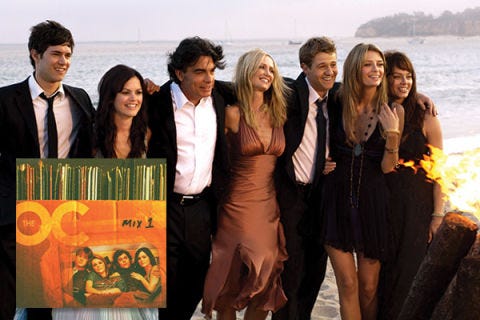 The OC
Nothing has made us yearn for a West Coast move more than The OC's theme song and Seth Cohen single-handedly helped us discover the brilliance that is Death Cab for Cutie. We watched the coming-of-age series while we were coming-of-age, and our first era iPods wouldn't have been the same without it.
MC's Top Three:
1. "California" by Phantom Planet
2. "Champagne Supernova" by Oasis
3. "Hide and Seek" by Imogen Heap
Grey's Anatomy
Grey's Anatomy's tenth season was proof enough they've got an unrivaled music game. Showrunner Shonda Rhimes hand-picked masterful '80s covers to play all through it's second half. But since day one, the show has captivated its steadfast audience with nuanced Top 40 hits and coveted deep cut tunes.
MC's Top Three:
1. "How to Save a Life" by The Fray
2. "Breathe (2 AM) by Anna Nalick
3. "Don't You Want Me" by Young Summer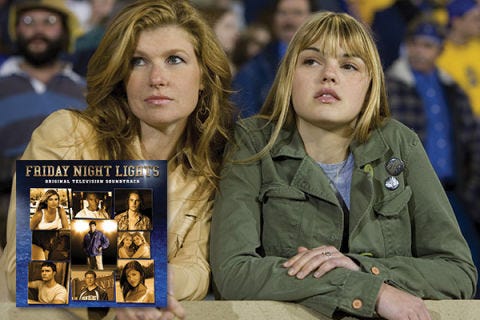 Friday Night Lights
Yes, football is kind of a big deal in Dillon, Texas, but the soundtrack is evidence enough that there's a lot drama bubbling beneath the surface. From relationships — who could inspire a torch song better than Tim Riggins? — to high school party anthems, there's a nostalgia-inducing number for everyone.
MC's Top Three:
1. "Read My Mind" by The Killers (Like Rebel Diamonds Mix)
2. "Idlewild Blues" by Outkast
3. "Dead Man's Will" by Calexico and Iron & Wine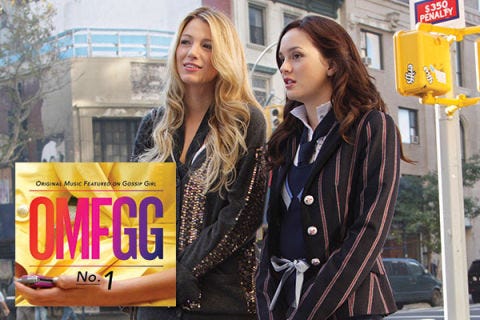 Gossip Girl
Over the course of six seasons, Gossip Girl boasted live performances from Florence and The Machine, Robyn, St. Vincent, and more, putting them amongst the most music-savvy of teen dramas. The soundtrack perfectly captured the joys and tortures of teenage life in New York City. Editors' Note: Chuck and Blair's seesaw relationship bred some of the most memorable music moments.
MC's Top Three:
1. "Hard to Live In The City" by Albert Hammond Jr.
2. "Sour Cherry" by The Kiils
3. "Wait" by M83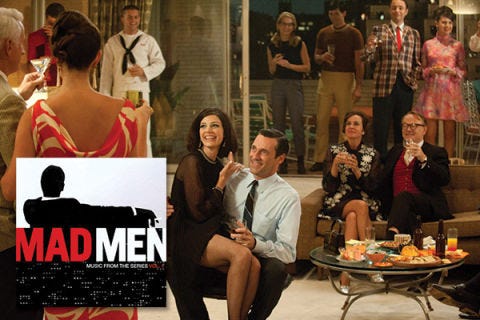 Mad Men
If you're an old soul, each song that plays on Mad Men is better than the next. It's also an education, imparting classics from artists of all genres, such as Bob Dylan and Cole Porter. Not to mention, each song feels like it was tailor-made for the scene. Although we're not totally sure The Beatles had Don Draper in mind when they penned "Tommorow Never Knows."
MC's Top Three:
1. "Zou Bisou Bisou" by Gillian Hills
2. "Tomorrow Never Knows" by The Beatles
3."The Twist" by Chubby Checker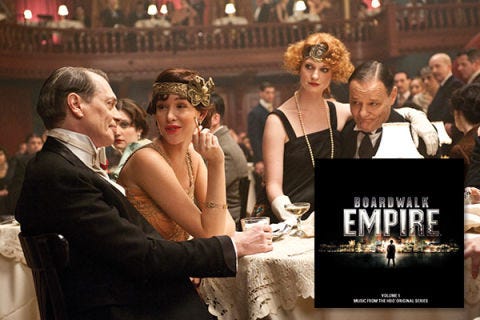 Boardwalk Empire
The best part about Boardwalk Empire's musical offerings is the Roaring Twenties period numbers performed by famous singers of today such as Patti Smith, Elvis Costello, and St. Vincent. It's hard proof that powerhouse vocals can transcend decades.
MC's Top Three:
1. "Make Believe" by St. Vincent, Vince Giordano and The Nighthawks
2. "Wild Romantic Blues" by Nellie McKay
3."My Man" by Regina Spektor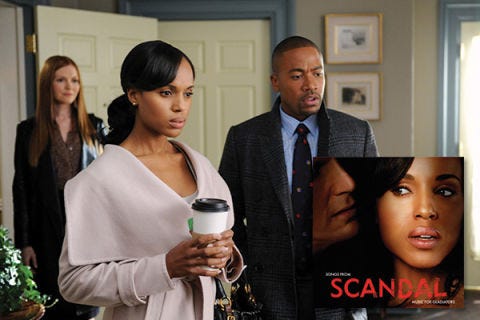 Scandal
If any show has found its home in a subgenre it's Scandal. The soundtrack reads like a catalogue of the '70s' most funky disco and R&B hits. Whether it's a tug-at-your-heartstrings Stevie Wonder song or an amorous Marvin Gaye bedroom number, the mood is decidedly sexy.
MC's Top Three:
1. "Mary Jane" by Rick James
2. "Me and Mrs. Jones" by Billy Paul
3."Superfly" by Curtis Mayfield
Girls
There's no question, Lena Dunham knows how to capture the hipster zeitgeist of today. Be it a golden oldie, early '00s indie rock hit, or good ol' Beyoncé, each Girls song is always the cherry on top of an unforgettable scene.
MC's Top Three:
1. "Dancing on My Own" by Robyn
2. "With a Girl Like You" by The Troggs
3."I Don't Love Anyone" by Belle and Sebastian
This content is created and maintained by a third party, and imported onto this page to help users provide their email addresses. You may be able to find more information about this and similar content at piano.io