At-Home New Year's Eve Party Ideas That Are Still Fabulous
So you won't be on a packed dance floor when the ball drops—who cares? You can still throw an unforgettable micro-party in your living room and wave goodbye to a year we'd all like to forget.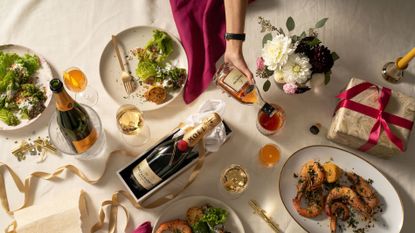 (Image credit: Courtesy Moet Hennessy)
Marie Claire Newsletter
Celebrity news, beauty, fashion advice, and fascinating features, delivered straight to your inbox!
Thank you for signing up to Marie Claire. You will receive a verification email shortly.
There was a problem. Please refresh the page and try again.
If you're relieved that this year is almost over, you're not alone. But, instead of ending 2020 with a huge New Year's Eve bash, stay safe and healthy by having a micro-NYE celebration at home with your quaranteam. Think of it as an opportunity to avoid a crowded, over-priced party without any of the FOMO. Even if you're one of the people who aren't inevitably disappointed by their hyped up New Year's Eve plans, there are plenty of ways to make this year's event just as extra as ever.
Whether you're looking to glam it up, focus on better luck in the year ahead, or stay cozy, here are three ideas for an at-home New Year's Eve celebration that will ring in 2021 the right way.
The Fancy Schmancy Party
Swap your joggers for a cocktail dress, get dolled up, and have a mini bash with all the glamour of the fanciest New Year's Eve soirees. A metallic fringe backdrop is an easy and impactful way to transform your space and can serve as a photo backdrop for your Insta-worthy night. Since you won't have extra people there to take photos, set up a tripod for your selfies. Want to go the extra mile? Create your own balloon drop for a memorable countdown to midnight. Champagne-scented candles complete the mood.
If there's ever a time to go all-out on the food and beverage, it's this New Year's Eve. Less people at your party means you can splurge on that expensive bottle of Champagne to toast with. For appetizers, treat yourself to upscale Gatsby-esque hors d'oeuvres like Roe caviar on a potato chip with crème fraîche or strawberries coated in edible gold glitter. If you're celebrating remotely, tell all your virtual guests to order the same Champagne tasting, like the Deluxe Box from The Sip and use your favorite video chat app to judge them together.
Get Lucky on New Year's Eve
We could use some good fortune in 2021, so get inspired on New Years Eve by lucky traditions from around the world—hopefully preventing another global pandemic, surge of murder hornets, or sequel to Tiger King. In parts of the United States, we eat black-eyed peas on New Year's Eve for good luck. Long noodles, which in China, symbolize a long and prosperous life, are auspicious...just don't cut or break any of the noodles. In Spain, eating twelve grapes (one for each stroke of the clock at midnight) brings you luck in the New Year. The Italian tradition of eating lentils on NYE is said to bring wealth and prosperity, perhaps because lentils resemble Roman coins. And in Georgia (the country, not the state), they snack on sacred gozinaki—walnuts fried in honey—on this holiday.
To carry the theme beyond the edible NYE ritual, pick a country and virtually travel there for your micro-party. It can be as easy as replacing Champagne with Cinzano Prosecco for an Italian night. With decor, music, movies, food, and drinks from your inspiration country, you can satiate your wanderlust without leaving your home.
Cozy at Home
Remember spending prior New Year's Eves navigating through crowded bars to find your friends? This year, they will know exactly where to find you—being comfy at home. For low effort but a high payoff, rather than assembling your own cheese and charcuterie platter, opt for a kit like one from Board at Home, which offers next-day delivery of small-batch cheeses, charcuterie, crackers, jam, nuts, and accompaniments. Hit the easy button on cocktails with a Drinkworks Home Bar and make classic cocktails like a Moscow Mule or Old Fashioned without having to shake or stir.
Instead of limping in new high heels, you can rock out to the top hits of 2020 in slippers. For a virtual celebration, create a playlist with your friends on Spotify, using their multiple user editing feature. Or, put on your coziest robe and build a pillow fort to cuddle up in. Just drape sheets over living room chairs and fill it up with your softest blankets.
Cheers to 2021!
Celebrity news, beauty, fashion advice, and fascinating features, delivered straight to your inbox!
Michelle Stansbury is a San Diego-based freelance writer who writes about travel, food, cannabis, and relationships. Misuse of the word "literally" drives her figuratively insane.