All of the Justin Bieber Shades on The Weeknd's Album, 'My Dear Melancholy,'
He's still salty about the Selena break-up.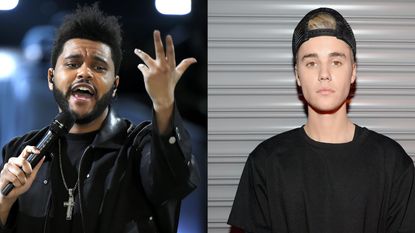 (Image credit: Getty Images)
The Weeknd just dropped his new, aptly-titled EP, My Dear Melancholy, and it features a lot of references to his personal relationships. Unsurprisingly, even Justin Bieber gets some shout-outs in The Weeknd's new songs.
RELATED STORY
To recap, The Weeknd had a very public relationship with Selena Gomez, which started in January 2017, before the couple announced their break-up in October 2017. Before their separation was public, though, Gomez was spotted hanging out with her ex-boyfriend Bieber, who she apparently reconnected with at church following her life-saving kidney surgery.
At the time, Us Weekly reported that "The Weekend is well aware Selena and Justin are talking. He doesn't care." However, days later, Gomez and The Weeknd were over, and Bieber was back in the picture.
Now, The Weeknd appears to have responded to Gomez going back to her ex by shading the "Sorry" singer in several new songs. Here is every Bieber shade on My Dear Melancholy,:
1. I Was Never There.
Even the title, "I Was Never There," seems to indicate that The Weeknd is scarred by the fact that Gomez went back to her ex, almost as if their relationship never even happened.
As for Gomez choosing Bieber, The Weeknd sings:
When no one know what love is
And I know it ain't you for sure
You'd rather something toxic
So, I poison myself again, again
'Til I feel nothing
Basically, Bieber is "something toxic," and The Weeknd implies that Gomez doesn't "know what love is." She goes back to her ex again and again, and The Weeknd is left to self-medicate his sadness away. Presumably, he saw the latest Jelena break-up coming.
2. Call Out My Name.
On "Call Out My Name," which seems to be about his relationship with Gomez ending, The Weeknd sings:
I said I didn't feel nothing, baby, but I lied / I almost cut a piece of myself for your life / Guess I was just another pit stop / 'Til you made up your mind / You just wasted my time.
Not only does The Weeknd seem to say that he was prepared to give Gomez a kidney, he hints at the fact that he was "just another pit stop, 'til you made up your mind." Was Bieber on Gomez's mind throughout her relationship with The Weeknd?
Even though the song is more about Gomez, Bieber's presence is felt throughout.
3. Privilege.
In "Privilege," The Weeknd instructs Gomez to enjoy her "privileged life," presumably now that she has moved on with Bieber.
But later in the song, The Weeknd seems to have grown sick of hearing about his ex, and repeats the phrase, "I don't wanna hear that no more, no more," and reiterates the feeling that his relationship with Gomez was just a stop-over on her way back to Bieber: "They said our love is just a game, I don't care what they say." He's blocking out the tabloid reports once and for all.
4. Hurt You.
On "Hurt You," The Weeknd laments the end of all relationships, admitting that he's probably not cut out for them:
And now I know relationship's my enemy
So stay away from me
I'm warning you
You try to fill the void with every man you meet
'Cause you're upset with me
I'm warning you
Was Gomez filling the void with Bieber, and trying to make The Weeknd jealous because she's upset with him?
Basically, we can be pretty certain now that The Weeknd wasn't overjoyed when Gomez was spotted with Bieber right before their break-up.
RELATED STORY
Celebrity news, beauty, fashion advice, and fascinating features, delivered straight to your inbox!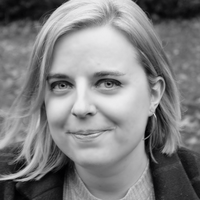 Amy Mackelden is a freelance writer, editor, and disability activist. Her bylines include Harper's BAZAAR, Nicki Swift, Cosmopolitan, Marie Claire, ELLE, The Independent, Bustle, Healthline, and HelloGiggles. She co-edited The Emma Press Anthology of Illness, and previously spent all of her money on Kylie Cosmetics.