Justin Bieber Got Arrested, No One's Surprised
But we're definitely sad.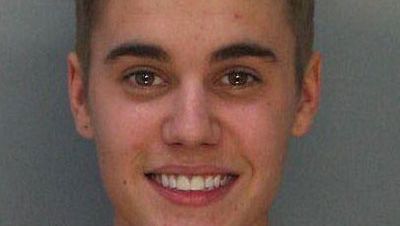 (Image credit: Archives)
UPDATE: Justin Bieber has now joined the ranks of stars with mugshots. Hey, at least the kid knows how to smile and pose for the camera.
Ah, young Hollywood. Here is what happens when you have access to everything and absolutely no rules. The thing is, we shouldn't be surprised about this type of behavior because we've seen it all before. There's Lindsay Lohan who has arguably crashed and burned (but we're still hopeful!). We're praying he takes the Britney Spears route and makes an epic comeback. Or perhaps he should take notes from Taylor Swift who wouldn't be caught dead sipping on gin and juice (but her mind's probably on her money). Until then...
Oops, The Biebs did it again. The former teen dream turned teen nightmare was arrested in the wee hours Thursday morning in Miami for attempted drag racing AND driving under the influence. BIEBER! Stop this madness!
Related: Justin Bieber's House Raided
According to , Justin Bieber was pulled over in his rented Lamborghini (really!?) at about 4am and failed a field sobriety test. The pop star was apparently incoherent and resisted arrest.
Related: Every Time Justin Bieber Wore Harem Pants in 2013
We have to say, again, that we're disappointed. What happened to our sugary sweet idol who couldn't stop singing the word "baby"? Someone needs to confiscate the drugs, cars, eggs, and our girl Selena Gomez from Justin Bieber immediately. That should keep him out of trouble.
Related: The Biebs' Fall From Grace
Related Stories:

We Can't Wait for the Oscars 2014!


Female Hosts DOMINATE Award Show Season


The Best and Worst Red Carpet Moments of 2013

Follow Hallie Gould on Twitter.
Celebrity news, beauty, fashion advice, and fascinating features, delivered straight to your inbox!