The Complete Retrospective of Beyoncé and Jay Z's Relationship
We're looking back on the better days.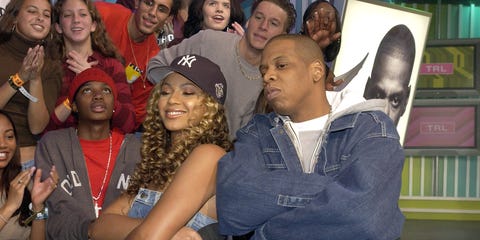 They say all good things must come to an end, but we really hope that's not true when it comes to this power couple. With rumors flying that the era of Bey and Jay could soon come to a close, we couldn't help but look back on the better days.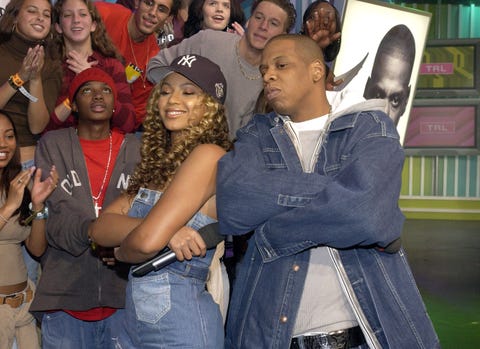 November 7, 2002
Beyoncé and Jay Z appear on MTV's TRL (in all denim, no less), as Bey dons Jay's hat. Beyoncé had just emerged as a solo artist from Destiny's Child and Jay Z still had the hyphen in his name. After they released the single "'03 Bonnie and Clyde" in October 2002, rumors came out that a relationship was brewing.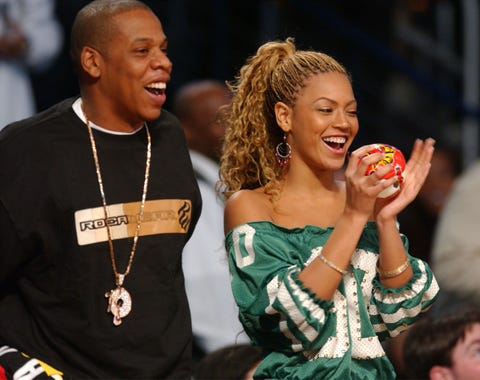 February 9, 2003
The two attend the NBA All-Star game at the Phillips Arena. The couple continued to declare that they were "just friends," despite the many dates they were seen on.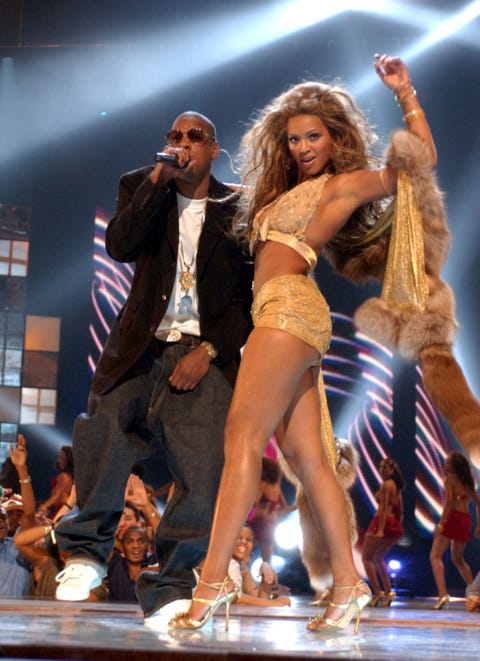 August 28, 2003
Beyoncé and Jay Z shake up the MTV Video Music Awards with a performance full of caressing and hair-whipping. Beyoncé was fresh off her first solo album, Dangerously in Love, which included two songs featuring Jay — "Crazy in Love" and "That's How You Like It."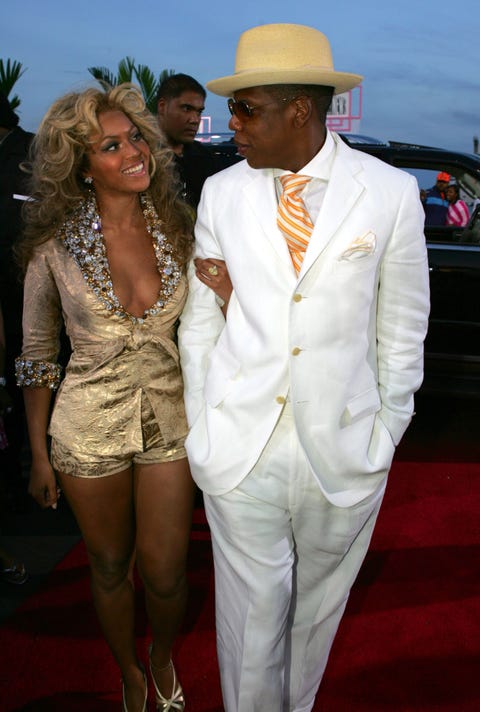 August 29, 2004
The pair make their first-ever red-carpet appearance together at the 2004 VMAs, looking as happy as can be in color-coordinating outfits.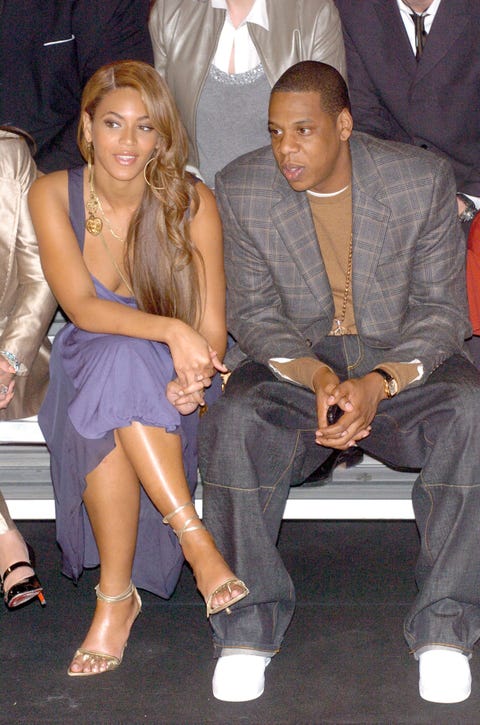 February 7, 2005
Beyoncé and Jay attend the Marc Jacobs show together during New York Fashion Week. By this point, the two were practically inseparable (and we were loving it).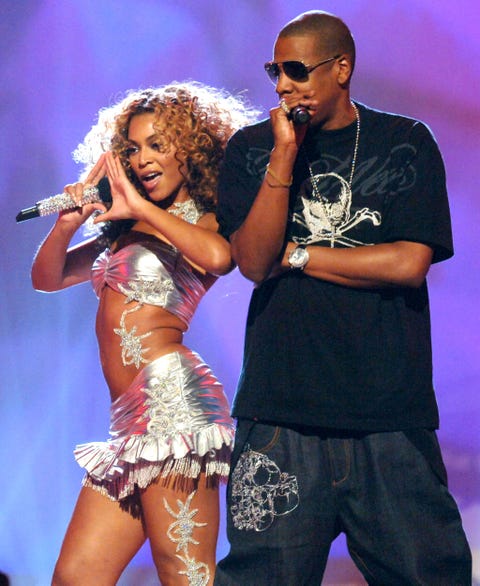 February 27, 2006
Beyoncé and Jay perform at the BET awards, continuing their streak of sticking together both on and off stage while at award shows. They went on to create more music together, including Jay's single "Hollywood," featuring Bey, which she then re-released as "Welcome to Hollywood."
January 15, 2007
The couple sits together at the 64th Annual Golden Globe Awards. Engagement rumors continued throughout the year, although the duo wouldn't confirm any details. The tabloids claimed Jay proposed on Beyoncé's birthday, September 4.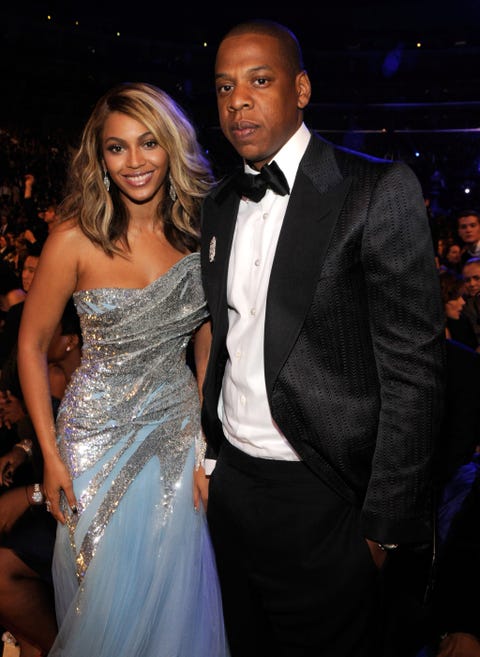 February 10, 2008
The duo attend the 50th Annual Grammy Awards. On April 4 of this year, they finally got married at a private ceremony at Jay's apartment in Tribeca, New York. Instead of exchanging rings, they got matching IV tattoos on their ring fingers.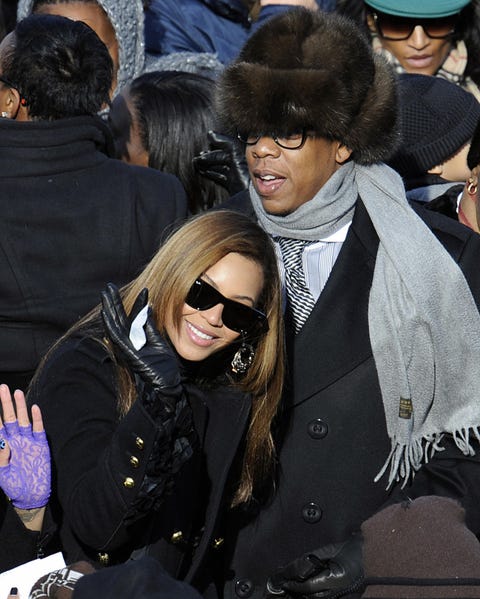 January 20, 2009
The happily married couple attends the inauguration of President Barack Obama in Washington, D.C. The two supported him throughout the election and remain friends with Barack and Michelle Obama, forming the most elite friend clique there ever was.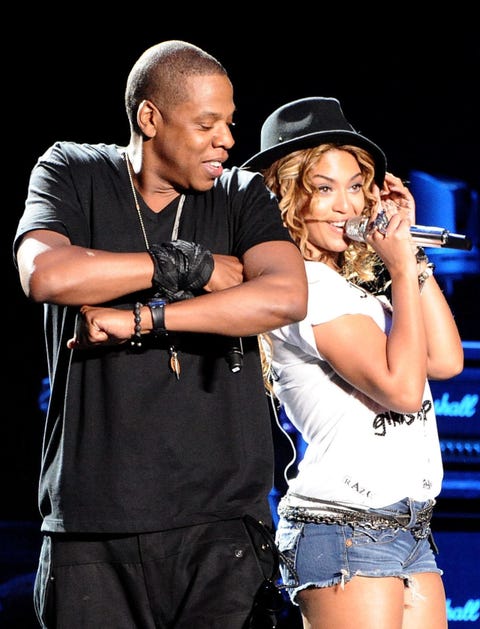 April 16, 2010
Beyoncé makes an unannounced cameo during Jay's performance at the Coachella music festival. This year, Beyonce won six Grammys, breaking the record for most wins by a female artist in one night, while Jay won three.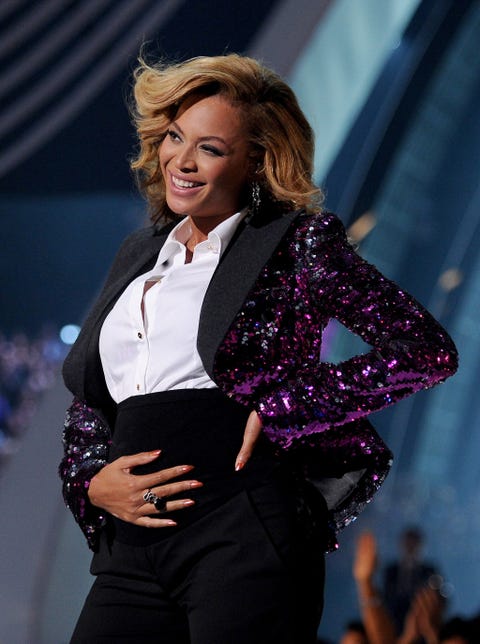 August 28, 2011
Beyonce sings "Love on Top" at the MTV Video Music Awards, unbuttoning her blazer at the end of the performance and rubbing her stomach to reveal her baby bump. Both the Internet and our hearts exploded with joy.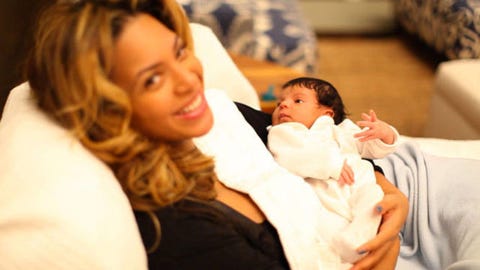 January 7, 2012
Beyoncé and Jay's daughter, Blue Ivy, is born. The parents released photos of their baby via an informal tumblr called Hello Blue Ivy Carter with just a simple note reading, "We welcome you to share in our joy. Thank you for respecting our privacy during this beautiful time in our lives."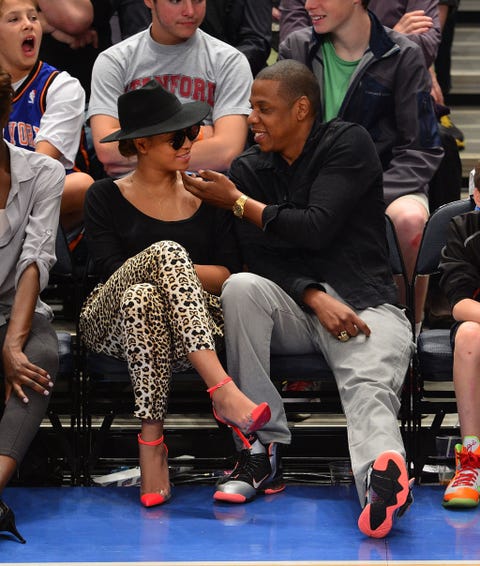 April 15, 2012
The couple show their affection at New York Knicks and Miami Heat basketball game at Madison Square Garden. They reportedly renewed their wedding vows this month in another private ceremony. This year Forbes named them the highest-paid celebrity couple, with an estimated total income of $78 million combined.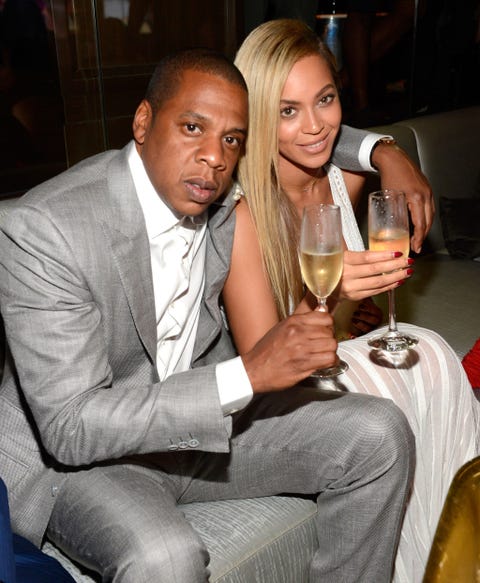 June 27, 2013
The couple attends the 10 Year Anniversary Party at the 40/40 Club, co-owned by Jay in New York City. The world didn't know it yet, but in just six months time Queen Bey would drop her self-titled visual album featuring another Carter collab, "Drunk in Love."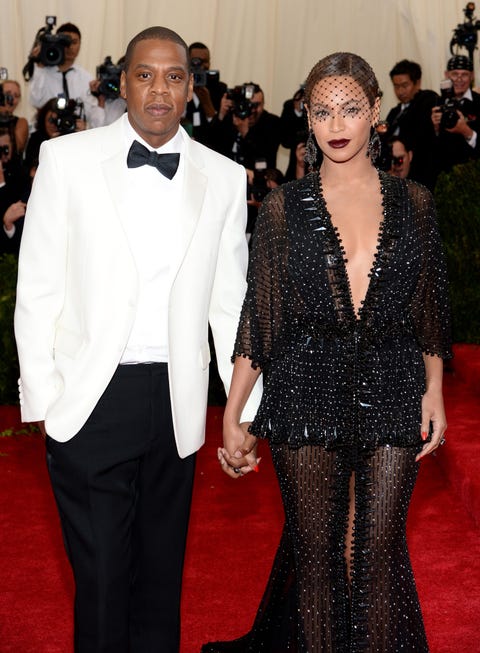 May 5, 2014
Bey and Jay arrive to the Costume Institute Gala at the Metropolitan Museum of Art, the same night of the infamous security footage where Solange allegedly attacks Jay in an elevator as Beyoncé stands by. A few days after the video leaked, the couple released a statement saying the family has worked through their issues.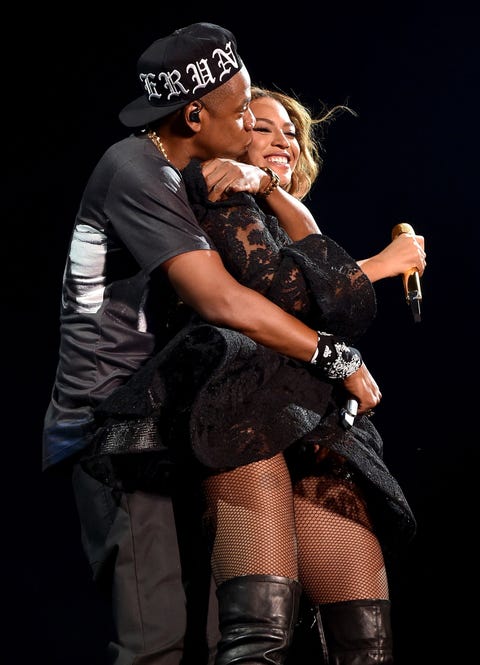 June 25, 2014
Beyoncé and Jay Z kick off their first-ever tour together, the On the Run tour, in Miami. In addition to their powerhouse duets, the show includes adorable on-stage PDA, home videos, and wedding footage.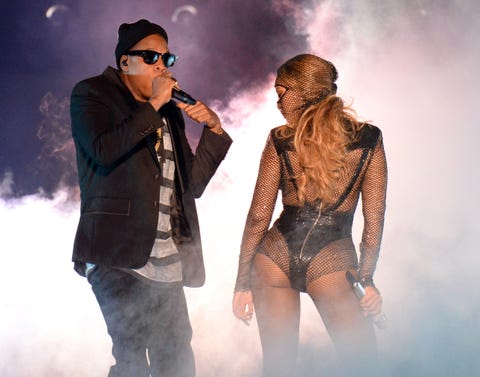 June 28, 2014
Beyoncé makes a lyric change at the tour's Cincinnati stop while singing her 2006 track, "Resentment," including changing "I'll always remember feeling like I was no good / Like I couldn't do it for you like your mistress could" to "I'll always remember feeling like I was no good / Like I couldn't do it for you like that wack bitch could." Despite the couple seeming totally in love on stage, rumors began to circulate about Jay's possible infidelity.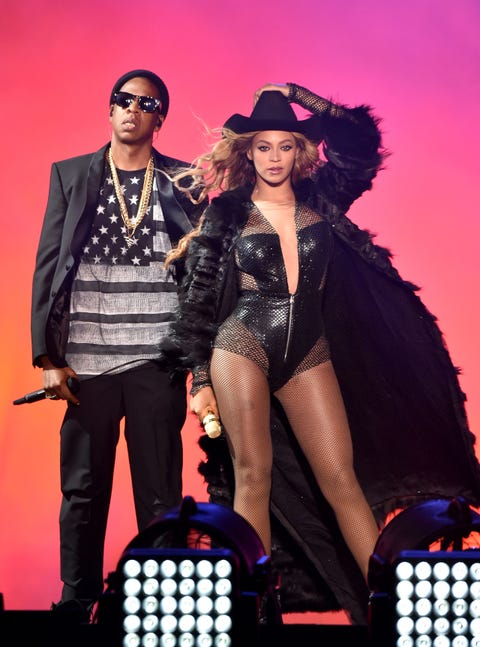 July 2014
Gossip websites and tabloids report that this marriage is likely ending, with rumors of the two staying in seperate hotel rooms, Beyoncé looking for her own apartment, and meetings with divorce lawyers. After all these amazing years, we're sad to hear this — now, we just wait and hope for the best.
This content is created and maintained by a third party, and imported onto this page to help users provide their email addresses. You may be able to find more information about this and similar content at piano.io