Pink on Those Fat-Shaming Trolls: "I'm Not a Person That Will Be Bullied"
Yesssss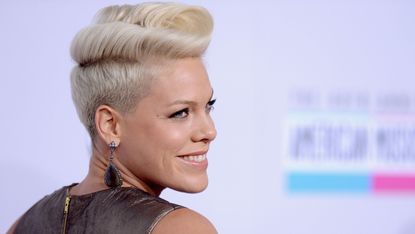 (Image credit: Archives)
Update, 5/13: P!nk isn't just going to sit back as you talk sh*t about her body. Discussing her epic responses to online attacks with Entertainment Weekly's Angelique Jackson, the singer was unapologetic and fearless.
"I don't take well to bullying. I never have. I'm not a person that will be bullied. I'm not a person that will stand by watching other people bullied," Pink said. "I think people have gotten it wrong. They think their opinion matters and holds weight and I don't know where or why they're giving themselves so much credit you know?"
Oh, yes, we know Pink. We're glad you're letting the haters have it.
Original post, 4/3: P!nk attended a benefit Saturday to support a friend who was receiving an award for her commitment to cancer research, but her beautiful gesture was overshadowed by Twitter trolls criticizing her weight—one of them going by the name of (NSFW) "unapologeticunt."
Never one to sit quietly, she called out the haters on Twitter with a powerful note about body image.
"While I admit that that dress didn't photograph as well as it did in my kitchen, I will also admit that I felt very pretty. In fact, I feel beautiful," she wrote. She then tweeted about her husband Carey Hart and her daughter Willow's reactions to her body.
Willow said to me the other day whilst grabbing my belly-"mama-why r u so squishy?"And I said.."b/cuz I'm happy baby" pic.twitter.com/69wuVHg6QMApril 13, 2015
See more
To cap off the night, she tweeted photos of fans who are embracing their own shape and size, just in case you had any doubts about whether P!nk is the very best celebrity around. One body-positive fan on Twitter said it all:
If you really think that @Pink is fat..You have a serious problem with your depiction of body image. That woman is beautiful, always.April 13, 2015
See more
You should also check out:
Fox News Host Who Fat-Shamed Kelly Clarkson Apologizes
7 Awesomely Devastating Celebrity Comebacks That Will Give You Life