What Scientologists Don't Want You to Know About Katie Holmes and Tom Cruise's Divorce
And it keeps going...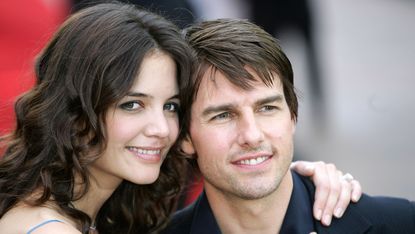 (Image credit: Getty Images)
Marie Claire Newsletter
Celebrity news, beauty, fashion advice, and fascinating features, delivered straight to your inbox!
Thank you for signing up to Marie Claire. You will receive a verification email shortly.
There was a problem. Please refresh the page and try again.
Though Going Clear, Alex Gibney's Scientology documentary did release some—dare we say—juicy details about Tom Cruise and Nicole Kidman's marriage, the flick totally skipped the six -year Katie Holmes chapter.
Why? Perhaps because when Katie (or is it still Kate?) filed for sole custody of Suri she made enough of a statement that she wanted to protect her daughter from the church that Gibney didn't feel the need to include her in the film, or perhaps he thought sharing the rumor that Cruise tapped Kidman's phone was enough of an indictment against the actor.
Among other things Scientologists clearly didn't want getting leaked was the fact that Katie, who was worried that Tom was monitoring her calls too, was able to escape Scientology by securing a disposable cell phone. She used it to call attorneys from three law firms in three different states. This move helped her prep her case without Cruise knowing that she wanted a divorce.
When Cruise and Holmes ultimately split in June 2012, tabloids reported that it was because Katie was afraid that Tom wanted to ship Suri off to Sea Org—a strict faction within the Church of Scientology. While those rumors swirled, Katie allegedly rented a secret apartment in NY to keep Suri safe, or at least out of the gossip rags.
As a side note, when the newly-dating Tom and Katie made one of their first-ever public appearances at the David di Donatello Awards in April 2005, I was "with" them in Rome at the time. I excitedly waited by the red carpet, alongside 12 confused Italians who had no idea who Katie was. Tom was all charm, jumping on a car in front of him (a la that manic Oprah couch moment), signing autographs and grinning in pictures. Katie, on the other hand, stood eerily still despite my many calls of affection to her (I may or may not have been unhealthily obsessed with Dawson's Creek). Instead of engaging with anyone, or even looking at the (albeit miniature) crowd, she exclusively spoke to one woman, who I later learned was her Scientology shepherd of sorts. Tabloids later reported that she was instructed not to speak with anyone. Figures.
You should also check out:
5 Mind-Blowing Scientology Facts from Controversial New Documentary 'Going Clear'
John Travolta Isn't Done Defending Scientology
Weird New Details About Tom Cruise and Nicole Kidman's Divorce Finally Surface
From: Redbook
Celebrity news, beauty, fashion advice, and fascinating features, delivered straight to your inbox!
As deputy editor, Brie oversees OprahDaily.com's lifestyle content including beauty, style, health, and relationships. When she's not helping to answer your google queries, you can likely find her watching Christmas movies, no matter the season.