Sofia Vergara Wedding Dress - Sofia Vergara Joe Manganiello Red Carpet
Marriage on the brain much?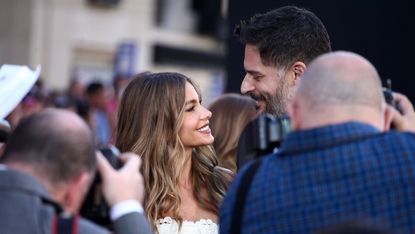 (Image credit: Getty Images)
Sofia Vergara and Joe Manganiello appear to have had their wedding rehearsal at last night's Magic Mike XXL premiere.
While snapping pics for the step-and-repeat, the bride-to-be wore a decidedly wedding-worthy Coomi and Vhernier ivory lace strapless dress, which essentially transformed the red carpet into the aisle.
And of course it didn't help that Manganiello looked so devastatingly handsome in his dark gray suit and ruby red tie or that the couple was showing off some I-do-esque kisses for the cameras.
Image 1 of 1
Also, can we please talk about the fact that notorious-mermaid-gown-loving Vergara would probably never actually wear a short wedding dress, but she should? Because this looks amazing?
Image 1 of 1
While the couple has reportedly set a date for the big day, they haven't revealed when it will be, so this bridal-y display will have to tide us over for now.