15 Lingering Questions That Prove Netflix Needs to Do Another Season of 'Gilmore Girls'
We. Need. Answers.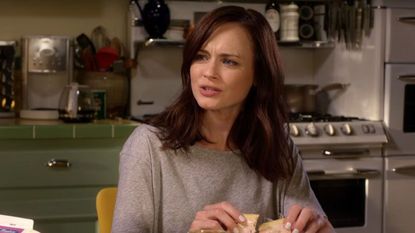 (Image credit: Netflix)
Marie Claire Newsletter
Celebrity news, beauty, fashion advice, and fascinating features, delivered straight to your inbox!
Thank you for signing up to Marie Claire. You will receive a verification email shortly.
There was a problem. Please refresh the page and try again.
Gilmore Girls: A Year in the Life answered a lot of questions fans had after the original series ended in 2007 (also, now would be a good time to turn back if you're avoiding spoilers from the Netflix revival).
Did Luke and Lorelai stay together? Yep. They totally did.
Did Luke and Lorelai ever get married? Not during those nine dark years, but they do finally tie the knot in A Year in the Life.
Who did Rory end up with? No one, but also maybe/probably Jess, eventually?
Did the Final Four Words live up to the hype? In terms of impact on the characters and your emotional state, yes, they did.
But the new episodes also left us with so. Many. Questions. Even though A Year in the Life has been billed as the final conclusion Gilmore Girls fans have been waiting for, Amy Sherman-Palladino and Daniel Palladino told Entertainment Weekly earlier this year that they have a "never say never" attitude toward extending the series even more.
Here are 15 lingering questions we have after A Year in the Life that prove there's still plenty to unravel in more Gilmore episodes down the line.
1. What is Rory going to do about that baby in her belly?
The Final Four Words we've all been waiting for are Rory announcing to Lorelai that she's pregnant. Assuming we're privy to all of Rory's sexual encounters, the baby is Logan's. This is problematic since Logan lives in London and is engaged to another woman.
Before announcing the pregnancy, Rory quizzes Christopher on how he felt about not being a part of her life. At first, it feels like she's grilling him for information for the memoir she's working on, but once the pregnancy bomb is dropped, the Christopher scene takes on new meaning. Is Rory planning to raise the baby alone? Is she even going to tell Logan about it? ~QUESTIONS~.
2. Related: Will Logan move back to the States to help raise it if she does tell him?
And will that be the end of his engagement (because it probably should be)? It will be hard to keep the affair from his bride-to-be, Odette, once she meets Logan's infant child.
3. How does Rory feel about her pregnancy?
Because it's pretty unreadable from that brief moment when she announces the big news to Lorelai.
4. Will Rory stay in Stars Hollow now?
Or is she still planning to move to Queens?
5. Is Jess going to make a move with Rory?
Because he's clearly still in love with her. Now that Rory is pregnant with Logan's baby, it feels like she and Jess are doomed to live out Luke and Lorelai's life story. Logan is, in many ways, Rory's Christopher and Jess seems content to wait, Luke-like, for the right moment to swoop in and make his feelings known.
6. If she moves back to Stars Hollow, will he?
Don't do it, Jess. Don't.
7. Is Sookie coming back to the Dragonfly Inn?
It's kind of unclear. She gets territorial about her kitchen being used by other chefs and she doesn't seem satisfied with what she's been doing, but Sookie's plans are left vague and open-ended. On a practical level, this is probably because, if Netflix does commission more episodes, there's no guarantee that Melissa McCarthy would have time to appear again.
8. Is Michel going to stay at the Dragonfly now?
Michel's decision to leave the Dragonfly was both heartbreaking and totally understandable. He needs to grow and he feels stuck at the small town inn. As a last ditch effort to stay, he asks Lorelai if she would consider expanding the inn and its services, so he could have more responsibility. She finally does expand, but only after Michel has accepted a new job and started interviewing for his replacement. Is it too little, too late? Does Michel stay in Stars Hollow?
9. Speaking of the Dragonfly, what's the plan with this new location?
Like, will Sookie be a part owner of it, too, since Lorelai is using Luke's inheritance from Richard to pay for it?
10. How long until Emily gets fired from her volunteer position at the Nantucket Whaling Museum?
This was an odd place to end Emily' story anyway and the children are literally sobbing (not tears of joy) halfway through her first presentation. Can this actually last?
11. And will she want to quit and move back closer to Rory to be around the baby?
Because, after missing out on Rory's childhood, she's definitely going to want to be a big part of the kid's life.
12. Do Paris and Doyle ever reconcile?
They're divorcing and, while it makes sense that Paris would get divorced, I still ship these two pretty hard and want them to work things out.
13. Why does Zack look so old?
It looks like he has lived a hard, fast, rock star life, but he's theoretically just been in Stars Hollow, getting promoted at his day job and doing the family man thing for the last decade. I'm a little concerned for Zack, who looks like he's aged a solid decade or two more than most of the characters.
14. Will we ever actually get to know Mr. Kim?
It was a nice gesture to include a shot of him in the revival, if only to prove he exists and isn't a figment of Mrs. Kim and Lane's imaginations, but what's his story? Why was he never around? We could do a whole episode on Mr. Kim.
15. Is anyone going to read Rory's book?
Does the Gilmore Girls story lend itself to a memoir? And, if it does, should Rory be the one writing it? Has her side of the story been that memoir-worthy?
Follow Marie Claire on Facebook for the latest celeb news, beauty tips, fascinating reads, livestream video, and more.
Celebrity news, beauty, fashion advice, and fascinating features, delivered straight to your inbox!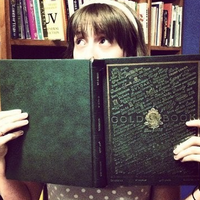 Kayleigh Roberts is a freelance writer and editor with more than 10 years of professional experience. Her byline has appeared in Marie Claire, Cosmopolitan, ELLE, Harper's Bazaar, The Atlantic, Allure, Entertainment Weekly, MTV, Bustle, Refinery29, Girls' Life Magazine, Just Jared, and Tiger Beat, among other publications. She's a graduate of the Medill School of Journalism at Northwestern University.