Editors handpick every product that we feature. We may earn commission from the links on this page.
Tim Gunn's Rules of Style
The Project Runway mentor and fashion guru answers all your style conundrums.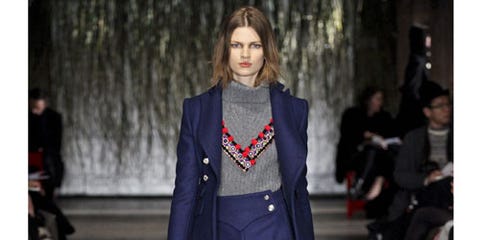 The Project Runway mentor and fashion guru answers all your style conundrums.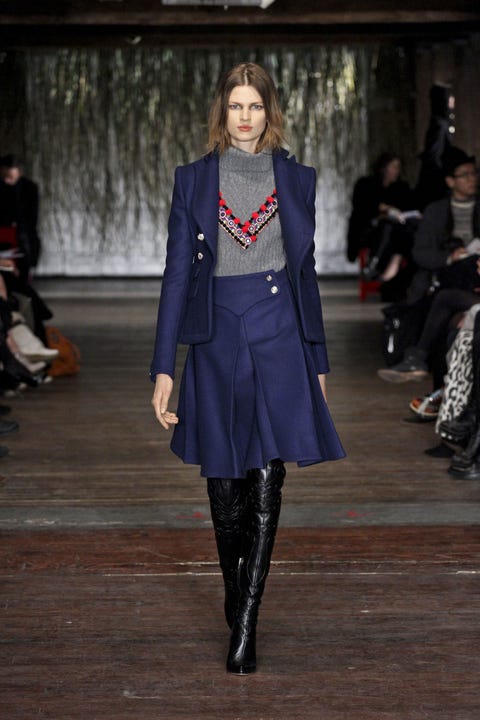 Over-the-Knee
"I love the over-the-knee boot trend. The problem: I don't know how to wear it without looking like a hooker! I'm in my mid-30s — short shorts and miniskirts are just too daring for me, but that's what they're styled with most often. Any alternatives?"
Over-the-knee boots present a styling challenge. We're used to seeing them with minis and shorts, but I find they can look great with asymmetrical shapes because you have the compromise of a longer/shorter effect. They can also work with longer hemlines, providing the skirt has a slit that reveals the boots' higher length when you walk or sit. Otherwise, why bother? I also find that a flat boot presents more options because it can function very much like a legging. In fact, that should be your guide: Whenever you would opt for leggings, ask yourself whether you could substitute over-the-knee boots. I'm quite certain that your answer will be yes!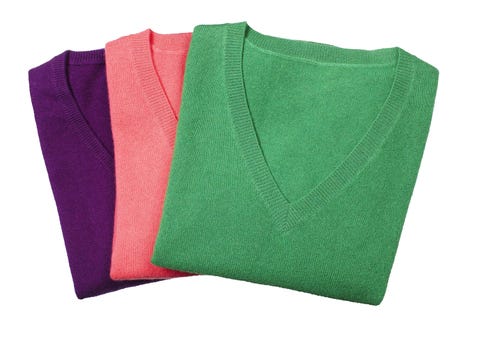 Delicate Matter
"My question is regarding the proper way to care for cashmere sweaters. I've heard that it is better to wash them in cold water with a gentle cleanser such as Woolite and allow them to air-dry. But is dry cleaning better?"
Many cashmere sweaters have a tag reading "dry clean only." I have found that this is not the case. Hand washing cashmere not only prolongs its life in your wardrobe, it also makes it softer. Wash using baby shampoo, Woolite, or Tide Total Care and rinse thoroughly. Now here's the key: Use a salad spinner — yes! — to remove as much of the water as possible. Otherwise, the sweater can take days to dry because you should not squeeze or twist it. Once spun, lay the sweater flat on a towel to fully dry. Finally, never place sweaters of any kind on hangers because they will stretch. Instead, fold them in thirds lengthwise.
SWEATERS $79 each, Joe Fresh; joefresh.com for stores.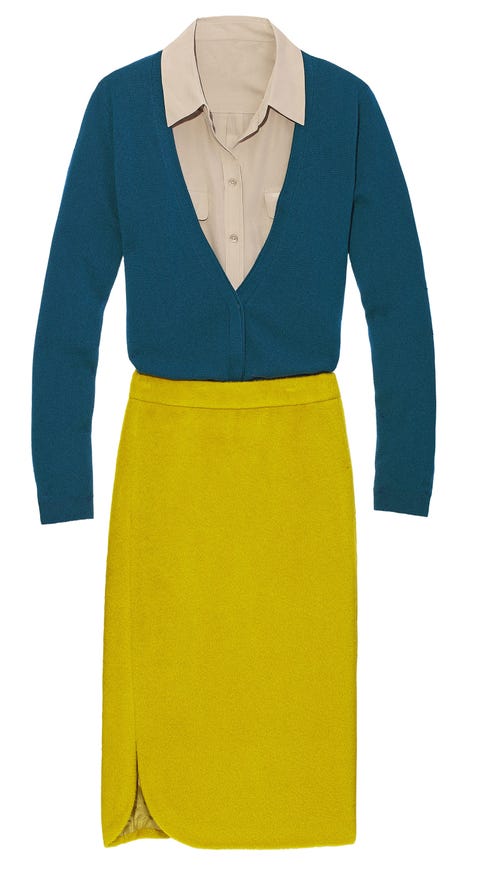 Young Adult
"I am 5'2" and 27 years old. I wear clothes that are my size and avoid anything that looks like something my teen cousins would wear, but clients still think I am under 18, and it is affecting me on different levels. What can I introduce to my wardrobe to help me look more mature?"
This is a head-to-toe issue. It's as much about hair, makeup, and accessories as it is about apparel. A good haircut is the first step. Have a makeup consultation at your local department store. Make certain that you're wearing grown-up shoes and jewelry. You're petite, so be sure that you're not shopping in the juniors department. Finally, choose colors that are deeply saturated, like jewel tones, and avoid prints that are even remotely cutesy.
SWEATER $290, Comptoir des Cotonniers; (212) 352-3069. SHIRT $208, Equipment; equipmentfr.com. SKIRT $275, J.Crew; jcrew.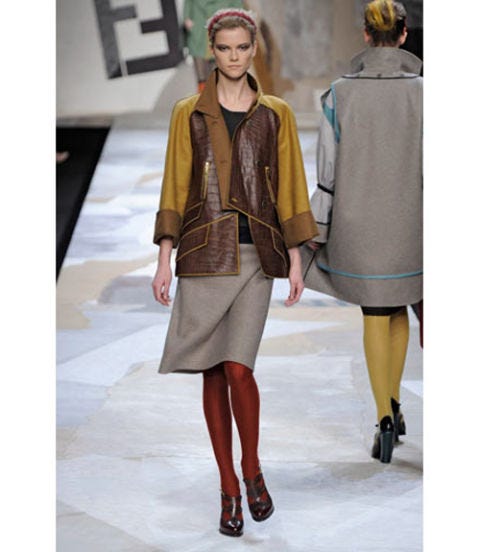 Learning Curve
"I'm headed back to college this summer for the first time in 19 years. I can't stand the idea of the sloppy look most college kids go for, but I don't want to look overdressed, either. Any thoughts?"
I applaud the fact that you're going back to college. Bravo! My fashion advice? Be a leader! Don't reduce yourself to age-inappropriate casual dressing. Dress up. I spend a lot of time on college and university campuses, and I'm the first to acknowledge that students dress up when I give a talk — that touches me. However, when I'm a mere campus observer, I'm shocked by how sloppily so many of the students present themselves to the world. In fact, even in my own classes at Parsons The New School for Design, I was often dumbstruck. Present yourself with a level of polish, sophistication, and respect and lead on!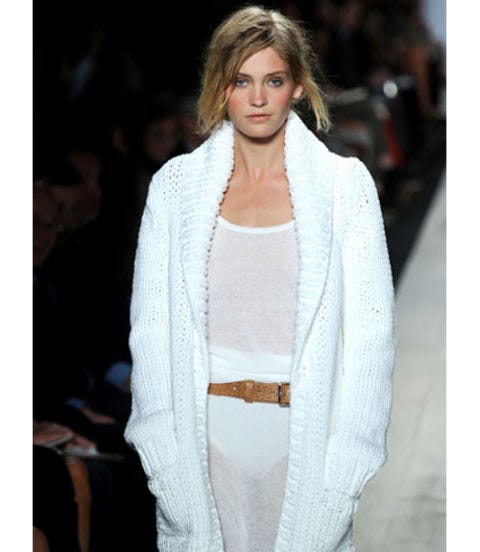 Jackets Away
"I'm petite and slim with a large chest, and it's difficult to find blazers that will button and also look proportional elsewhere. If I leave my blazer unbuttoned, it looks silly because my chest makes the blazer drape far away from my body. Is there anything you can recommend to fix this problem?"
I have thought long and hard about your conundrum and have even consulted colleagues. Here's what we all suggest: Ditch the blazer. Opt instead for knits ̬ a cardigan or a shawl/wrap. The benefit to the knit is twofold: It will drape to mimic your shape, and it can be belted. Even a shawl/wrap can be belted. To be blunt, a tailored woven jacket will be a perpetual problem. Actually, any woven will present a problem because it won't be malleable or shapable. Trust that a cardigan or wrap will provide the same semblance of sophistication and polish that a blazer does, provided that its silhouette is simple and refined (no epaulets on the cardigan, no fringe on the shawl) and that it is a dark or deeply saturated color.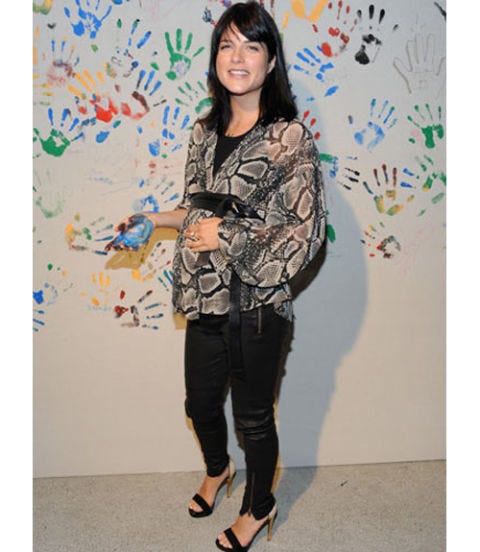 Hot Momma
"I am five months pregnant with my first child. Any advice on how to rock a stylish look for a night out with my husband or drinks — nonalcoholic in my case — with the girls? I want to maintain some sense of style throughout this process without resorting to a muumuu."
It's fortunate for pregnant women everywhere that today's fashion embraces the maternity silhouette. Accordingly, you can show off your baby bump with confidence. Your go-to items should have a minimum of 5 percent stretch because they'll accommodate your growing midsection while maintaining a form-fitting sleekness. I suggest that you stick with solid colors but avoid pastels. However, if your personal taste leans toward prints, then make certain that they are sophisticated and graphic (think Diane von Furstenberg). Avoid babydoll styles and anything else that conjures up images of pacifiers. Remember, you're the mother, not the infant.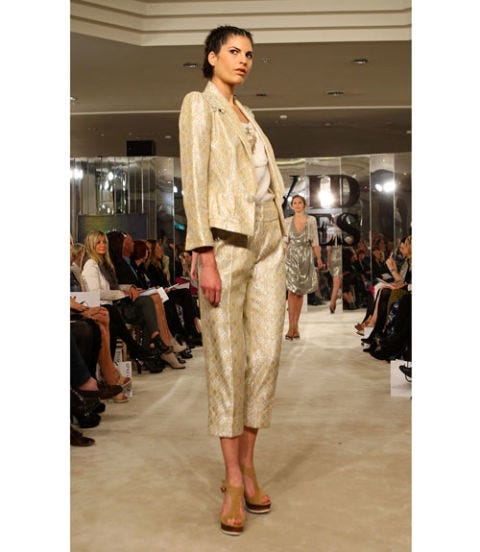 Capri Confusion
"As a woman in her mid-20s, I was wondering: Are capri-length dress pants professional for warm-weather months?"
Please forgive me, but I must deliver my capri pant rant. Unless you are a supermodel or are of supermodel size and shape, don't wear them. Our clothes are optical illusions — that is, they can make us look heavier, skinnier, taller, or shorter. In the case of capri pants, their effect is to visually shorten the wearer. Who wants to look shorter? I've had a recent epiphany about why women are so attracted to capris: They need only be concerned with one measurement, the waist. The length doesn't matter because it falls where it falls, unlike a full-length pant, which needs to conform to the full length of one's leg and the shoe that one is wearing. If you're tall and lean, then indulge. Wear flats with a blouson top as a counterpoint to the sleek (never baggy!) fit of the capris.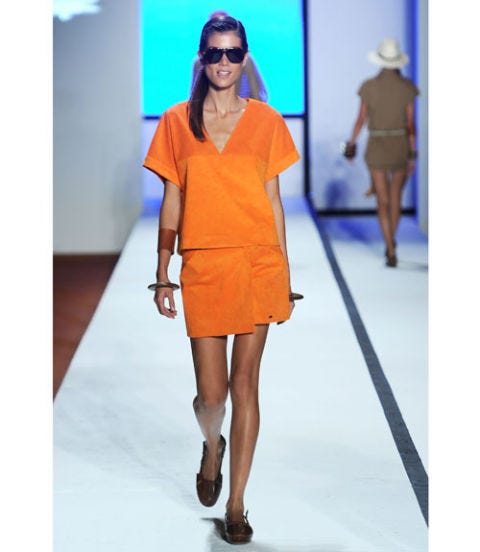 Baggage Check
"I'm going on a Mediterranean tour this summer for 16 days, and I'm allowed only one suitcase! What key pieces should I pack? What are some comfortable shoe alternatives to flip-flops?"
First, regardless of the item of apparel, it should have stretch — as little as 2 to 4 percent and as much as a knit jersey, for example. This will allow you to cram as much as you can into your suitcase and still avoid wrinkling. Furthermore, lightweight knits can be washed in a sink and hung up to dry overnight. Second, bring staples: a dress pant, T-shirts and camisoles, a skirt, a shift or sheath, and a light cardigan for air-conditioned spots and the chance that you may visit a cathedral, which will require that you cover your shoulders. A comfortable flip-flop alternative is a ballet flat or an espadrille. Have a wonderful trip!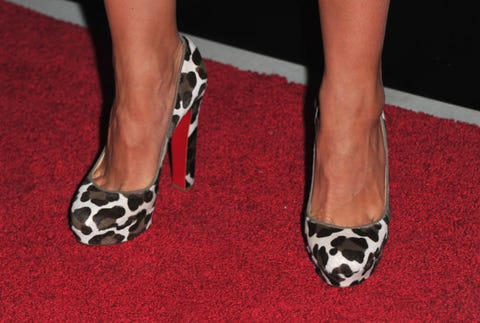 Foot Patrol
"Hey, Tim. Here's my question: Is toe cleavage a mortal sin? What are some tricks for minimizing it? Or should it just never happen?"
Toe cleavage? Let me make certain that we're both on the same page. I'm assuming that you're not talking about open-toed shoes; rather, you mean a shoe with a slim vamp that reveals the top digit of your toes, yes? Frankly, there's nothing wrong with either shoe. They're simply a matter of taste: Chacun à son goût. Are there societal or cultural biases about either style of shoe? Oh, surely, but that holds true for any accessory or item of apparel. Recently, I became entangled in a debate about whether strappy sandals are vulgar or not. Not, say I, but there are those who sexualize everything and associate sexuality with vulgarity. So, show off your toe cleavage with impunity!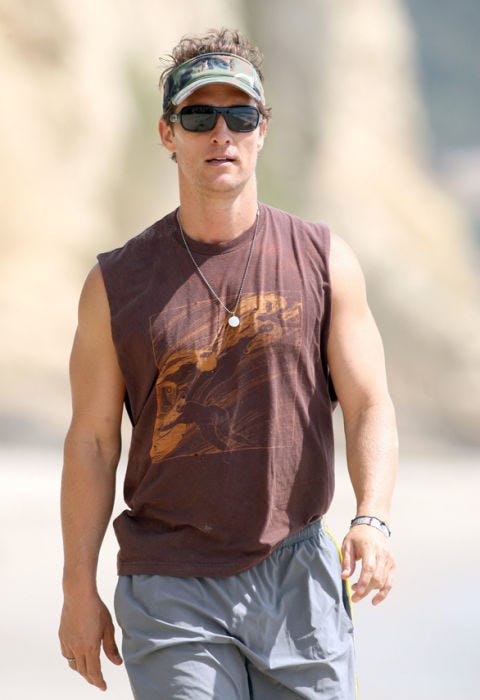 Man Trouble
"I consider myself pretty fashionable, but my boyfriend wears tank tops and running shorts everywhere we go! How do I get him to wear better clothes?"
Have you asked yourself whether your boyfriend's fashion foibles are a relationship deal-breaker? If not, then your desire to discuss this may seem capricious. But if so, then sit him down for a heart-to-heart about the semiotics of clothes; that is, the clothes we wear send a message about how the world perceives us. He's dressing like a kid, which I assume he is not. Ask him to identify a fashion icon, someone whose style he could consider emulating (having some men's fashion magazines may help advance the plot). When he's able to express how he would like to present himself, give him some shopping assistance to help him attain that look. If, on the other hand, he's resigned to being a perpetual boyish slob, then let someone else befriend this Peter Pan.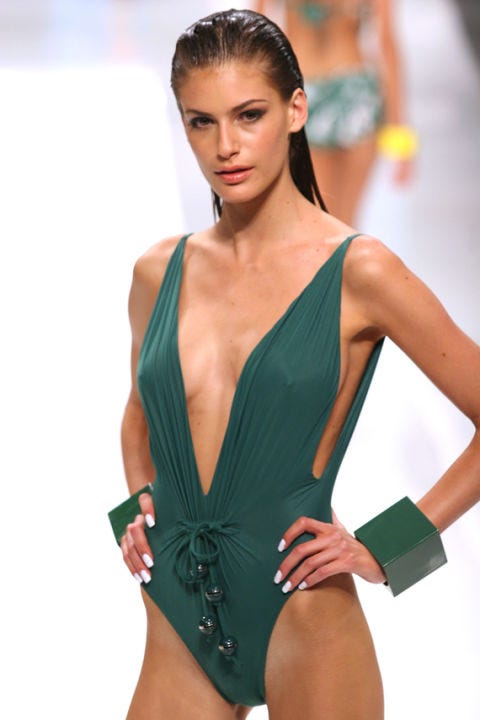 Healthy Choice
I have pale skin and use tons of sunscreen. What color swimsuits do you recommend so I don't look washed out?"
The washed-out look is the consequence of wearing anything that approximates the color of your own skin. (Many people use the word "nude" to describe this, but it's only nude if that's the color of your skin!) Deeply saturated colors, such as jewel tones, will be flattering, while the wimpiness of pastels will not. If you're partial to prints, be mind-ful of the scale in relation to your size and shape — petite or robust women will be overwhelmed by large-scale prints, for example.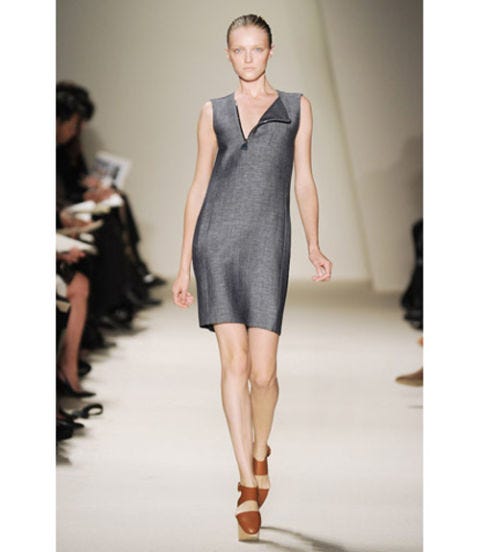 Clean Collegiate
"I am a freshman in college and love experimenting with different looks. Right now I like the neat, clean minimalist look best, but I can't seem to pull it off without looking like I raided my mom's closet — although she does have great style. Can you tell me how to dress in a clean and simple style while still looking my age?"
When I hear "like I raided my mom's closet," it conjures up images of ill-fitting clothes in pastel tones. Am I correct? A successful minimal look requires that clothes fit perfectly — not too tight, not too loose — and are proportioned perfectly (consider yourself to be a sequence of thirds from your shoulders to your toes, and dress accordingly). I also find that neutral colors — for example, black, camel, heather — give the minimal look a younger feel and far more sophistication. Avoid pastels or any color that is close to your own skin tone. If you want to consider color, then you can use vibrant accents in accessories.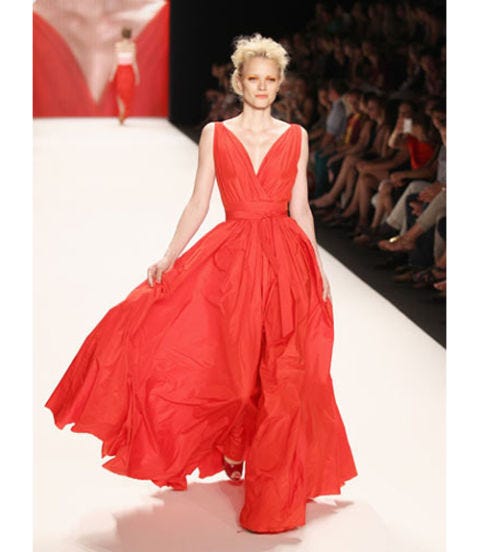 Wedding Party
I'm getting married in San Francisco, and I'm turned off by all of the bridesmaid dress options I've seen. I'd love to treat my three chic bridesmaids to beautiful Dresses that will do them justice. Any suggestions on styles or colors?"
A good bridesmaid dress is hard to find! In fact, I find that brides-to-be are often more troubled by this issue than by their own dress. The key to a successful bridesmaid look is to consider its appropriateness for a party, not for a wedding. Consider how it will be perceived in the "real world" as compared with the make-believe land of weddings. In terms of styles, I recommend either a dress with an A-line skirt, a V-neckline, and a three-quarter sleeve or a classic shift. On the Topic of colors, consider any deeply saturated color that you would find in a garden. If you're considering a print, be mindful of the scale of it in relation to the sizes and shapes of your bridesmaids. Frankly, a solid is safest.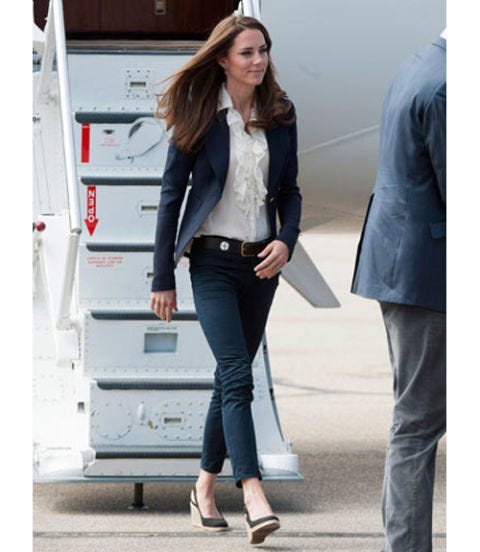 Ship Shape
I am going on a cocktail cruise in Fort Lauderdale, then out to dinner at a high-end restaurant. Are dark skinny Jeans out of the question, or can I dress them up?"
A dark-wash jean can go (almost) anywhere. When putting together a look, focus on the highest end of the occasion and dress for that, because you'll feel appropriate in that venue. In your case, that's the restaurant. This is an occasion for a transitional outfit — one that can be transformed from sea to land. For the cruise, consider pairing the Jeans with a wrap-style Top in a light color and an espadrille, which has the height of a heeled sandal but gives you more support for the bobbing of the boat. After the cruise, put a fitted blazer over the Top, and switch out the espadrille for a strappy heeled sandal. Stack a couple of great Cuffs, grab a dressy Clutch, and you're all set.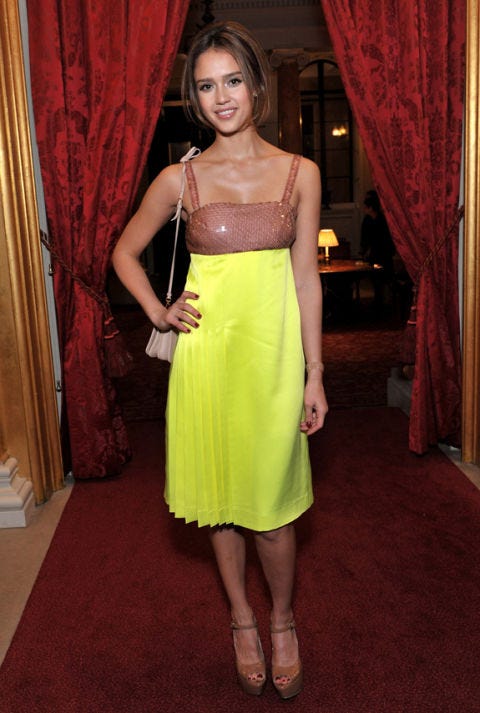 Neon Knockout
"I love the neon colors for spring. I already own a couple of bright items. But what do I pair with a neon cardigan? It's rather conservative in style, aside from the color. I don't really want to wear plain, old unflattering white under it, and black would look like Halloween. Any advice?"
It's essential that you use only one neon item — the cardigan, in your case — and let it be the key attraction. You're correct to avoid white and black. I find that mid-tone shades of gray work beautifully with neon and lend a sophistication that could otherwise cause the neon to look jejune. I have also seen deep, rich brown with neon, and it was very chic. In either case, you can — and should — use brown accessories. If you were to use black, then you risk triggering the Halloween association, as your question cautions.
This content is created and maintained by a third party, and imported onto this page to help users provide their email addresses. You may be able to find more information about this and similar content at piano.io