Jourdan Dunn Takes Diane von Furstenberg's Wrap Dress on a Whirlwind Journey
We sat down with the globe-trotting model to find out about her travel routine and how she makes the wrap dress her own.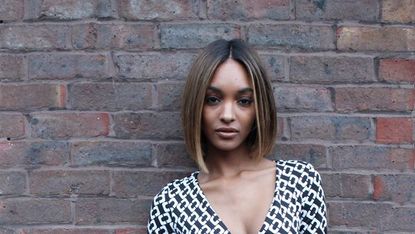 (Image credit: Archives)
When you're constantly jetting across the globe, what's easier or chicer than a wrap dress? To celebrate the 40th anniversary of her iconic design, Diane von Furstenberg named Jourdan Dunn her "Journey of a Dress" ambassador for the month of November, during which she'll document her travels via social media, photos, and the video seen below.
We sat down with the globe-trotting model to find out about her travel routine and how she makes a piece of clothing designed for all women her very own.
Marie Claire: What occasions do you think a DVF wrap dress works well for, and when do you like to wear one?

Jourdan Dunn: The best part of the wrap dress is the versatility. You can wear it during the day with flats or dress it up for a night event. It's effortless, chic and comfortable. I wear the dress more during the day, running errands.
MC: How are you planning to style the chainlink dress when you wear it?

JD: Style it with a chic clutch and an open-toe Manolo sandal. Light, clean makeup and pulled back hair in a ponytail or loose waves.
MC: The wrap dress shows off legs, so what products do you use to keep your skin smooth and moisturized?

JD: NUXE Huile Prodigieuse Dry Oil.
MC: I know you're wearing the dress during your travels. Can you tell us your makeup and skincare must-haves for when you're traveling or flying?

JD: La Mer moisturizer is essential as well as Maybelline Colossal Cat Eye Waterproof Mascara.
MC: Do you have a favorite nail polish color?

JD: I love all of the Maybelline Colors. I recently wore Color Show Nail Lacquer in Pedal to the Metal to the MTV Video Music Awards.
MC: What tech item can you not live without?

JD: I am constantly playing music and need to have my iPod on me at all times.
MC: What's your favorite workout/exercise/way to stay in shape?

JD: I maintain a balanced diet and when I need to get a bit of exercise, I dance. It's my favorite type of exercise and the best way to de-stress.
MC: What's on your holiday wish list this year?

JD: I want to take my family on a vacation all together. It's hard because we are all so busy, but this year I hope we can all go visit family in Jamaica.
MC: What's your favorite holiday treat?

JD: I am not into sweets. I really prefer hearty and savory dishes over sweets.
Watch Jourdan's #JourneyofaDress below: