27 Thoughts I Had While Watching Lifetime's 'Harry and Meghan: A Royal Romance'
Where can I get my own Meghan and Harry secret bracelet?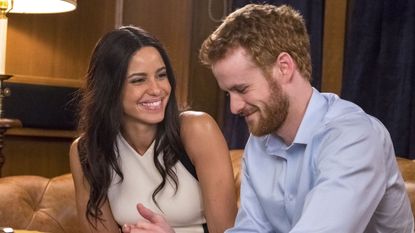 (Image credit: Lifetime)
Marie Claire Newsletter
Celebrity news, beauty, fashion advice, and fascinating features, delivered straight to your inbox!
Thank you for signing up to Marie Claire. You will receive a verification email shortly.
There was a problem. Please refresh the page and try again.
Oh, how I love a good Lifetime movie. And a good romance. And if you know me, you know that I have a slight obsession with the royal family—like, I should probably go on a "Who Knows the Most About the Royal Family?" game show, if that ever exists. (Are you there Merv Griffin? It's me, Alex.) So, of course, I had the premiere of Lifetime's Harry and Meghan: A Royal Romance blocked off on my calendar for weeks. (Sorry, mom, I'll take you to dinner next year.)
In between fact-checking the movie's accuracy, gasping dramatically, and audibly laughing out loud (cheesiness level: 10 out of 10), I wrote down every single thought I had while watching the good, the bad, and the downright sexual scenes packed into this hour-and-a-half flick. Herewith, my stream of consciousness musings...
1. Did Prince Harry and Prince William actually say this to each other?: "It's okay to be naughty, as long as you don't get caught." Ummm....
2. LOLz to Harry's body guard using the "London Bridge is falling down" excuse to get the prince out of his blind date with Meghan—1) because I immediately started singing Fergie's song, and 2) because if you are a royal fanatic like me you know "London Bridge is Down," is the code word for when the Queen has died (which, obviously, she didn't).
3. Meghan is reading The Crown while talking to Harry on the phone for the first time? Dying of laughter.
4. Why was my first official date with my own fiancé not in Botswana petting giraffes?!?!
5. OMG Harry making fun of his sexy ginger-ness AND dropping Harry Potter jokes all in the same scene. Pure MAGIC!
6. Apparently Meghan's always had a thing for red heads. (LoLOloOLOLoL.)
7. AHHH! Meghan just took off her dress!!! Someone cover the Queen's eyes. I repeat, SOMEONE COVER THE QUEEN'S EYES!
8. Now they're laying naked in bed together, and all I can think is WWQED?!
9. "The whole manly-man-meets-sensitive thing" = Literally, my exact thoughts about Prince Harry.
10. "Glass ceilings not glass slippers." HELL YEAH.
11. Did Meghan actually try to break up with Harry over FaceTime? Not cool.
12. YESSS Meghan dressed up as Hillary Clinton for Halloween—well, in the movie, but $10 says she did IRL, too.

13. And Harry's dressed up as a frog because he's her Prince Charming! Brb, my heart just exploded.

14. Where can I get my own Meghan and Harry secret bracelet? Seriously, Internet, where?!
15. George. And. Charlotte. So. Adorbs!
16. Watching TV Prince Harry play with small children makes me sooooo excited to see all the little royal babies he and Meghan produce.
17. Ewww, this Bella character makes me cringe so hard. Like, leave Meghan alone you witch.
18. My heart is breaking watching Meghan dump Harry. I mean, I know it'll all be fine in the end. But still, you know you want him, girl!
19. YESS go get him Meghan!!!*
(*actual words I screamed at my TV.)
20. WOW. This airport-I-love-you-scene is SO DRAMATIC and I'm really into it. Also, can someone please find out if this happened IRL?
21. Even little Prince Louis made an appearance (still in Kate's belly, that is).
22. I really hope this Kate-Meghan besties thing is real, because I'm so here for it. "Us commoners have to stick together."
BFFs 4Eva.'
23. Prince Harry and Meghan Markle eating avocado toast is AMAZING. They're so basic; I love it. If I eat avocado toast, can I become a princess, too?
24. No way Harry and Meghan actually came that close to being eaten alive by a lion, right? RIGHT?!
25. This steamy, I-almost-got-attacked-by-a-lion-and-saw-my-life-flash-before-my-eyes sex scene is FIRE.
26. Why does everyone look like their real-life counterpart, EXCEPT the Queen? Where is Claire Foy when you need her?
27. Did Queen Elizabeth actually ask Meghan if she watches The Crown? Has the Queen watched The Crown? Is the Queen watching THIS movie?! Dear god, someone change the channel during the sex scenes if she is!
Welp, there you have it. All 27 of the random, crazy things I was thinking about while watching Lifetime's amazingly cheesy Harry and Meghan rom-com.
RELATED STORIES
Celebrity news, beauty, fashion advice, and fascinating features, delivered straight to your inbox!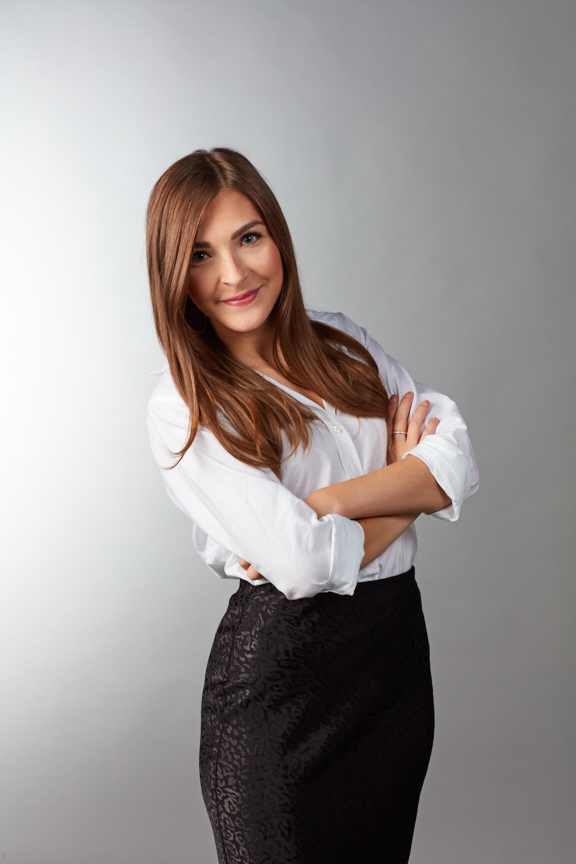 I'm currently working at Dotdash Meredith as the Celeb & Entertainment E-Commerce Lead contributing affiliate content for People.com and InStyle.com. I'm basically like your personal shopper, from writing about that cozy loungewear set you didn't know you needed to keeping tabs on the best sales and deals on the internet. I'm also a pro at finding affordable dupes for celebrity looks and I love to dig into the data to strategize content opportunities.