Prince George of Cambridge's Cutest Moments of All Time
...Including that time he met President Obama while wearing a robe!
Prince George is turning seven on July 22, and the future King of England is getting cuter by the day. When he's not a big brother to his sister, Charlotte, and brother, Louis, he's also a friend to his cousin, Archie. Since the young royal entered the scene, he's made waves with his youthful charm. He's been taking private tennis lessons with Roger Federer, rocking plaid pants, and getting a little jealous when his siblings get some extra attention. It's no wonder his father Prince William has said "George rules the roost" and that, "He's a little monkey."
So, it's easy to say the soon-to-be seven-year-old is unforgettable. He's set to be the subject of a new animated comedy show on HBO Max, after all. While it might be a while before we see George take his place on the throne, we can expect more memorable moments from the future king. In honor of his birthday (and how adorable he is), we've rounded up the sweetest pics of George, ahead, so you can see just how much he's changed over the years. Get ready to say, "Aww" a lot.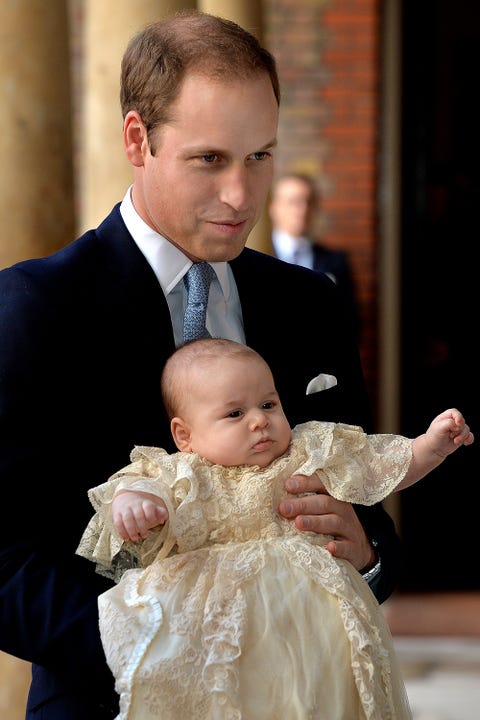 October 2013
Three months after his birth, Prince George arrived at Chapel Royal in St. Jame's Palace for his royal christening. Prince William held the little prince, who was decked out in the historic Honiton lace christening robe. (Princess Charlotte wore it two years later, and Prince Louis wore it for his as well.)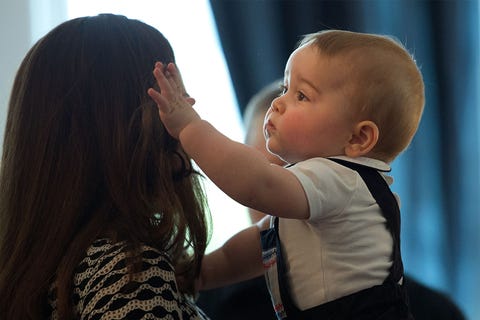 April 2014
At nine months old, George played with the Duchess of Cambridge's hair oh-so-lovingly during their official visit to New Zealand. The trip marked Kate and William's first journey overseas with their baby boy.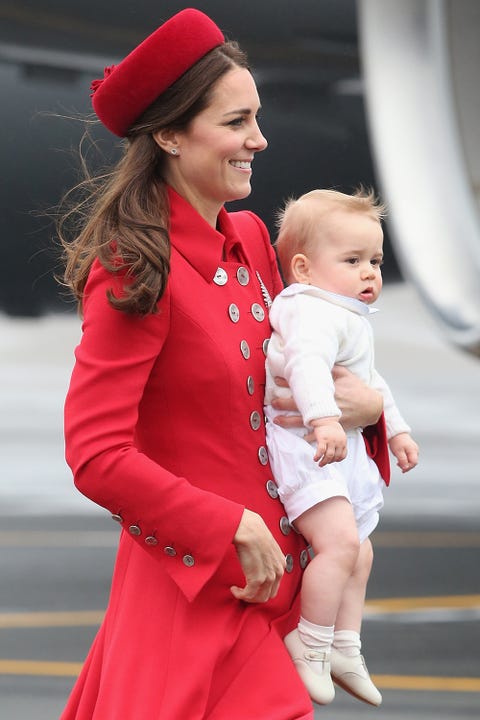 April 2014
On the same trip, Kate accessorized her all-red outfit with a super-chubby (and ridiculously cute) George. Needless to say, George's first international tour was a success.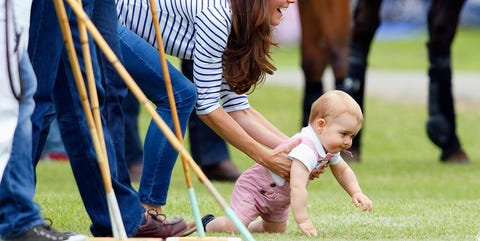 June 2014
At 11 months old, George was busy becoming the little rascal we know and love today. Here, the prince is pictured scurrying away from Kate during the Jerudong Trophy charity polo match in Cirencester.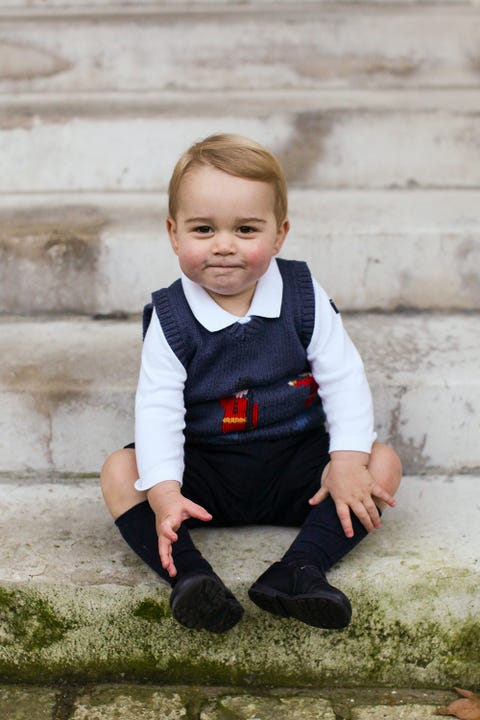 December 2014
Excuse me, but who gave Prince George permission to look this cute in his first official Christmas picture?! The chubby-cheeked royal posed in a courtyard at Kensington Palace in a sweater vest and high socks (because, of course).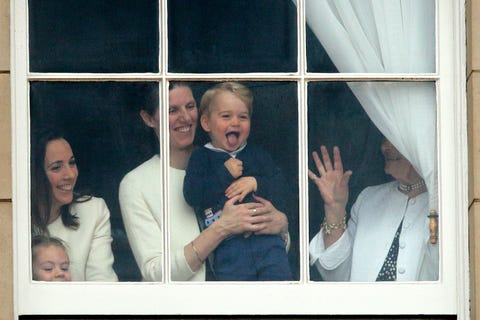 June 2015
Apparently Princess Charlotte isn't the only Windsor who sticks her tongue out at paparazzi (remember her entrance to Meghan and Harry's wedding?). George cheekily posed with royal nanny Maria Teresa Turrion Borrallo during Trooping the Colour in 2015.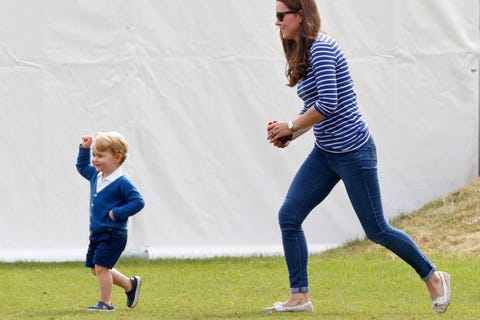 June 2015
At the Gigaset Charity Polo Match in Tetbury, Prince George triumphantly ran through the field with Kate following closely behind. Look at that little fist!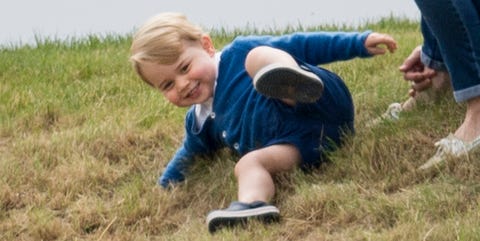 June 2015
Later that day, the little prince took a brief tumble in the grass, but remained all smiles.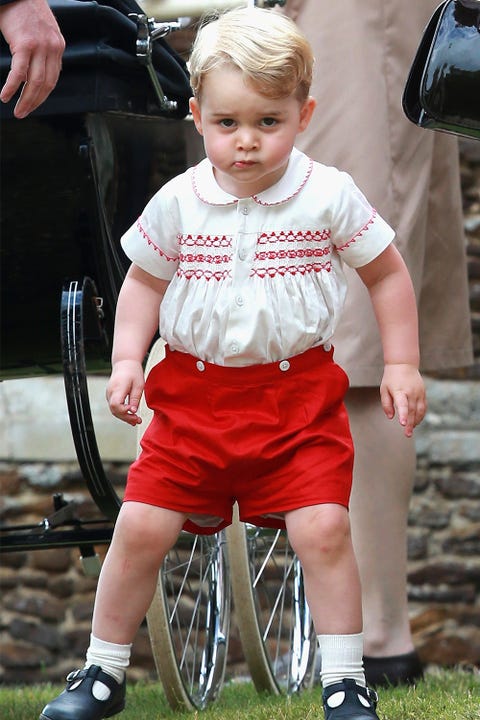 July 2015
Sure, July 5 was Princess Charlotte's christening, but George arguably stole the show in a pair of bright-red shorts and an embroidered top. Here, the little guy puts on a grumpy face for the cameras.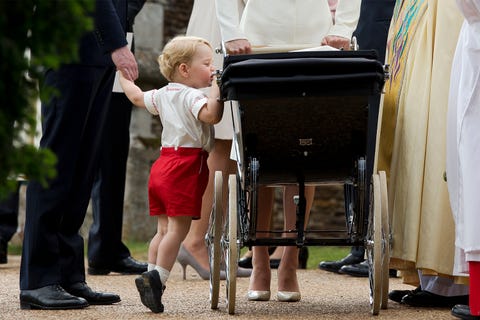 July 2015
Later, George went on his tippy toes to get a glimpse of Charlotte in her baby carriage.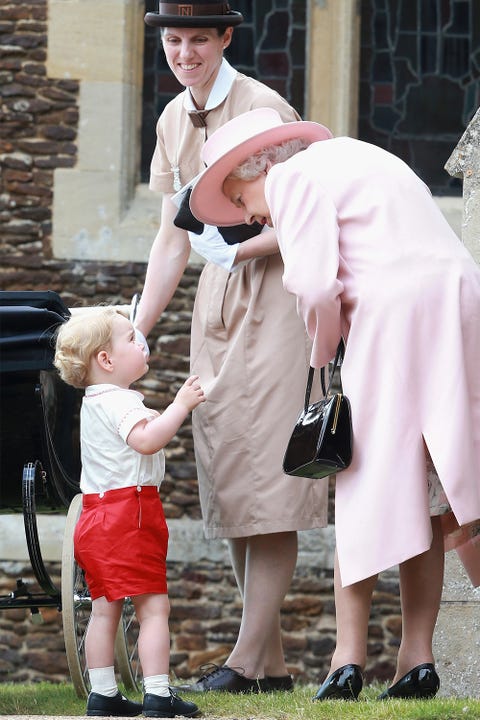 July 2015
Charlotte's christening was topped off with a seemingly adorable conversation between the Queen and her great-grandson. Here's hoping they were exchanging tips on ruling a kingdom!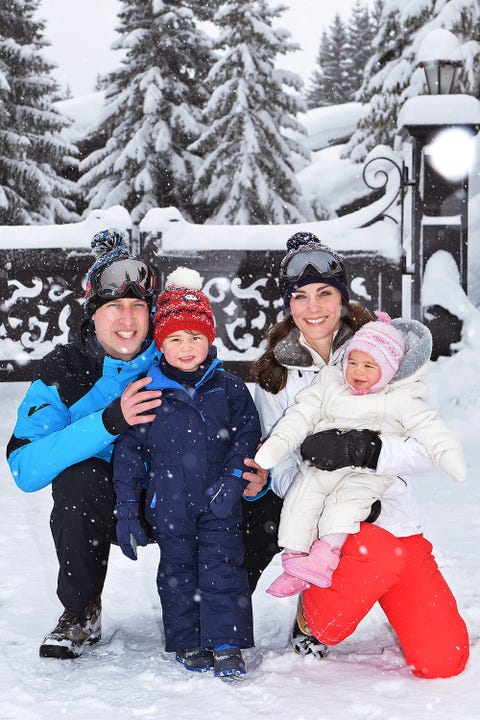 March 2016
In 2016, George cheesed for the ultimate family photo during a quick ski trip to the French Alps. Can you just with his (and Charlotte's!) little beanie?!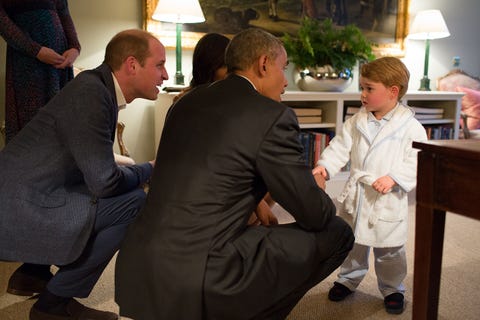 April 2016
In quite possibly the most iconic Prince George photo of all time, a robe-clad George sweetly shakes hands with President Obama. Not sure how the Obamas left Kensington Palace without sneaking George in their suitcase, tbh.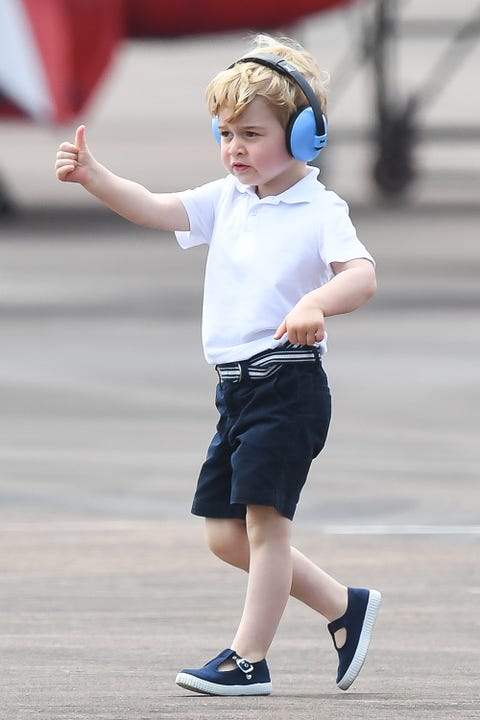 July 2016
"All clear for takeoff," Prince George probably said during The Royal International Air Tattoo in Fairford. The little dude dressed for the occasion in color-coordinating navy shorts and shoes.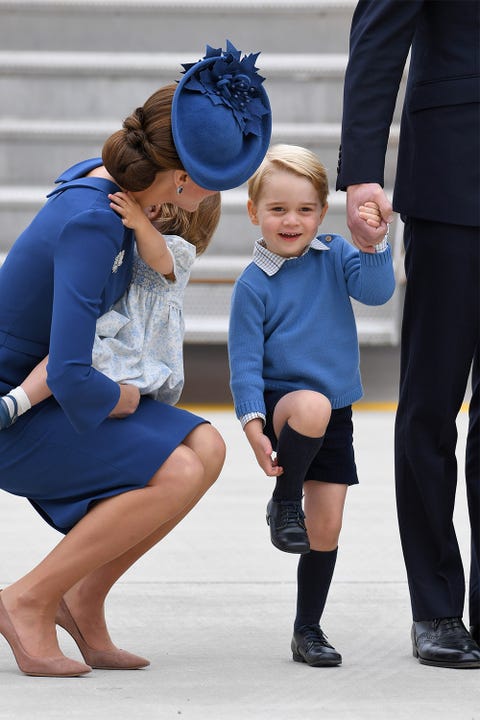 September 2016
A smiling Prince George scratched his leg after arriving in Victoria, Canada, in the fall of 2016. George and Charlotte accompanied their parents on their Royal Tour of Canada.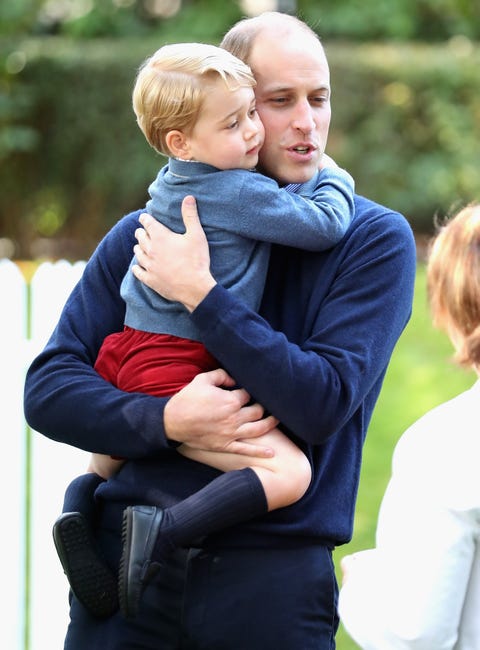 Chris Jackson
Getty Images
September 2016
While on an eight-day trip to Canada, Prince George managed to get a bear hug in with his father while at a children's party for military families. We've never seen a cuter embrace.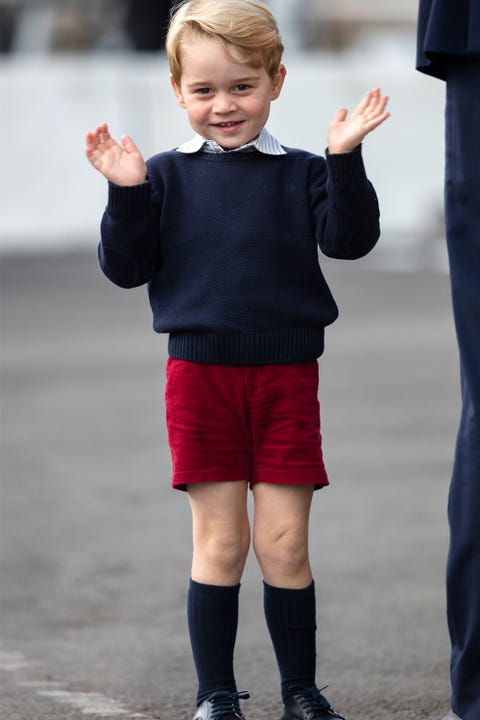 October 2016
Everyone knows mastering the art of the royal wave takes practice. In 2016, Prince George proved he had it down when he debuted this epic double wave.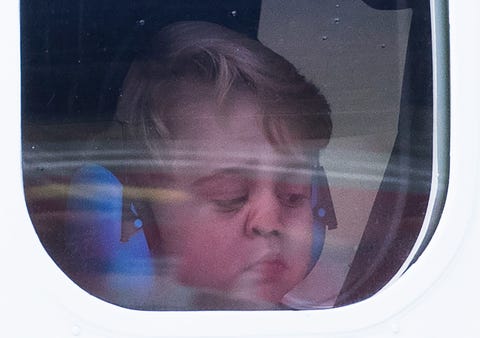 Samir Hussein
Getty Images
October 2016
While leaving a royal tour of Canada, we got to see how much his-soon-to-be royal highness prefers the window seat to the aisle seat. A forever mood.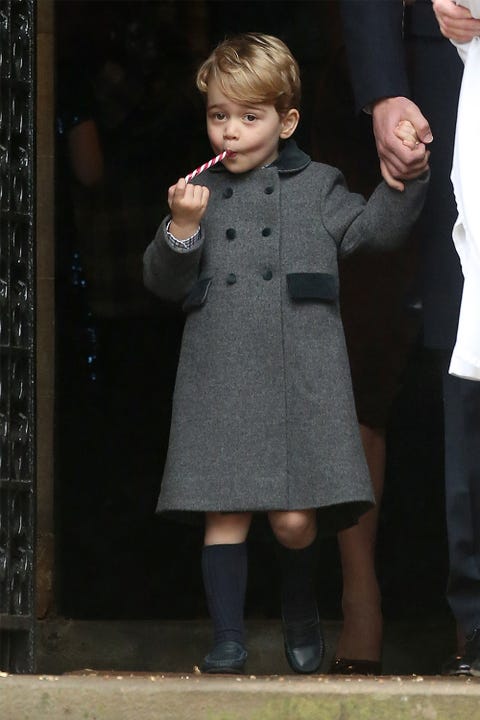 December 2016
Church was made fun with the help of a candy cane during the royal family's Christmas Day service in Bucklebury, Berkshire. Am I the only one seriously considering copping this outfit? Don't answer that.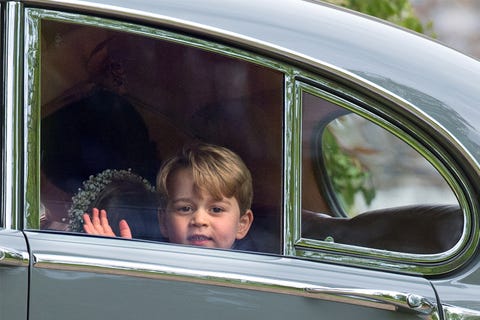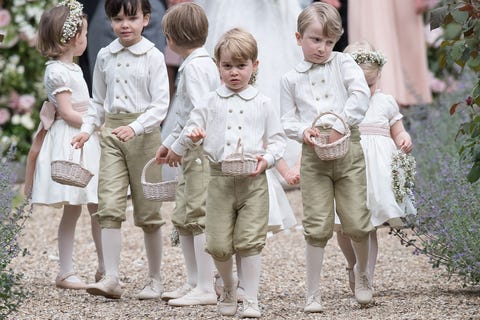 May 2017
Later that day, George starred as quite possibly the cutest page boy of all time during Pippa's ceremony. I'm not quite sure what's cuter—the olive pants or that tiny basket.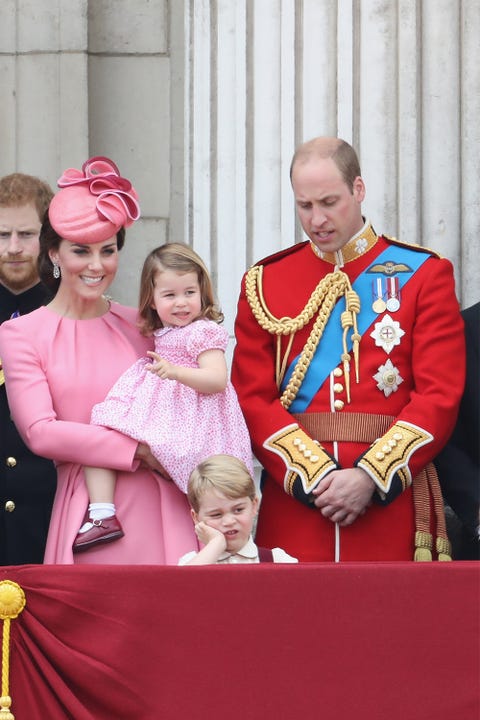 June 2017
Prince George's face gave me all the feels during Trooping the Colour 2017. What not-quite-four-year-old can watch an hours-long celebration WITHOUT looking bored as heck?
July 2017
George adorably pouted as the family set off on their official visit to Poland and Germany. I'm not a parent, but how could you be mad at that face?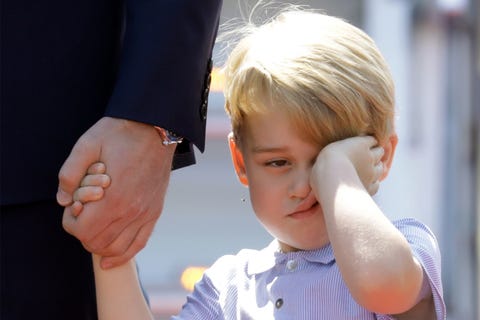 July 2017
If I had to sum up how I feel every Monday morning, Prince George's face at the Berlin airport in 2017 is a great start. The little guy looked so over it as the royal family embarked on a three-day visit to Germany.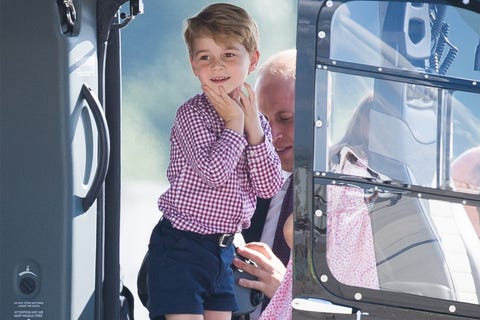 July 2017
The prince perked up on his last day of the family's Poland and Germany visit, courtesy of a few helicopters at the Hamburg airport. The joy! The happiness! The short shorts!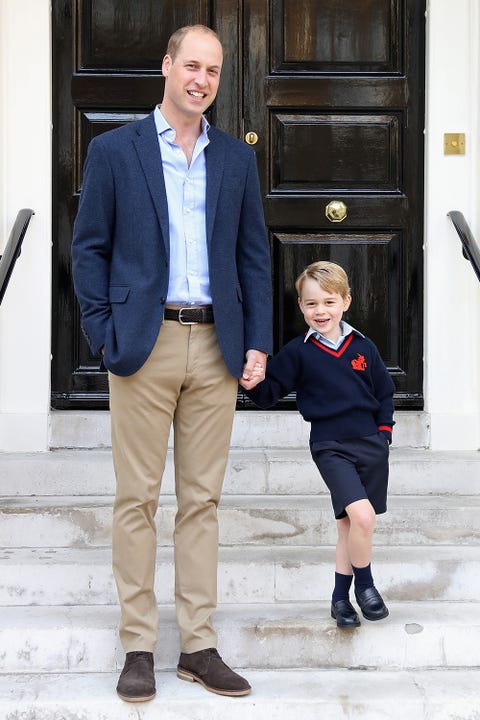 September 2017
Prince George was ready to seize the day as Prince William accompanied him to his first day of school at Thomas's Battersea. The duo looked cheery as they posed for a quick photo at Kensington Palace before heading off...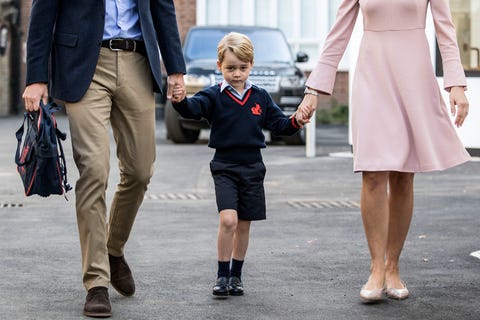 September 2017
...but things got real when Will handed George off to his teacher. The little prince looked like a sad puppy as he walked into the school (which, been there).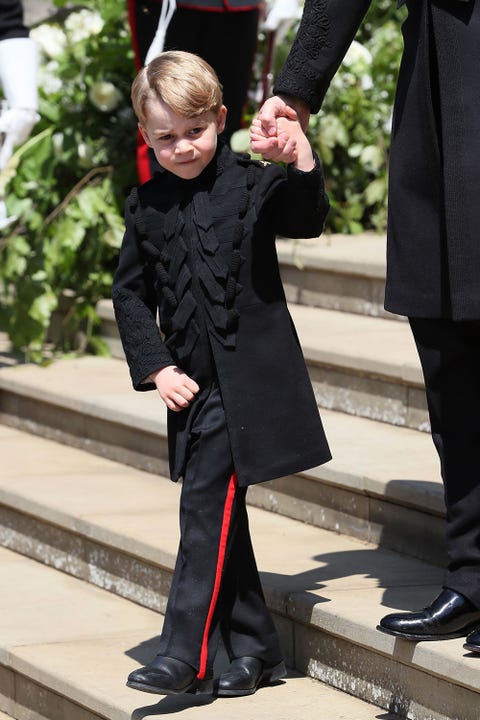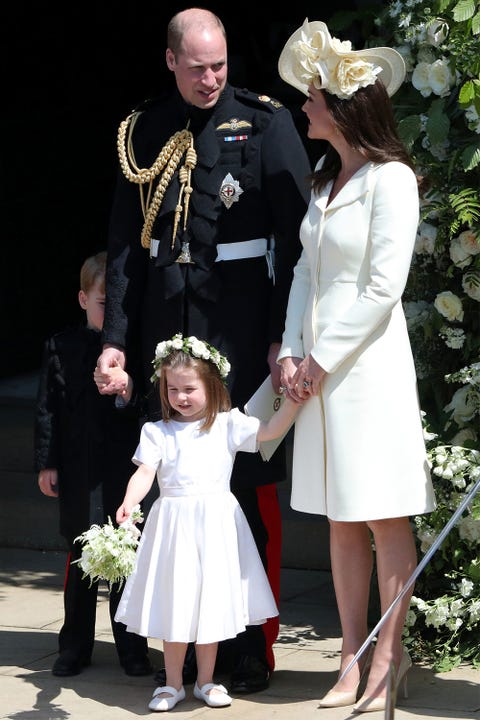 This content is created and maintained by a third party, and imported onto this page to help users provide their email addresses. You may be able to find more information about this and similar content at piano.io