These Are the Best Books of 2018, According to Our Editors
The books that kept us sane throughout this wild year.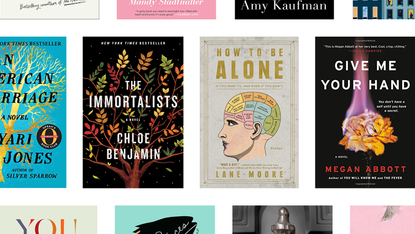 (Image credit: Courtesy/Morgan McMullen)
Now that 2018 is rolling to a close (good riddance) it's time to reflect on everything that happened this year. But because the news was often disheartening, unsettling, and confusing, maybe we shouldn't measure how far we've come in headlines. Instead, it makes more sense to reexamine the books that came out this year—the art that informed us about our world or helped us step outside of it for a moment. The editors of Marie Claire got together to share some of the best books of 2018, in our opinions, and the results ran the gamut. There are well-researched nonfiction books and deeply personal memoirs, kooky short story collections and engrossing novels. There were a lot of women writers, too, because women have a unique perspective on this very particular time in history. But the one thing that holds these picks for the best books of 2018 together is the vividness of the worlds they paint.
Here, our favorite books of 2018:
An American Marriage by Tayari Jones
This is not just one of the best books I read this year—it's one of the best books I've ever read. I was hooked from the first page, drawn into Celestial and Roy's world as they navigate their young marriage just when it's ripped apart by a wrongful conviction. With its richly developed characters and beautiful, devastating prose, Jones' masterpiece serves as a powerful statement on how an injustice punishes the whole family, not just the innocent man behind bars. While it broke my heart, it's not as grim or "homework-y" as this review might make it sound. Trust me: You need to read this book. In case you need some more convincing, both Oprah and Barack Obama have recommended the title as well. —Kayla Webley Adler, Senior Editor
Bad Blood: Secrets and Lies in a Silicon Valley Startup by John Carreyrou
In 2014, Forbes magazine named Theranos' Elizabeth Holmes the youngest self-made female billionaire, putting the black turtleneck-wearing Stanford dropout—who was often compared to Steve Jobs—on the cover of its annual 400 richest Americans list. At the time, it seemed the CEO of the $9 billion startup that promised to make blood testing faster and easier could do no wrong. There was just one problem: Her technology didn't work.
Behind the scenes, Wall Street Journal reporter John Carreyrou was working on a months-long investigation into Theranos that landed like a bomb on the front page of the newspaper in 2015, and ultimately led to the company ceasing operations and to Holmes stepping down as CEO, after being indicted on nine counts of wire fraud, among other charges. In Bad Blood, Carreyrou tells the full, gripping tale of how he slayed the "unicorn" in a fascinating look at how buzz and billions can blind people to facts. —K.W.A.
Bachelor Nation by Amy Kaufman
My online writing career began by recapping The Bachelor, and I have a low-key love for what I can only consider to be the second-messiest, most glorious show on television (Vanderpump Rules being first), so this book was basically written for me. I can wax poetic about why I'm addicted to all things Bachelor Nation, but Amy Kaufman gets to the heart of it in her exploration of the show's fandom. It's required reading for anyone who not only loves The Bachelor franchise, but who loves competitive reality TV in general, with insight that explains not only the history of the series, but why we come back to show season after season. It's horrifying and hilarious. You'll never look at The Bachelor the same way again. —Amanda Mitchell, Editorial Fellow
LOVE TALKING ABOUT BOOKS?
Charlotte Walsh Likes to Win by Jo Piazza
Talk about timely. Piazza started writing this tale of a woman running for office before Trump was elected and spurred the greatest number of women to put their name on the ballot in American history, so maybe she's psychic? (Hey Jo, what are this week's Mega Millions numbers?) Aside from being incredibly prescient, this book is a fun, engaging, dare I say, page-turner that will surprise you right up until the very end. A portrait of marriage, politics, female friendship, and power, the characters may have many, many flaws, but this book has almost none. If you didn't read it before November 6, that's okay, it'll definitely still be relevant come 2020. —Danielle McNally, Features Director
Educated: A Memoir by Tara Westover
This memoir follows Westover's upbringing in a survivalist Mormon household and her decision to pursue a higher education after stepping foot in a classroom for the first time ever—at age 17. Hailing from the remote mountains of Idaho, the Westover family values hard work and physical labor over education, and believes girls should aim only to become good wives and have children. With prose that reminds you of dystopian fiction, Educated is a beautiful coming-of-age story from a perspective I hadn't heard and mostly hadn't thought about before. I would highly recommend it to anyone who's struggling to find direction in their life, who questions familial love and relationships, or who's passionate about FIGHTING THE PATRIARCHY. If I can't convince you to check it out, maybe the numerous other bestseller lists it has hit this year will? —Morgan McMullen, Designer
Find Me Gone by Sarah Meuleman
This former Vogue Amsterdam columnist's debut novel operates like a rubber band being stretched: The tension builds until eventually it just snaps. Main character Hannah is a successful fashion and celebrity journalist who quits her glitzy job to write a book on three female authors—Agatha Christie, Barbara Follett, and Virginia Woolf—who all vanished without a trace. As Hannah pens their tales, the secrets of her own past begin to unravel, including those of her childhood best friend who disappeared one night, never to be seen again. The part-coming-of-age story, part-mystery thriller traverses decades and perspectives to create a complex narrative that only comes together in the book's final pages. Meuleman relies heavily on metaphor throughout the novel and never holds the reader's hand: You have to read carefully and slowly if you have any chance of guessing the end before it arrives. But I bet that you'll still never see it coming. —Megan DiTrolio, Editorial Assistant
Give Me Your Hand by Megan Abbott
In her latest thriller, Megan Abbott continues her knack for expertly dissecting the complex and competitive nature of female friendship. The story, set in a high-intensity research laboratory, centers on 30-something scientists Diane and Kit, former BFFs bonded by a childhood secret. When Diane unexpectedly reenters Kit's life—and lab—that secret bleeds (quite literally) into their present-day lives. Trust me, you'll finish this one in hours. —Colleen McKeegan, Senior Editor
The Immortalists by Chloe Benjamin
What if you knew when you would die? Would it change how you live your life? That's the conundrum facing four siblings after they visit a fortune teller on New York City's Lower East Side who tells them the date they will die. Each of the siblings uses the knowledge differently, to profound and often heart-wrenching effects. Whether you'd consider such information a curse or a gift, I can guarantee this book will make you think. —K.W.A.
How to Be Alone: If You Want To, and Even If You Don't by Lane Moore
Lane Moore is a musician, writer, comedian, actress, and the host of hilarious IRL comedy show Tinder Live—basically, she does it all. But where normally people that talented make me feel sort of terrible about myself (I can barely remember to water my plants!), her memoir How to Be Alone did the opposite. In funny, super relatable, and smack-you-in-the-face-with-how-thoughtful-it-is prose, Moore talks about crushes, identity, feminism, and finding self-worth when everything inside you is telling you that you kind of suck. Funny enough, How to Be Alone made me feel a lot less lonely. —Cady Drell, Culture + News Editor
Lord of The Butterflies by Andrea Gibson
This is a masterpiece—enough said. I read a lot of spoken-word poetry, and a lot of it gets bypassed in favor of more accessible, Instagram-friendly poets. But here, Gibson will tear your world apart with their insights on gender, being queer, and love. Oh, love: No one writes about love the way Gibson does, be it romantic, platonic, or even self-love. If you claim you don't like poetry, Gibson is a perfect entry point. These are so much more than poems—they're really odes to emotions. Gibson can say in one line what it would take me three paragraphs to express. —A.M.
My Year of Rest and Relaxation by Otessa Moshfegh
In the vein of one of my favorite books of last year, Elif Batuman's Pulitzer Prize-shortlisted The Idiot, Moshfegh's second novel concerns a character I want to grab by the shoulders and give a violent shake. Her protagonist has just come into a decent-sized inheritance and decides to blow off her best frenemy and finance-bro boyfriend in order to spend her money on a cocktail of prescription drugs that will help her sleep for an entire year. Though it seems a little Seinfeldian in its plotlessness—the narrator spends her time either asleep on her gross couch, at her local bodega, or at her psychiatrist's office, and that's pretty much it—there's a surprising amount of stuff actually going on here. It's riveting. —C.D.
The Pisces by Melissa Broder
At first blush, this book is about a woman who hooks up with a sexy merman. And that should be enough! But what Broder does masterfully is turn a fantasy story into a painfully realistic exploration of sex and love addiction, depression, self-destructive tendencies, and how the expectation of happiness that we're just expected to meet can actually crush a woman. It was pitch-black, surprisingly sexy, and ultimately illuminating. I loved it. —C.D.
One in a Million by Lindsey Kelk
I've been obsessed with Lindsey Kelk, a British writer who up and moved to New York in her twenties (like me!), for the best part of a decade. Her fiction is dry, warm, stuffed with fully-realized female characters, and very, very funny. For me, no writer captures the in-between state of being not quite "of" one country, not quite "of" another, and not quite knowing what's going on, like Kelk does. Her latest offering is classic Kelk, by which I mean a balm on my troubled soul, because two years in Trump's America will make you yearn for that. —Jenny Hollander, Deputy Editor
The Favorite Sister by Jessica Knoll
Knoll's sophomore effort is even better than her debut, Luckiest Girl Alive, which was optioned by Reese Witherspoon's production company (casual). Yes, it's a sharp commentary on pop culture, friendship, and performative feminism, but it's also just a wild whodunnit with twists you won't see coming and a good helping of snark. Warning: You may become so absorbed in the captivating plot and love-to-hate characters that you completely miss all of this month's seasonal festivities. —D.M.
Severance by Ling Ma
You know that overzealous drone in seemingly every office who loves to bark orders, yet seems incapable of solving a problem on his own? Imagine if he was your key to salvation (or, at the very least, shelter and food) after everyone you know and loved died from a gruesome virus. Ling Ma's debut novel tackles countless themes—immigration, work culture, family, capitalism, and the confusing aimlessness of your early 20s—with a dry wit that keeps the horrific digestible, the repetitive laughable, and the pages turning. —C.M.
Sorority by Genevieve Sly Crane
I haven't spotted this book on any "best of" lists yet and I don't quite know why, because it's one of the most gripping and beautiful works of the year. It's set in the aftermath of the abrupt death of a sorority sister—and it's as dark as it sounds—but there's a kind of beauty to Crane's writing that stops it from being utterly bleak. Crane captures the tinge of desperation, that hint of the unbearable, that comes with being a college-aged woman. —J.H.
Then She Was Gone by Lisa Jewell
I know the phrase "couldn't put it down" gets bandied around a lot, but I am honestly not going to re-read this one until I have time on my hands, because I couldn't focus on anything else after I began this book. Ellie, a happy, popular teenager, goes missing on an ordinary day. The police think she's a runaway. Her mom knows she wouldn't have just taken off, but years pass without an answer. I can't say any more without giving away important and frankly petrifying plot points, but this family-led psychological thriller was at once bleak and gripping. I've been thinking about it since I put it down (which, as I mentioned, was hard to do). —J.H.
Unwifeable by Mandy Stadtmiller
I finished Unwifeable, burst into tears, and then texted all of my friends about it. This book touched me on a deeply personal level, as a young writer who moved to New York fresh out of a relationship that took a ton out of me, emotionally. It's hard to write about your life as a Young Woman In The City without beating yourself up about how commodified that lifestyle is. Unwifeable is a searingly candid book about Stadtmiller's time at The NY Post and xoJane, and she's unafraid to tell the whole ugly story while also inspiring women to grab their lives (and sexualities) by the horns and hold on. One woman's journey through life believing she was "unwifeable" is another girl's way forward. —A.M.

The Wife Between Us by Greer Hendricks and Sarah Pekkanen
I've already read this twice in 2018. It's a psychological thriller that forces us to confront our perceptions of older, single women, as well as the pretty younger 20-somethings we tend to glorify instead. There are twists—man, the twists!—including one about halfway through that demands you just sit the hell down and finish the whole thing already. Special mention goes to the pivotal character who also happens to be a German Shepherd. —J.H.
You Think It, I'll Say It by Curtis Sittenfeld
Prep and American Wife author Curtis Sittenfeld's clean, incisive prose and cutting depiction of everyday life is delicious throughout her first collection of short stories. Come for the sharp, often hilarious scenarios Sittenfeld brilliantly lays out in each chapter. Stay for the surprising twists they each take. —C.M.

You All Grow Up and Leave Me: A Memoir of Teenage Obsession by Piper Weiss
You All Grow Up and Leave Me is so many things: A hauntingly-raw memoir, a gut-wrenchingly honest coming-of-age story, and a painstakingly-researched true crime story. As a teenager, author Piper Weiss was a student of tennis coach Gary Wilensky. When Wilensky attacked another student, with whom he believed he was in love, Weiss wasn't just horrified, she was...well, not jealous, exactly, but something like it. She was left wondering why she hadn't been his favorite. Weiss offers an unflinching look at how Wilensky's crime shaped her both as a teenager and, later, as a grown woman investigating the incident as a journalist. —Kayleigh Roberts, Weekend Editor
RELATED STORY
Celebrity news, beauty, fashion advice, and fascinating features, delivered straight to your inbox!