The Fascinating Story Behind 'Breakfast at Tiffany's' Song "Moon River"
It turns out the river actually exists.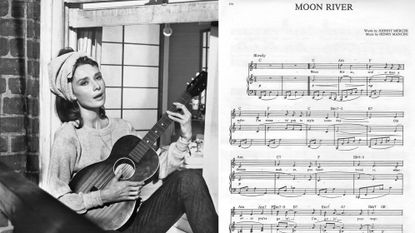 (Image credit: Getty Images)
It's a simple song — only 10 lines long — but the soaring melody and romantic lyrics provided a dreamy soundtrack for the 1961 film adaptation of the Truman Capote classic, Breakfast at Tiffany's. "Moon River" went on to win an Academy Award for Best Original Song and two Grammys, for Record of the Year and Song of the Year. And of course, it's been covered thousands of times by artists including Andy Williams, Frank Sinatra, Judy Garland, and Aretha Franklin.
"Moon river, wider than a mile/ I'm crossing you in style some day/ Oh, dream maker, you heart breaker/ Wherever you're going, I'm going your way."
But how did the enchanting song, written by Henry Mancini and Johnny Mercer and performed by Audrey Hepburn as Holly Golightly, come to be? Believe it or not, the studio was reportedly worried that Hepburn wasn't a strong enough singer. At first, they had wanted to dub another voice over hers. But composer Henry Mancini, the man behind The Pink Panther theme, was able to create a tune specifically for Hepburn's limited range by watching her performance in Funny Face. It took him about a month to write the first three notes, and the rest came to him within a half hour after that, Mancini's widow, Ginny, recalled in a 2015 interview with BBC.
For the words, he went to Mercer, who throughout his career penned the lyrics for more than 1,500 songs. Although many might have thought Manhattan-based Golightly was referring to the Hudson River in New York, the song was actually inspired by the waterways of a Southern city. Mercer wrote the chorus recalling the his childhood home in Burnside Island, Savannah, Georgia, which overlooked Back River, explains Savannah Now. The working title, "Blue River," was adjusted when he realized the title was already taken. A year after the film's release, the Chatham County Commission dubbed a section of the Back River "Moon River".
"Two drifters, off to see the world/ There's such a lot of world to see/ We're after the same rainbow's end, waiting, round the bend/ My Huckleberry Friend, Moon River, and me."
As for the huckleberries? Well, Mercer picked them as a kid. "When I grew up in the South, by a river, there were always wild bushes, blackberries, strawberries, little wild strawberries, wild cherry trees, and huckleberries," Mercer is quoted in Portrait of Johnny: The Life of John Herndon Mercer, "and that coupled with the name Huckleberry Finn — and Mark Twain had written about the Mississippi, and this girl in Breakfast at Tiffany's was from around that neck of the woods, down there in the southwest United States, it just seemed to fit the need."
Incredibly, the iconic song almost never even made it into the movie. The screenplay was simply too long, prompting the head of Paramount Pictures to suggest cutting the scene famously set on the fire escape outside of Golightly's New York City apartment.
"The preview had gone very well. We continued to be excited about the song, no one more so than Blake [Edwards, the director], and we were elated about the picture as a whole, although we realized it was running long and would have to be cut," Mancini is quoted in Portrait of Johnny "… And the first thing Marty [Rackin] said was, 'Well, the f--king song has to go.'"
"I saw Henry go pale," Ginny said. "We were all stunned, totally stunned. We were quiet for a minute or two and then there was a barrage of reasons why it should stay in the film and cuts should be made in other areas." Remember, the studio was already worried about Hepburn's musical abilities.
In the end, it's said that Hepburn put her foot down, insisting that the song should stay.
And thank goodness she did. The charming acoustic version offered a raw look at the lead character, dressed down in jeans and a sweatshirt instead of her usual party dresses and jewels—not to mention inspired wanderlust in audiences everywhere.
"There have been more than a thousand recordings of 'Moon River,'" Mancini said. "Of all of them — and I am not overlooking the recordings by Andy Williams, Johnny Mathis, and Frank Sinatra — Audrey's performance was the definitive version. It transcended anything I had ever hoped for the song."
Follow Marie Claire on Facebook for the latest celeb news, beauty tips, fascinating reads, livestream video, and more.
Celebrity news, beauty, fashion advice, and fascinating features, delivered straight to your inbox!
Taysha Murtaugh is the Lifestyle Editor at CountryLiving.com and WomansDay.com. She's always on the lookout for beautiful things and loves baking, entertaining, and watching "Gilmore Girls" on repeat.