Will Mike Johnson Be the Next 'Bachelor'? Here Are the Potential Clues
We're months away from the start of shooting, but I'm joining the chorus of people who are rooting for Air Force veteran Mike Johnson to be the next Bachelor.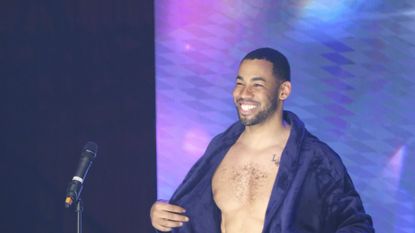 (Image credit: John Fleenor)
Marie Claire Newsletter
Celebrity news, beauty, fashion advice, and fascinating features, delivered straight to your inbox!
Thank you for signing up to Marie Claire. You will receive a verification email shortly.
There was a problem. Please refresh the page and try again.
Spoilers for The Bachelorette ahead, as well as potential spoilers for Bachelor and Bachelor in Paradise. Excited discussion has already begun about who will be the next Bachelor, and particularly those bachelors whom fans loved but didn't walk away with a rose from Hannah Brown on this season's Bachelorette. We are three months or more away from the start of shooting, but I'm taking a stand now and joining the chorus of people who are fans of Air Force veteran Mike Johnson. Dammit, I want this so much. He's sweet, charismatic, goofy, a team player, and really into finding a soul mate (can you imagine how cute he'd be, falling in love with ladies who are as into him as he is into them?). Obviously, no one's telling at this point, and we probably won't get an announcement for a while, but let's examine the potential clues about his chances.
He straight up adores Hannah.
In episode five, Mike just let it all out in the open, grinning like a fiend to be given a one-on-one date. Much like Hannah herself on Colton Underwood's Bachelor, though, he seems to be a bit more into her than she is into him. Poor Hannah got a tough Bachelor edit, giddy with delight over meeting Colton's parents only to be sent packing a few hours later. In turn, Mike is just so thrilled and keeps making references to getting down on one knee, whereas Hannah seems to just be considering him as a friend—at least, that's how I'm reading her body language. Plus, we, uh, know he doesn't make it to the end, so there's that. But that love and energy is contagious and really lovely to watch, especially considering the drama of...one other bachelor in particular.
He's on Bachelor in Paradise—which may or may not be a good sign.
Thanks to a Bachelor in Paradise trailer and a couple well-timed screenshots, we now know that Mike is headed to Paradise. However. Some preliminary spoilers indicate that might not be as big of a deal as one might initially think. Apparently Mike goes on the show when it's already a few episodes in—which, generally speaking, doesn't bode terribly well for the newbies, who are diving into a whole bunch of ongoing drama. He goes on a couple dates, gets and receives a few roses, but then is eliminated without pairing off with anyone. Colton Underwood and Nick Viall also went on BiP then subsequently nabbed the coveted Bachelor roles.
But, equally, a bad edit could sink Mike, and the drama of the show might impact his persona within the Bachelorverse. Mike's defense of Hannah during The Bachelorette came off as chivalrous during her season, but is's a fine line between "vocal" and "aggressive" on these shows. And BiP is drama, squared, comparatively.

The thing that gives me the greatest hope in all this is that I can't see Mike elsewhere throughout the Bachelor in Paradise trailer. I can't see him in the fistfight situation (ugh), the weeping/yelling/canoodling, or any one-on-one interviews. That could be to prevent spoilers, of course, but it could also mean that Mike stays well away from anything crazy. Fingers crossed, and TBD.
He would take the Bachelor gig seriously.
In an exclusive with Entertainment Tonight, Mike was flat-out asked if he was in talks with producers. Mike equivocated, saying no, he hadn't spoken to anyone. When asked who would make a good Bachelor, he said he'd love for Peter to take on the gig if Hannah doesn't pick him, but that if he were in the running, he'd have a lot of questions for producers (presumably about how to make the whole season genuine and real for him). "I take stuff like that very serious. When it comes to pieces of the heart, there's no playing with that," he explained, noting that it's true for him both on and off-camera.
Host Lauren Zima posted the exchange to her Instagram:
In addition to the obvious conclusion we can draw, which is that Mike is incredibly humble and that the men on Hannah's season are all close even after the show has wrapped, this may simply be a necessary bluff on Mike's part. He can't talk about whether he's spoken to anyone, what he might know, or what's in the works for him. Producers love a fan favorite and a classy person who's there for the right reasons, and Mike proved why that he's all three in that interview. Interestingly, former Bachelorette Rachel Lindsay is all in on Mike for Bachelor in a recent interview, and the cast of this season are pulling for him, so he also has support from Bachelor Nation. But he has incredibly stiff competition, so the race is going to get tight before the final announcement.
He got a great edit.
Throughout The Bachelorette, Mike came off as a defender of other bachelors in the face of the appropriately dubbed "Luke Ness Monster," a.k.a. the infamous Luke P. He basically got the inverse of Luke's edit: He does come off as vocal and even a bit gossipy at times (he's the one who told Hannah about Cam's pity rose, for example) but every moment he exudes confidences, personality, and trustworthiness. Again, if anything, he comes off as a bit unaware about how Hannah feels about him.
When trying to narrow down the Bachelor shortlist, producers look for charisma and fan appeal, as well as a job that allows for contestants to take extended time off. Mike has all three in spades: He's in finance and it's not specified exactly what (his job description on LinkedIn is "happy at life," FYI, which I find adorable). He's funny and silly, as in the Mr. Right "pageant" in episode two:
And, not that this is necessary but it totally helps, he has a lot of posts dedicated to his family on Instagram. Like this utterly adorable vid:
He's handsome and cute.
Just gonna leave this one right here.
Oh and also this one.
One more.
Just kidding.
Ok, done, I promise.
Tons of people love him.
I told you! That's like a tenth of a percent of the tweets about him.
Admittedly, some people can't see it.
And that actually includes Bachelor spoiler Reality Steve, who said he handled the Luke situation badly. To this I reply, firstly: I think Luke might be particularly stressful, even by Bachelorverse standards. Fans and writers alike have noted how concentrated the irritation with him is, including bachelors going on record after the show. Also, I feel like no bachelor candidate is perfect? Would we rather have someone like Luke? Or other bachelors from the season who feel very boring to me? (Noted that such a combination hasn't stopped producers before.) As the much-overdue first non-white Bachelor, he's a terrific pick, but he would also be a tremendous choice in his own right, full stop.
His exit set him up perfectly.
As expected, Mike ended episode 8 in the classiest way imaginable. It started out as a very...odd...scene, with Hannah crying at fine art (like Ferris Bueller's Day Off?) and then unable to control her emotions in front of Mike. Mike immediately spotted what was up, and he encouraged her to speak her mind, freely. Hannah said she was devastated that she didn't feel as strongly about Mike as he felt about her, and basically admitted that through tears.
She said later that he was so hard to send home because of how good a person he is—and she even said that he deserves "to be loved fiercely" just like her. Hannah said that exact phrase in her own tearful Bachelor exit interview, so that's a crystal-clear sign that he's a) just like Hannah—optimistic and hopeful and sweet and real—and b) that he'd be absolutely the best Bachelor ever.
Mike, for his part, said that "She crushed me." He was absolutely devastated and looked like he was about to cry, after previously saying during their daytime date that he wanted to spend more and more time with Hannah, that he wanted her to meet his family, and that he could absolutely see himself getting down on one knee and making her his wife. That is tremendous commitment, and unless Mike is the best actor ever, I believe him to be serious about everything.
In his life post-show, Mike's been nothing but positive, and has been quoting his own greatest hits, including "Be yourself, I love you like that," which is something he said to Hannah.
He's expressed gratitude after leaving the show.
Mike made a post on Instagram saying he's nothing but "grateful" about being on the show. He addressed Hannah directly, saying, "You know you fine, no disrespect to ya man," and that "My future wife is going to be hated by all her friends bc she'll be treated as the queen I know she is 💯🌹." So, ladies, and Bachelor producers, he is looking for love and ready to go. I'm just saying.
Connor Saeli and Peter Weber both commented below the post saying what a standup guy he is (Connor called Mike out for being the best roommate ever and Peter said he was one of the most standup guys he'd ever met). Garrett, Luke S., and Old Matt Donald both commented #MikeforBachelor. Beyond this being the sweetest sign of solidarity and support from fellow bachelors—you know they bonded over this crazy season—it's also a sign that Mike is, really, just that good of a guy.
Speaking of, Mike also commented on this pic of Hannah, saying, "Fly pic!" so he's clearly still supportive of her and there are no hard feelings.
Now that we know spoilery things about the guy she did choose, there still is a small chance they could get together—but given that Hannah sent him home before hometowns, I don't see it.
For her part, Hannah retweeted this:
So, even though she can't say much, that's a little sign that she's in support of him in general. (And that she probably sees how ridiculous Luke is being, but that's a whole separate issue.)
Guys. Mike's so picture-perfect! He's the Bachelor I think we totally deserve, so MAKE IT HAPPEN, ABC producers, please. #MikeforBachelor, all the way.
For more stories like this, including celebrity news, beauty and fashion advice, savvy political commentary, and fascinating features, sign up for the Marie Claire newsletter.
Celebrity news, beauty, fashion advice, and fascinating features, delivered straight to your inbox!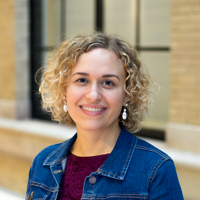 Katherine's a Boston-based contributor at Marie Claire who covers fashion, culture, and lifestyle—from "Clueless" to Everlane to news about Lizzo. She's been a freelancer for 11 years and has had roles with Cosmopolitan and Bustle, with bylines in Parents, Seventeen, and elsewhere. It's "I go to dinner," not "Her huge ego," but she responds to both.