'Love Is Blind' Needs to Fix Its Beautiful People Problem
If love is blind, why does everyone on the show fit conventional standards of beauty?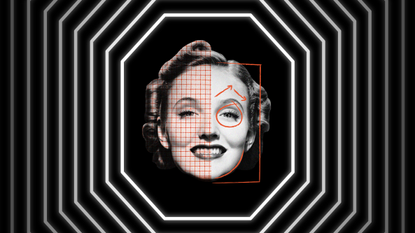 (Image credit: Morgan McMullen )
The premise of Netflix's Love Is Blind had promise: Thirty contestants (15 men, 15 women) court each other over approximately six weeks, and commit to engagements, without ever seeing each other. On its head, it's a series built on whether at-first-sight physical attraction matters when searching for "the one." It's a show that pledges to shine the spotlight on how shallow someone may be, despite their claims of being otherwise.
It's also a total lie.
Considering the show was produced by the makers of Lifetime's Married At First Sight, it's not earth-shattering that another made-for-streaming show failed to reinvent the way love and relationships are depicted on reality television. But it was still exciting to think of its potential. The announcement itself put emphasis on whether love could work as well in the real world as in the fabricated one—and in 2020, that's a great question. The majority of us depict ourselves differently on social media than we do in real life (see: our filtered and Facetuned photos that lack the realism of, say, sitting at one's kitchen table writing an essay on Love Is Blind while wearing cat hair–covered PJs), so the intrigue surrounding the series made sense. But then it aired.
Upon its debut, some critics praised the novelty of its concept but more panned it for the way a unique concept dissolved into just another reality dating show. And not just par for the course, but a "toxic, revolting," and "hollow" (albeit addicting) addition to the already bloated genre. Particularly because, despite claiming to circumvent the vapidness of hot people dating other hot people, it was defined by it.
One of the most frustrating things about Love Is Blind is how it revolves so much around conventional attractiveness. Their age differences, height differences, race differences, varying religious beliefs or life backgrounds are largely trumped by the fact that each of the series' participants embodies traditional beauty standards. (Hell, some of the contestants are so confident about their looks that they tell us, in the first episode, how hot they know they are and what a catch that makes them.) It arguably reflects the producers' fear of owning the risks of their "social experiment" in favor of consciously leaning into the leverage that comes with following a small number of couples who are, well, beautiful. (Even the couples who weren't shown as much—or at all —were also beautiful.)
In fact, everybody on the show, at minimum, is TV-level attractive. Not a soul looks like a Regular Person™. And if they were people we knew in real life and ran into at the grocery store, we'd all exclaim enthusiastically, "Wow! You look great! Do you just always have your brows filled in?"
This isn't to say that just because a person is attractive enough to participate in a Vanessa-and-Nick-Lachey-hosted reality show, that everyone should be attracted to them. (My dislike of Barnett is proof enough.) We're well aware that attraction depends on so much more than just physicality: It depends on personality, on one's moral compass, on the traits you've already deemed important, on the feelings you have. And, yes, that's the point of the show. But that point is largely negated from the onset by casting people who are above average-looking.
Maybe that's what made me so annoyed about this whole thing: Despite its instant popularity that's already led to rumors of a second season, I would still rather watch people who look like real people date and fall in love and engage with each other without the footnote (or safety blanket) of upholding the beauty standards that have been consistently shoved down our throats. I would love to see, at the very least, contestants who could be anybody, from anywhere, and who happily exist out of the realm of the aesthetic specifics we've been told to attain. I want to see people of all sizes, of all ethnicities, of all heights, of all incarnations of selves. I want a show that isn't ableist and opens the door to more contestants whose sexualities exist beyond heterosexuality. (Diamond's reaction to Carlton's bisexuality was profoundly upsetting.) I want a show that looks like the world it's filmed in, not the one it's created.

Especially since the real world isn't beautiful at all. It's messy. Throughout Cameron and Lauren's relationship, the two have complex conversations about race, racism, and their differing experiences navigating the world. Cameron, who is white, tells Lauren that he knows that their children will be seen as black and will face racism as a result of it. And when Lauren shares her own experiences, he takes time to listen and to learn, not enforcing his preconceived beliefs or biases as a white guy. This conversation was a tremendous starting point in opening up a dialogue about issues interracial couples face. But it was just that—a starting point. The show could have created more dialogues by focusing on a more diverse cast.

For brief moments, we meet men like Westley (who's short, and who's been rejected before as a result of his height) and Taylor (who's never had sex before). Had they not disappeared, they would've given us a little more necessary depth. It would've been interesting to hear Westley talk about the way his height impacts him, and it would've been cool for a 30-something man like Taylor to speak more on navigating the heteronormative dating world when your sexual experience differs from what's considered normal. That's what the real world is: different perspectives and opportunities to learn from and about.
This is more than possible for producers to deliver on. Show creator Chris Coelen recently explained that 30 people had been asked to participate, but only couples who seemed to form a genuine connection were asked to stay. And those people, as we can see, just "happened" to be conventionally beautiful. Meaning? These are the people who those in charge believed would make the best television. But I think watching contestants sit in the discomfort of not necessarily connecting with anybody might have made for even better, more ground-breaking, and more realistic television.

Love absolutely can be blind. Physical attractiveness can, and very much does, grow from the seeds of meeting someone who likes you, champions you, makes you laugh, listens, is kind and hard-working, and makes you feel like a person you didn't know you could be. But why not celebrate the range of people who exist on this planet? Why champion traditional definitions of beauty while claiming not to prioritize looks?
And why was anyone even remotely dressed up for those pod dates?
Goddamn it, you guys: No one can see you.
For more stories like this, including celebrity news, beauty and fashion advice, savvy political commentary, and fascinating features, sign up for the Marie Claire newsletter.
RELATED STORIES
Celebrity news, beauty, fashion advice, and fascinating features, delivered straight to your inbox!
Anne T Donahue is a writer and person originally from Cambridge, Ontario, and is the author of the essay collection, Nobody Cares.