How Female Writers Influenced Dawson's Creek's Most Irresistible Couple
Gina Fattore reflects on the making of Joey and Pacey's relationship, 20 years later.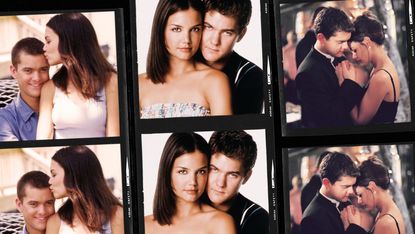 (Image credit: Alamy + Getty)
Marie Claire Newsletter
Celebrity news, beauty, fashion advice, and fascinating features, delivered straight to your inbox!
Thank you for signing up to Marie Claire. You will receive a verification email shortly.
There was a problem. Please refresh the page and try again.
In season 3, episode 23, of Dawson's Creek, feisty girl-next-door Joey Potter delivers an emotional, on-brand monologue that changed the course of the teen show's narrative so significantly that the series can be divided into two categories: everything before Pacey and Joey got together and everything after.
Twenty years ago today, that final episode of Dawson's stellar third season aired. "True Love" finds Joey confessing to Pacey that she's finally ready to move forward because she's in love with him. She's breathless following a passion-fueled sprint from Dawson's house to Pacey's boat but, more crucially, she's happy because the pendulous decision of choosing between two guys is over. It is palpable in Katie Holmes' every expression and affectation in the scene, and it's joyous to see Joey unburdened from the anxiety of falling for her ex's best friend. It took a whole season for Joey to arrive at this place and for the show to be resurrected with a clean slate. And it was all thanks to a multitude of female influences who made their mark beginning with season 3, each of them instrumental in the legacy of teen TV's most irresistible romance.
The Pacey and Joey arc undoubtedly rescued Dawson's Creek. The show had been floundering and needed to re-stabilize during a transitional time for teen dramas. NBC's Freaks and Geeks was unceremoniously cancelled in early 2000, after just 12 episodes, when Dawson's third season was just finding its feet. But fellow WB series Gilmore Girls had received universal praise when it premiered that fall. Meanwhile, the Buffy gang had just transitioned into college with mixed success, and The O.C. was still a few years away. In its infancy, Dawson's had been a critical darling, a fresh take on a coming-of-age tale that captured the zeitgeist just as the teen genre was gaining momentum in the late '90s. However, season 2 was a rocky one, with Dawson and Joey circling back to one another multiple times via confusing plots and melodrama that veered into ridiculous rather than entertaining. As writer/producer Jeffrey Stepakoff reflected in his career memoir Billion Dollar Kiss: The Kiss That Saved Dawson's Creek, "viewers were disgusted with the campy and arbitrary storylines."

Show creator Kevin Williamson departed at the end of the second season and in order to gear up for the next one, a new team of staff (minus future showrunner Greg Berlanti, who had worked on Dawson's sophomore year) were welcomed into the fold. This included a significant influx of female writers and assistants including Maggie Friedman (Netflix's upcoming Firefly Lane), Bonnie Sikowitz (Spin City, The Accidental Husband), Hadley Davis (Scrubs) and Gina Fattore (Gilmore Girls, Californication) whose talents were integral to redefining the show.
Some of the newbies were already avid Dawson's fans. Anna Fricke began as a Writer's Production Assistant (eye-rollingly titled "secretary" at the time) while Liz Tigelaar joined the show the previous year as a Post-Production PA turned Script Coordinator. (Both were 23 at the time, at the very beginning of their careers, and the ideal age to provide unique perspectives on all things Young Person.) The duo were tasked with creating extra online Dawson's content to engage their audience. They contributed to "Dawson's Desktop," an interactive website—a pioneering effort in the nascent days of expanded universe spoils— that featured Dawson and co.'s journal entries and Instant Messages. The pair also penned a collection of YA companion novels in the vein of R.L. Stine before graduating to fully-fledged episode writers. Tigelaar, along with Holly Henderson, was responsible for Show Me Love, otherwise known as "The One Where Pacey and Dawson Race Boats To Impress Joey," while Fricke worked on a multitude of college years episodes.

The slow burn of the Pacey and Joey romance (in tandem with Joshua Jackson and Holmes' undeniable chemistry) compelled regular viewers to tune in each week, re-engaged and re-energized for the possibilities of where things might go next. Although their initial game-changing kiss during the coda of Cinderella Story was Berlanti's idea, it was female staffers like Gina Fattore who helped guide their storyline in a direction built for longevity while conveying Joey's voice authentically. "Joey could be prissy (which may have been my fault) and anxious, particularly about her grades (which was definitely my fault [due to] the Tracy Flick A-student in me), but she was also intelligent and strong," writer/producer Fattore tells Marie Claire. "It was my job to execute a lot of [Pacey and Joey] and I tried my best to steer the stories in a more feminist direction."
Normally, a new writer would be assigned one or two episodes per season but Berlanti noticed "a very Joey-like quality" in her from the get-go, Fattore explains. He eventually granted her an unprecedented seven episodes, recognizing a kinship between writer and character that would better serve the stories they wanted to tell. Among Fattore's episodes were the most quintessential Pacey-Joey chapters: the one where Pacey helps Joey learn to tango; the one where Pacey buys Joey a wall in an effort to support her artistic pursuits; the (iconic, multiple-perspective) one where their clandestine romance is discovered. Ultimately, female writers are credited on 15 of season 3's 23 episodes. "[Although] none of us women who worked there was ever in charge—it was always men having the final say—we did contribute to the conversation at every turn," Fattore remembers.

And that influence extended to one of the most appealing things about Pacey and Joey's dynamic: their modern twist on popular screwball films of the 1940s. They shared the same commonplace quick-fire banter screen goddesses like Katharine Hepburn and Rosalind Russell had with their leading men. Think: The first episode of season 3 when Pacey, in an attempt to comfort a tearful Joey, suggests they might wind up friends during the impending school year. Without missing a beat she retorts, "I'm upset enough as it is." The writers smartly leaned into this, so much so that when it came to mapping out Pacey's boat restoration project, its name was aptly lifted from one of the greatest screwball comedies of all time. "Greg Berlanti yells out 'What's a good name for a boat?' [from his] office down the hall," Fattore shares, "I was obsessed with The Philadelphia Story so I just said—and this is really on the nose—but the boat in [that film] is called 'the True Love' so he ran with that." (The Philadelphia Story is about a bickering ex-couple who come to realize their imperfections and passion for each other. Sound familiar?)
The way Dawson's managed to artfully juxtapose Pacey and Joey's flaws and strengths to create such three-dimensional characters also made for a captivating couple. She could be vivacious but relentlessly stubborn or frustratingly timid; he could be hot-headed but devoted (often to a fault) and fun. They complemented each other. "Here was this very tough independent spirit in the screwball heroines and there was something in that that I related to and saw in Joey Potter. She wasn't afraid to take on Pacey and [in turn] he wasn't threatened by her," Fattore says.
Although there was no concrete plan for the couple following season 3, there was now a bounty of prospective future narratives. "The [Pacey and Joey] kiss, the love triangle it created, and the stories it bore drove the show to six seasons and international acclaim," Stepakoff previously penned. And it was the female writers who took the torch and ran with it. It was Maggie Friedman who wrote season 4's fangirl destroying Promicide breakup episode, while Fattore and Fricke who navigated Joey and Pacey's relationship rekindling during the back half of season 6.
It's fair to say that without these crucial female voices on Dawson's Creek, Pacey and Joey might not inspire the same reverence in today's culture or have been so significant to so many of us during our formative years. Perhaps we all would've ended up with a Dawson instead of a Pacey—cue Dawson's ugly cry face now.

For more stories like this, including celebrity news, beauty and fashion advice, savvy political commentary, and fascinating features, sign up for the Marie Claire newsletter.
RELATED STORIES
Celebrity news, beauty, fashion advice, and fascinating features, delivered straight to your inbox!