Mary-Kate and Ashley Aren't Elizabeth Olsen's Only Siblings
The Olsens have a pretty robust family tree.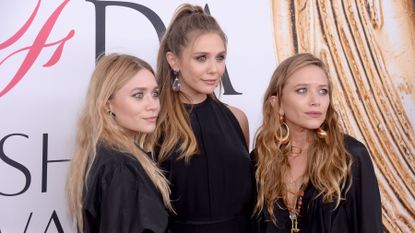 (Image credit: Getty Images ¦ Clint Spaulding)
"Olsen" has been a household name for nearly three decades, ever since Mary-Kate and Ashley transitioned from playing a shared supporting role on Full House to building an entire media empire around their precocity and fraternal twin-ness. Even now, as the iconic duo live lower-profile lives as acclaimed fashion designers, their younger sister Elizabeth Olsen has taken up the mantle and upheld the family legacy as an internationally known actress, thanks to her role as the Scarlet Witch in the Marvel films and, currently, WandaVision.
Despite the Olsen family's long-lasting fame, however, it may come as a shock to learn that Mary-Kate, Ashley, and Elizabeth represent only half of the Olsen children. The sisters, whose parents are Dave and Jarnette, also share an older brother, Trent, and two younger half-siblings, Taylor and Jake, from their father's second marriage. To get you up to speed on the entire Olsen squad—and to give your brain a break from trying to detangle the twists and turns of Wandavision—here's your guide to all six siblings.
Trent Olsen
The eldest Olsen sib, you may remember Trent from his brief appearances in a few of his younger twin sisters' straight-to-video movies in the '90s. He's included in the classic You're Invited to Mary-Kate & Ashley's Sleepover Party and this reporter's personal favorite installment of The Adventures of Mary-Kate & Ashley series, "The Case of the U.S. Space Camp Mission," among others, and also had an uncredited bit role in an episode of Full House.
Trent, who goes by his middle name and whose actual first name, James, was the partial inspiration for his sisters' Elizabeth and James lifestyle brand, has since written several comics. He's also still involved in showbiz, with a 2014 New York Post profile noting that the USC grad was working at a production company at the time.
Mary-Kate and Ashley Olsen
These two need no introduction, but we'll give you the quick rundown anyways. After getting their start at nine months sharing the role of Michelle Tanner on Full House, MK&A (or, rather, their parents) capitalized on their cuteness to launch media conglomerate Dualstar, through which they produced movies, TV shows, books, home decor, and more. Once they'd successfully conquered the media world as bona fide mini-moguls, they attended New York University and now focus primarily on developing their award-winning couture label The Row.
Elizabeth Olsen
Though Elizabeth became known around the world for taking on the role of Wanda Maximoff, aka the Scarlet Witch, in the Marvel Cinematic Universe beginning in 2015, her breakthrough role actually came several years earlier, when she received critical acclaim for her performance in the lead role of 2011's Martha Marcy May Marlene.
Like her older sisters, Elizabeth attended New York University; she graduated in 2013. And, like Trent, she appeared as herself in several productions from the Mary-Kate and Ashley golden age, including four installments of The Adventures of Mary-Kate & Ashley and a brief spot in How the West Was Fun.
Elizabeth has previously opened up about what it was like to grow up in her sisters' shadows, telling The Sun earlier this year that her fear of being perceived only as a product of nepotism has inspired her to work as hard as possible to prove herself. "I couldn't walk in a room without everyone already having an opinion. The thing about nepotism is the fear that you don't earn or deserve the work. There was even a part of me when I was a little girl that thought if I'm gonna be an actress I'm going to go by Elizabeth Chase, which is my middle name," she said.
Courtney Taylor Olsen
Though Courtney, the elder four Olsens' half-sister from their dad's marriage to McKenzie Olsen, sadly missed out on her chance to appear in any of Mary-Kate and Ashley's classic VHS tapes, she has dabbled in acting. According to her IMDb page, under the name Taylor Olsen, she appeared in YOLO: The Movie and Malignant Spirits: Sense of Fiction several years ago.
Though she hasn't spoken publicly about her famous family, Courtney has been known to show them some love on Instagram—like when she posted a sweet photo of herself admiring Elizabeth's face on the Avengers: Infinity War poster at the film's world premiere in 2018.
Jake Olsen
Last but not least is Jake, the youngest Olsen kid and the second of Dave's children with his second wife. Unlike the rest of his family, Jake has yet to try his hand at acting, but he did dabble in modeling for several years.
He's also been more forthcoming about being a part of his famous family: In a 2016 interview with Runway magazine, Jake said, "I learned about respect from everyone in my family. In a family of six kids, you learn it's not always about you. I love every chaotic moment I have when my family is all together. It's a lot more normal than you would think." He added, "We all support each other's dreams."
Celebrity news, beauty, fashion advice, and fascinating features, delivered straight to your inbox!
Andrea Park is a Chicago-based writer and reporter with a near-encyclopedic knowledge of the extended Kardashian-Jenner kingdom, early 2000s rom-coms and celebrity book club selections. She graduated from the Columbia School of Journalism in 2017 and has also written for W, Brides, Glamour, Women's Health, People and more.