'Too Hot To Handle' Season 3: Everything We Know
It's already been filmed in Turks and Caicos.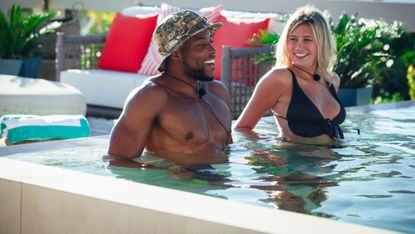 (Image credit: Tom Dymond)
Already need another fix of too-horny-too-beautiful-people-being-controlled-by-an-AI-bot? Too Hot to Handle season 2 (opens in new tab) was a bona fide scorcher, hitting Netflix in late June 2021 and introducing us to a cast of major rule breakers with high libidos (and the phrase "crab grab," which will forever be etched onto our brains). Season 2 also raised the stakes, initially lying to the contestants about the reality show they had signed up for and then offering the prize money (opens in new tab) to just one person whom the gang voted on. (Despite that, there were still 16 rule breaks, losing a total of $70,000.)
Ultimately though, the show proved endearing; Lana has even managed to sort out the sexed-up group enough that a few found love. (Emily and Cam! (opens in new tab)) So, when does the next season of the dating show hit the streamer? Here's everything we know about Too Hot to Handle season 3.
Will there be a Too Hot to Handle season 3?
Yes! In January 2021, Netflix confirmed that both season 2 and season 3 had been greenlit. "The secret is out — we're thrilled to bring back Too Hot to Handle for two new seasons in a tropical paradise," Brandon Riegg, Netflix's VP of unscripted and documentary series, told Variety (opens in new tab) at the time.
When will Too Hot to Handle season 3 film?
Seasons 2 and 3 reportedly filmed back-to-back in Turks and Caicos (opens in new tab), so Netflix already already has all the footage for the next season! The back-to-back filming schedule also allowed producers to use their cheeky lies about casting for "Parties in Paradise" again, per Variety, so prepared for another shell-shocked group next season.
Who is in the cast of Too Hot to Handle season 3?
Netflix is keeping those details tightly under wraps for now, but you can assume they will be very hot and very difficult to handle.
When is Too Hot to Handle season 3 out?
There's no confirmed release date yet, but considering seasons 1 and 2 released in the summers of 2020 and 2021, respectively, you can assume season 3 will hit the streamer in May or June of 2022. You'll be missed in the meantime, Lana.
RELATED STORIES