Taylor Swift Donated More Than $100k to Fight These Disgusting Anti-LGBTQ Bills
If passed, these bills could change everything.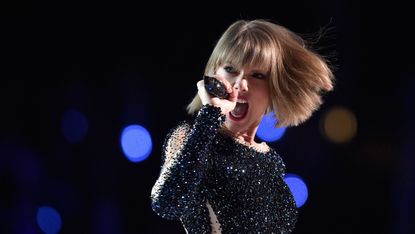 (Image credit: Getty Images)
Taylor Swift is putting her money where her mouth is. Having spoken out about politics for the first time in a public and influential endorsement, the singer is taking things up a notch. On Monday night, Swift donated $113,000 to the Tennessee Equality Project. Executive director of TEP Chris Sanders announced the news in a Facebook post, writing: "Taylor Swift has been a long-time ally to the LGBTQ community."
Sanders added: "She sees our struggle in Tennessee and continues to add her voice with so many good people, including religious leaders, who are speaking out for love in the face of fear."
The singer included a handwritten letter with her donation. In the letter, Swift praised the organization for orchestrating a petition among faith leaders to denounce the anti-LGBTQ bills known as the "Slate of Hate," that were introduced by several conservative lawmakers in Tennessee.
INCREDIBLE: Taylor Swift just made a sizable donation to @tnequality and wrote a heartfelt note thanking the organization for its work in trying to defeat the anti-LGBTQ "slate of hate" in Tennessee. #tnleg pic.twitter.com/cChF3Esd4QApril 8, 2019
See more
As for the anti-LGBTQ bills that inspired Taylor Swift to donate some major bills of her own, you can learn more about them below. Plus, find out how to lend a hand to the advocacy organizations working to stop them from becoming law.
The Tennessee Marriage Act is back.
The Act was first proposed in 2016. As stated in the bill, its role is to defend "the natural marriage between one man and one woman regardless of any court decision to the contrary." After failing in the House of Representatives last session, the act was reintroduced in February by Sen. Mark Pody and Rep. Jerry Sexton.
Pody told NBC that the Supreme Court "overstepped its authority" with the landmark Obergefell v. Hodges decision to make same-sex marriage legal. If the Tennessee Marriage Act is passed, the legalization of same-sex marriage will be reversed throughout the state.
Help the TEP fight against anti-LGBTQ bills.
Using locker rooms could become a criminal offense.
Conservatives in Tennessee are trying to extend the "indecent exposure" statute to locker rooms—a place where people are supposed to feel comfortable getting naked. If passed, transgender people would be at risk of violating state laws if they do.
As proposed by bills HB 1151 and SB 1297, the indecent exposure law will apply "in a restroom, locker room, dressing room, or shower, any of which are designated for single-sex, multi-person use, and the person is a member of the opposite sex than the sex designated for use." The bill also states that "a medical, psychiatric, or psychological diagnosis of gender dysphoria, gender confusion, or similar conditions, in the absence of untreated mental conditions, such as schizophrenia, will not serve as a defense to the offense of indecent exposure."
And Tennessee doesn't allow transgender individuals to legally change their sex, so they would be in automatic violation of the law if they entered and changed in any locker room in the state.
Learn how the ACLU is fighting against these locker room proposals.
Adoption may be made even harder for the LGBTQ community.
Two bills in the "Slate of Hate" are proposing adoption agencies should be free to discriminate against prospective parents that identify as LGBTQ. The loophole for discrimination would include religious or moral beliefs. This proposal follows South Carolina's success with a discrimination waiver of its own—a Protestant adoption agency was granted permission by the federal government to deny willing and prospective parents the opportunity to adopt based on their religion (specifically Judaism) and sexual identity.
But just as there are organizations willing to discriminate against LGBTQ parents and children, there are also organizations and adoption agencies built just for the community. The Human Rights Campaign's All Children-All Families program, for example, keeps a list of adoption agencies that are committed to welcoming the LGBTQ community.
Check Out HRC's All Children—All Families Program.
Businesses could be given the go-ahead to discriminate.
The prejudice in bill SB0364 is a little more discreet. But it proposes that both the federal and state government shouldn't be allowed to interfere with a businesses' internal policies. This inference includes, but is not limited to taking discriminatory action.
So, if the federal or state government is made aware of the discrimination of certain LGBTQ community members of a cooperation, this bill would prevent them from punishing that cooperation through public contracts, grants, tax exemptions, etc.
Learn more about TEP's fight against workplace discrimination.
And yes, bathrooms are still an issue.
According to SB1499, the Senate still want to defend "a policy requiring students, faculty, and staff to utilize the restroom, locker room, or other facility that corresponds to that individual's biological sex." This would allow all schools in Tennessee to force transgender children to identify with a gender they don't even consider their own.
Join the National Center for Trans Equality to fight for equality.
There's no doubt that Taylor Swift's donation will help the TEP continue to fight acts of discrimination against the LGBTQ community. But you don't need six-figure donation to make a difference. You can help by joining, advocating for and donating to any of the organizations above.
For more stories like this, including celebrity news, beauty and fashion advice, savvy political commentary, and fascinating features, sign up for the Marie Claire newsletter.
RELATED STORIES
Celebrity news, beauty, fashion advice, and fascinating features, delivered straight to your inbox!
Alexis Jones is an assistant editor at Women's Health where she writes across several verticals on WomensHealthmag.com, including life, health, sex and love, relationships and fitness, while also contributing to the print magazine. She has a master's degree in journalism from Syracuse University, lives in Brooklyn, and proudly detests avocados.