30 Winter Movies for When It's Too Cold to Go Outside
For the snow day you know is coming.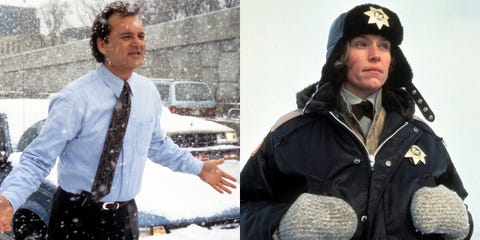 Love winter (hot chocolate! Sweaters!), but hate the temperatures (yes.)? I get that! But winter brings with it an unparalleled level of coziness, setting the stage for the perfect night in with a blanket, hot toddy, and a good movie. Ahead, 30 movies that will give you the cold vibes, while you're warm on the couch.
2
'Trading Places' (1983)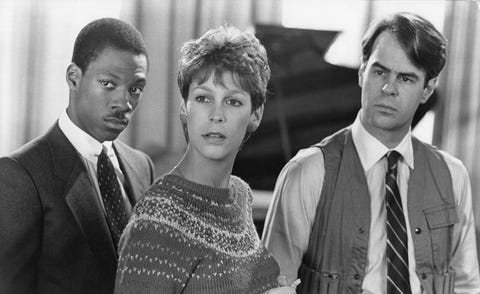 Trading Places is perfect for a Friday night in with your friends where you just want to laugh at every single thing that exists in the world. Starring Eddie Murphy, Dan Ackroyd, and Jamie Lee Curtis, Trading Places is a modern take of Mark Twain's The Prince and the Pauper. Ackroyd and Murphy play an upper-class commodities broker and a homeless street hustler who have been unknowingly pitted against each other in an elaborate bet. It's guaranteed to make you laugh hysterically. I mean, Dan Ackroyd shoves a salmon in his pants.
3
'Planes, Trains & Automobiles' (1987)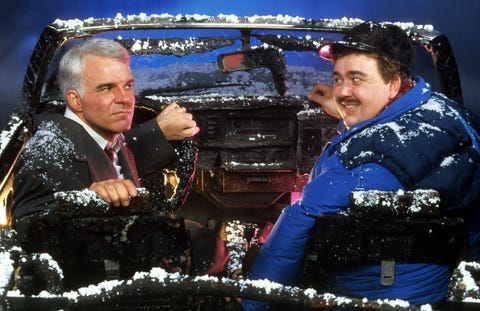 Paramount Pictures
Getty Images
If you don't like silliness, Planes, Trains, and Automobiles is not for you. If this list was a ranking of Silliest Movies, this one might come in first place—and is great for a chilly Saturday afternoon watch. Steve Martin? John Candy? A road trip comedy? Perfection. What's the movie about, you ask? Steve Martin plays Neal Page, an advertising executive on a trip to New York trying to return to Chicago to be with his family on Thanksgiving. He meets Del Griffith, a traveling salesman, when Griffith steals his cab, and the two of them wind up on the same plane to Chicago, which is diverted to Wichita. They decide then to try to get to Chicago by train, but that doesn't work out either. What's the last choice, you wonder?
4
'When Harry Met Sally' (1989)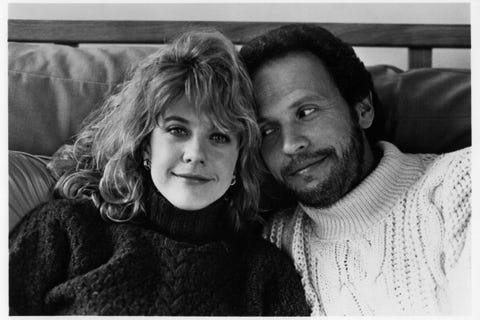 It'd be a shocker if this didn't make the list, right? When Harry Met Sally... is one of the most classic rom-coms out there. The film spans ten years, revisiting the titular characters every five, and centering on Harry and Sally's differing views on relationships. I won't give the ending away, but every New Years' Eve you've ever had pales in comparison. Put on a sweater, put the scissors away (you won't look like Meg Ryan with bangs, sorry), and enjoy this film with a loved one.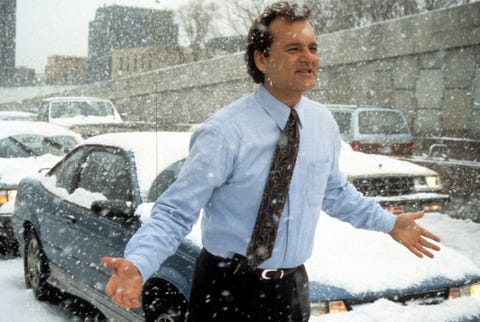 Archive Photos
Getty Images
Groundhog Day is one of those film concepts that takes an idea –inexplicably living the same day over and over again–and shows you what it's real life application would be like. Note: it wouldn't be fun. Bill Murray is at his comedic best, the plot is universally acclaimed, and honestly? The message at the end makes the movie. This one is totally meant to be enjoyed with a nice cup of tea and without worry that Punxsutawney Phil is going to see his shadow.
8
'While You Were Sleeping' (1995)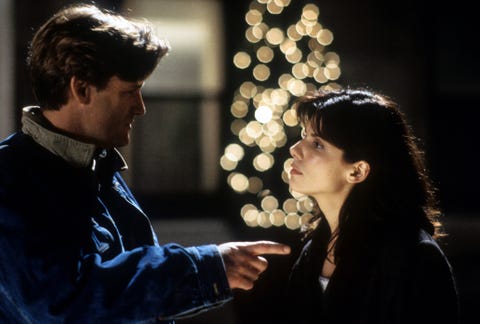 Archive Photos
Getty Images
Any movie set in Chicago is bound to take advantage of how cold it gets there, and While You Were Sleeping is a great example of that—and Chicago itself is a character in the movie. After an unlucky streak in love, a hopelessly romantic Chicago Transit Authority worker Lucy (Sandra Bullock) saves her long-time crush, Peter from being hit by an oncoming train and doctors say he's in a coma. One misinterpreted comment later and Peter's family is under the assumption that Lucy is his fiancée (even though she and Peter have never actually even spoken), and they welcome her into their world with open arms. Only problem? She starts to develop feelings for Peter's brother (Bill Pullman). Take in all the winter greatness here in this classic romantic comedy.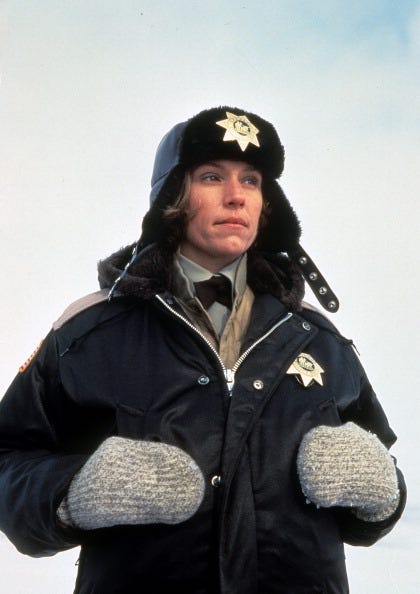 I would consider Fargo to be one of the coldest movies ever, just in terms of general temperature and vibe. And yes, this is the same Fargo the show is based on, too. Jerry Lundegaard (William H. Macy) bungles a crime he should never have been involved in, and it all falls apart... because of the Midwestern niceties and persistence of Marge Gunderson (Frances McDormand, in a well-deserved Oscar-winning performance). If you like the series, you'll love the movie. And if you love seeing cold imagery on screen, you'll definitely love Fargo.
10
'The Ice Storm' (1997)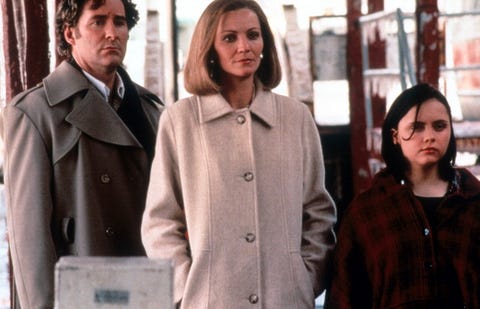 A ton of stars you love made early-career appearances in this movie–Katie Holmes, Elijah Wood, Tobey McGuire, Christina Ricci– and this one is definitely a "Sitting at home on Sunday, in your feelings, probably drinking red wine" vibe. It's not the happiest of flicks, but it'll help you examine your relationships. It takes place in New Canaan, Connecticut, in 1973, and explores middle class families and their approach to sex, love, infidelity, and substance abuse. It's a gorgeously shot film, and it'll break your heart.
11
Bridget Jones's Diary (2001)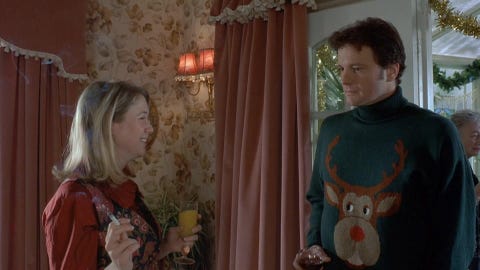 It's a rom-com classic for a reason! It made Reneé Zellweger famous for a reason, too, and that reason is effortless charm. Bridget Jones isn't just a rom-com taking inspiration from Pride & Prejudice, it's a realistic love story with humor and heart, Chaka Khan and vodka. I adore this movie for so many reasons–the soundtrack, Colin Firth, Hugh Grant at his most frustrating–and it is one of the most wintery movies I've ever seen. Watch this one with your best friends, while wearing a horrible Christmas sweater.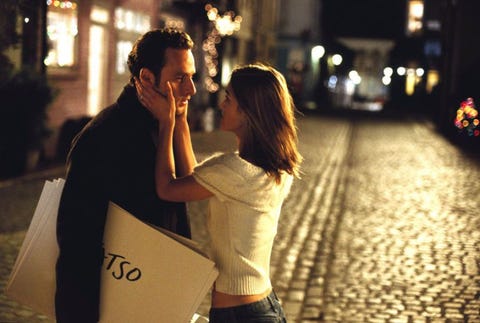 Love Actually, or as it's known in my household, The Movie That Makes Me Cry To Joni Mitchell. I love Love Actually, and for a Christmas movie, it's all I can ask for. An anthology film covering the lives and ordeals of couples during the Christmas season? Sign me up! This movie is known for being the "Andrew Lincoln With Cue Cards" movie, but it really really deserves more than that. Settle in for a long night–the film runs 2 hours, 15 minutes– but you might actually believe in the end that love, actually is... all around.

14
'Eternal Sunshine of the Spotless Mind' (2004)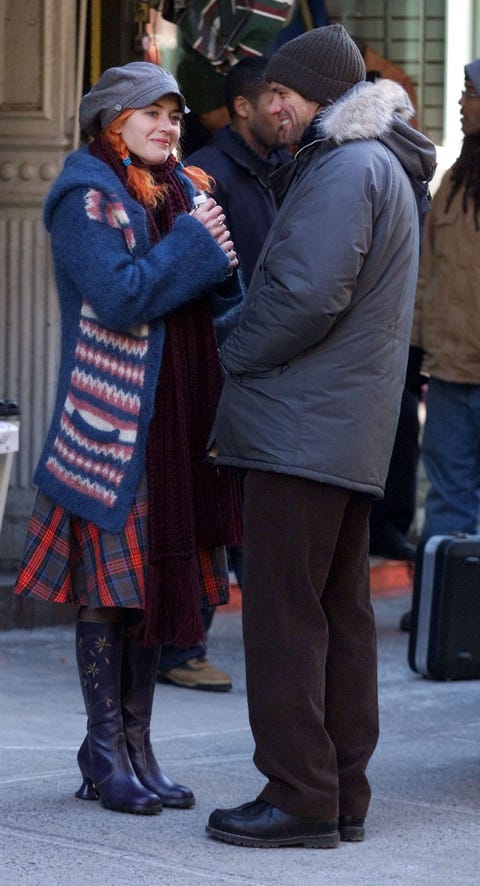 Yet another occasion of "if you could do this, what would it be like?" Imagine being able to erase the memories of someone causing you pain. You'd do it, right? Without question – Eternal Sunshine of the Spotless Mind wants to blow that concept out of the water. When their relationship starts to go down the drain, a couple decides to undergo a medical procedure to erase each other from their memories. This one is perfect for a Saturday night, wrapped up in a blanket, having ALL of the feelings.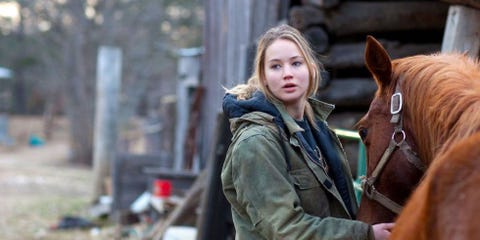 The movie that launched Jennifer Lawrence's career, Winter's Bone is a rough watch in terms of sentiment, but not in terms of quality. Lawrence stars as a teenage girl in the rural Ozarks of Missouri who must locate her missing criminal father to protect her family from eviction. This one is perfect for a Saturday night watch alone, and you might just want to go to bed after it's over. The feelings are real, they're rough, and by the end, you might be a little emotionally exhausted.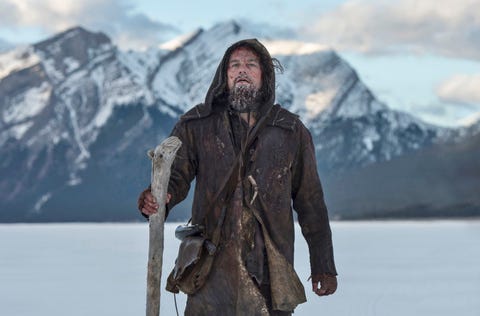 It's not just Leonardo DiCaprio fighting with a bear, it's also a freezing cold tale of the lengths man will go to get vengeance for someone he loves. Leonardo DiCaprio won an Oscar for this performance, but it's more notable that everyone in the cast basically got hypothermia. Now that's what I call method acting!
This content is created and maintained by a third party, and imported onto this page to help users provide their email addresses. You may be able to find more information about this and similar content at piano.io