These Bachelor Nation Fantasy Suite Dates Were the Most Dramatic...Ever!
The good, the bad, and Luke Parker.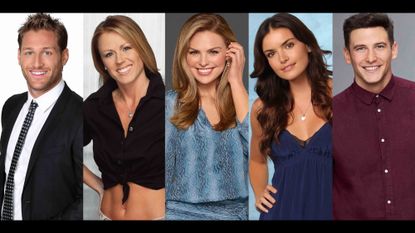 (Image credit: Getty)
Fantasy suites are, in theory, supposed to be the sexiest part of Bachelor shows. But they can also lead to some of the most cringeworthy, awkward, and iconic moments of the entire franchise: Becca's "fantasy tent," Nick Viall's admission from "After the Final Rose," Emily turning down all three of her guys, and poor, exhausted Ed on Jillian's season, just to name a few. And recent seasons have given us even more drama—Bachelorette Hannah had FOUR dramatic fantasy suites, and Colton gave us that epic fence jump (some tea from Colton himself on that moment, here). As we prepare ourselves for this season's Bachelor in Paradise fantasy suites, let's relive some of the show's most dramatic overnight moments ever.
Alex and Trista
It's the season that started it all: Future Bachelorette Trista Rehn admits to Alex Michel that she has never had an orgasm during sex. Alex says he's, um, game to try and solve it. In the end, though, the season was rough for Trista—Alex told her he'd pick her, but selected Amanda Marsh instead. Spoiler alert: This also won't be the first sex-related confession in franchise history.
Trista and Ryan
Ah, the OG Bachelorette pair. The fantasy date shows Trista Rehn and Ryan Sutter were meant to be: The pair is a little nervous, and trying to find ways to connect and relax. Then, the fantasy date card comes, and that's that: "Check please!" and they speed off to be together. They're both all-in, and their sweet chemistry is incredible. It's the best kind of drama—because Trista and Ryan have been married for 15 YEARS now.
Jillian and Ed
Season 5 Bachelorette Jillian Harris and Ed Swiderski were super into each other and seemed ready to have the most perfect overnight date. And then there were some, uh, performance issues. "I was very nervous, and it just didn't happen. I couldn't show her that I am really, truly am in love with her," Swiderski explains. It's very cringey. Still, Jillian ended up selecting him and he proposed. What makes it all worse? Ed may have cheated with two women eight days after getting engaged—the same two women he was allegedly sleeping with before and (incredibly) during the show.
Ali and Roberto
What's most dramatic here isn't necessarily the overnight date itself (which is mostly sweet and straightforward) and more about what happened after. Ali was only intimate with Roberto, the two got engaged, and then they broke up publicly. A source close to Ali said Roberto's temper was a problem, stemming in part from his traditional and conservative values. "He is very old-fashioned when it comes to a woman's place." That lens makes this date—and Roberto's eager acceptance to spend the night—intriguing.
Ashley and JP
Another example of "good drama." The date in Fiji is picture-perfect, and JP tells her all about how much his family loved her. Ashley drops a little love bomb, too: She actually got rid of two guys this week, and it makes the couple feel better about their future together. Long after Ashley picked JP for her final rose, the two are actually making it work, with marriage, two kids, and even vow renewals.
Ben and Courtney
One of the biggest female villains in Bachelor Nation history is Courtney, who made it allll the way to an engagement with Ben Flajnik in Season 16. The couple had actually already had sex before overnights while they were skinny-dipping, but the fantasy suite was just as controversial. Courtney revealed in her book and interviews after the fact: They did it three times, and there wasn't any protection provided that she could see. (Other contestants and Chris Harrison have since said that there is.)
Emily and Jef
For Emily Maynard, family (most specifically her daughter) was a big part of her focus on her season. Jef Holm turns down the opportunity to spend the night together partially because of her young daughter watching the show, which Emily totally agrees with and thinks is incredibly respectful. The problem is that this might not have been the whole truth, according to another of her bachelors...
Emily and Sean
Emily said (and show footage supported it) that she have a fantasy suite date with any of her guys. But Sean says this was all a ruse—apparently she made it look like she would refuse, and then they hung out in the fantasy suite together surreptitiously. Sean also claims she hooked up with the other two guys (yes, including Jef).
Sean and Catherine
Sean and Catherine had a particularly strong bond on Season 17, but she initially balks at the concept of a fantasy suite. Catherine did ultimately go for it—and he picked her as his final rose, and the two ended up getting married (and now have an adorable family). What's more interesting, though, is that it was revealed off the show that Sean was a born-again virgin, which was never addressed during his season. So it's very likely that they didn't hook up during their overnight date, after all.
Desiree and Brooks
This is one of the most heartbreaking fantasy suite moments ever. Desiree was clearly head over heels for Brooks, and said she planned on giving him her heart. But after chatting with his family and during their fantasy date day activities, Brooks lays it all out, in the bluntest way: He isn't madly in love with her, and he tells her in no uncertain terms. "I didn't know before this," he explains. Ouch. I guess it's good he was honest?
Juan Pablo and Andi
Before Juan Pablo Galavis was pretty much hated by everyone, the women on his season were still hopeful and professing their love. Andi Dorfman, however, was different—they had a overnight, and she did NOT like what she saw when the cameras stopped rolling. In a conversation the morning after, they get into it, and Andi flat-out says she isn't in love with him. It's an impressive outburst, and most audience members joined her in their dislike of Juan Pablo by the end of the series.
Andi and Nick
On her own season, Andi Dorfman and Nick Viall had major chemistry—their date was smokin' hot, so it wouldn't have surprised anyone if they'd gone all the way during overnights. The problem was that Nick spoke openly about it during their post-show interview—which came across as though he was trying to shame her. He even outs their hookup, in detail: "If you weren't in love with me, I'm just not sure why you made love with me." Andi retorts angrily that his comment is "below the belt." Pun intended?
Jared and Ashley
This controversial couple has had quite a road. Ashley Iaconetti was known as the virgin of her various seasons (The Bachelor season 19, Bachelor in Paradise seasons 2 and 3, and the first season of Bachelor Winter Games), as well as the girl who basically cried at everything. She met Jared Haibon during BiP; the two were on and off for a looong while, and this fantasy card is a big moment—but though this clip looks happy, it turns out that Jared breaks up with her and leaves her in tears. Alls well that ends well, though: The two rekindled their romance in 2018, got engaged in a cameo on last year's BiP season, and tied the knot just last week.
Ben and Lauren/JoJo
It's an unwritten rule that the Bachelor or Bachelorette should reserve the "L" word for their final selection. During season 20, however, Ben does no such thing, telling Lauren Bushnell he loves her, and then saying the same thing to JoJo Fletcher during their one-on-one time, too. Ben ended up choosing Lauren, but the pair have since split. Lauren spoke about various warning signs—citing the dual "I love you"s as one of her major concerns.
JoJo and Jordan
JoJo got a much happier ending on her season of The Bachelorette. She and Jordan Rodgers are still together and had a quiet and drama-free fantasy suite date. But that doesn't mean it was dull: Interviewed by People after the fact and asked if it was ok to hook up on the date, they answered with a resounding "Yes!" JoJo added, "We're going to be honest, we're not lying." So, watching the video, yes, they do hook up. And no, they're not ashamed about it. (More interesting context: the couple had to work through some post-show cheating rumors.)
Nick and Raven
Before their overnight on season 21 of The Bachelor, Raven Gates explains to Nick Viall that she has never had an orgasm during sex (just like season one's Trista!). Then, cut to the morning after, and Raven. Is. THRILLED at life. It's very clear what happened, even though Raven doesn't say anything explicitly. "I think I don't really have to say too much. I think the show pretty much captured it." she said.
Nick and Vanessa
The signs for Nick Viall and Vanessa Grimaldi's future were right there during their overnight date. Vanessa tells Nick she loves him, but Nick explains to the camera that the relationship has the potential for "more conflict" in the future, given both of their big personalities and similarities. In fact, after their eventual broken engagement, Vanessa alluded to them being a bad fit, so Nick's comment ended up being telling.
Nick and Rachel
After a disappointing fantasy suite date, Nick Viall sends Rachel Lindsay home in an agonizing conversation. What we didn't know at the time was context: Rachel later admitted her head wasn't in the game for the entire situation because she found out Trump had won the 2016 election while they were abroad. Thus, according to her, they didn't hook up during their fantasy suite date—in fact, she just passed out from exhaustion, which she said is what potentially ruined her chances. "I did nothing! I did nothing but sleep," she claimed.
Rachel and Peter
Rachel went on the become the Bachelorette and she and Peter Kraus had insane chemistry, and he was the odds-on favorite to win it all. But during a long conversation, Peter drops a bombshell during overnights—he may not be ready to propose at the end of this. Rachel still goes to the fantasy suite with him, but the issues linger. Ultimately, Peter won't commit to a proposal, hoping to date instead after the show. So, he goes home in the finale, and Rachel's so devastated that she cries off her lashes.
Adam and Raven
Bachelor in Paradise is mostly known for ridiculous hookups, but there are also real moments of connection. Such is the case with Adam Gottschalk and Raven Gates: They had a sweet chemistry throughout the show, culminating in a sweet fantasy suite. Though they left went home without a proposal, Raven said she knew she loved him as soon as they left they show and started hanging out with him IRL. The two would later go on to get engaged in 2019, proving that (weirdly) sometimes BiP really is the place to find your husband/wife.
Derek and Taylor
While Bachelor in Paradise fantasy suite was being aired, Derek Peth and Taylor Nolan were in the middle of an interview with Chris Harrison that (spoiler) was about to become an engagement. At the first part of the overnight date, she says she isn't sure if she feels as deeply for Derek as he does for her and that sex is an important part for her to develop feelings. Then, after their evening together, she says she totally adores him—a RAPID turnaround. Sadly, the couple split not long after they got engaged.
Arie and Lauren
Oh, Arie. This is weird and prescient, knowing what we know now (that Arie Luyendyk Jr. didn't pick Lauren Burnham, but then subsequently dumped Becca Kufrin for her). The two clearly have crazy, easy chemistry and they talk about being even closer—Arie even drops the "L" word. The couple is now married—and I wonder if this whole situation ever comes up...
Arie and Becca
With the benefit of context, this date is devastating. Arie drops the "L" word on Becca Kufrin, too. Becca's so into him his cheeks hurt from smiling, and their date is "exotic" (read: in the middle of nowhere). Perhaps things didn't work out with them, because their date wasn't that fantastical? Becca explained later that the fantasy "tent" wasn't all that glamorous after all. "Chris Harrison exaggerated when he called it the fantasy suite," she said.
Becca and Garrett
Oh god, ANOTHER tentlike situation for Becca?? (Technically it's a treehouse, but, whatevs.) During the overnight, Garrett Yrigoyen reveals he's worried about getting engaged again—even talking about having "cold feet" before the show. The two end up heading to the fantasy suite together anyways. He needn't have been worried—Becca chose him in the end, they got engaged, and they're still together.
Becca and Blake
Poor Blake Horstmann got his heart broken at the end of Becca's season, and the fantasy suite was the beginning of the end for him. It seems like he's worried about the other guys, and he keeps making comments about the relationship. "There's no way she has this with any other guy," he says at the end, trying to convince himself. This is also so, so awkward knowing what we know now about Blake's playboy behavior on Bachelor in Paradise.
Becca and Jason
Becca admitted she was in love with two men and falling in love with a third, so she refuses to take Jason Tartick (the latter) into an overnight. Initially she has to excuse herself, she's feeling so emotional, then she says through tears that she doesn't think she can get there in the end. It's long, and awkward, and heartbreaking—not to mention, Jason comes back after his elimination but gets zero closure or answers from her.
Colton and Tayshia
Poor Tayshia. She'd been super-supportive of Colton during the whole 23rd Bachelor season, and goes in trying to reassure the virgin about their fantasy suite experience. She later admits they had a great time, but there was no sex. This may have had its origins in Colton's interest in another contestant, and the hopes that his first time might be with her, which went...not totally according to plan, as we'll soon see.
Colton and Cassie
Oh boy. This fantasy suite didn't lead to sex, but it did lead to one of the crazier moments in Bachelor history. Cassie Randolph, fueled in part from her conservative dad dropping in before the date, says she doesn't know if she can get to the place where she'd be ready for an engagement with Colton. She flip-flops, lamenting that she has no idea what she wants, then finally leaves in tears. Colton takes off his microphone, walks away from the producers, and jumps a motherf*cking fence into the wilderness.
Colton and Cassie (again)
It was a whirlwind few episodes, in which Colton broke it off with Tayshia and Hannah G. and told Cassie he wanted to just date her. Cassie met Colton's parents, and the two tried an overnight for the second time. This time, Cassie is relaxed, and they both reiterate how much they care about each other. Colton won't dish on his virginal status afterwards (much to Chris Harrison's chagrin) but the smile on his face said it all.
Hannah and Peter
By the time fantasy suites rolled around, Bachelorette Hannah Brown was feeling...sexually charged, let's put it. She was literally dancing and singing at the very thought, and since Peter Weber was the first to go, he gets to deal with all that energy. Hannah later told Luke (don't worry, we'll get to him in a minute) that she "f*cked in a windmill...and we did it a second time." Even better, she admitted in an interview with Chris Harrison that it was actually FOUR times. Sooo, best overnight ever?
Hannah and Tyler
This one is heartbreaking, in retrospect. Hannah, who shows more self-control than I would have had, tells model Tyler Cameron that their physical relationship is so strong that she needs to develop their emotional relationship during their fantasy suite time. Tyler handles it like a pro. "I would never press you or pressure you at all," he said. "I would love to spend more time with you and just be us." Hannah says he's the most respectful guy she'd ever dated, ever. It had the rest of Bachelor Nation wondering about what could have been, considering he goes home in the finale.
Hannah and Jed
Oh, Jed. Hannah is clearly looking forward to connecting physically with the musician, but he uses his fantasy suite date time to call Hannah out for keeping Luke on so long instead. Jed Wyatt even speaks about how her refusal to kick him off the show makes him want to "retract" his feelings—causing Hannah to freak out, since he's clearly the frontrunner in her eyes. The worst part? He's right about Luke, and he makes a lot of good points. Yet, his behavior before and after the engagement wasn't a whole lot better.
Hannah and Luke
This one was the moment most Bachelorette fans had been looking for. Luke Parker, after a season's worth of toxic actions and comments, finally goes too far. He refers to Hannah potentially being with other guys as "slip-ups" and says he'd leave the show if she'd been with anyone. Thankfully audiences got the iconic "I have had sex, and Jesus still loves me" line in exchange, and Bachelor Nation fell in love with Hannah's honesty all over again. It's also where we learned about "Windmill Sex"—Hannah uses it as a (perfect) parting shot while he gets in the limo. So, in a way, thanks Luke!
•••
For more stories like this, including celebrity news, beauty and fashion advice, savvy political commentary, and fascinating features, sign up for the Marie Claire newsletter.
Celebrity news, beauty, fashion advice, and fascinating features, delivered straight to your inbox!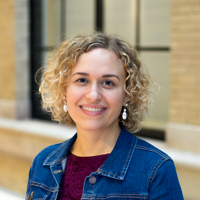 Katherine's a Boston-based contributor at Marie Claire who covers fashion, culture, and lifestyle—from "Clueless" to Everlane to news about Lizzo. She's been a freelancer for 11 years and has had roles with Cosmopolitan and Bustle, with bylines in Parents, Seventeen, and elsewhere. It's "I go to dinner," not "Her huge ego," but she responds to both.