57 Thoughtful Gifts for Your Boyfriend
That was easy.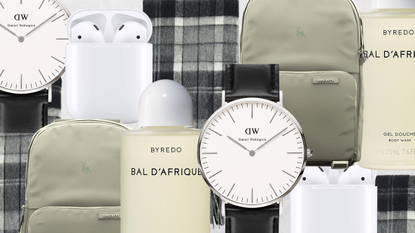 (Image credit: Courtesy)
Marie Claire Newsletter
Celebrity news, beauty, fashion advice, and fascinating features, delivered straight to your inbox!
Thank you for signing up to Marie Claire. You will receive a verification email shortly.
There was a problem. Please refresh the page and try again.
When I typed "what to get your boyfriend for Christmas" into Google, I received over a billion search results. Which isn't particularly surprising—buying presents for guys is kind of difficult!—but isn't exactly helpful, either. If your boyfriend isn't particularly materialistic or vocal about his wish list, you have nothing to go on., so you're stuck making a list of things he might like or reach out to his closest guy friends to figure out his hidden wishes. Before you send that mass group text, hold on: I found dozens of great gifts for your boyfriend, from the surprisingly affordable to the super luxe, to get you started. This Christmas, we promise you won't be stuck wrapping up a tie. Once you're done finding a present for your guy, check out the best gifts for your mom and sister—you are on a gift-giving roll this year.
1/57
Bevel Shaving Kit for Men
For the Clean-Shaven Guy
Let him know that you prefer him to be clean-shaven by buying him this set from Bevel.
2/57
Away The Large Everywhere Bag by Ji Won Choi
For the Traveler
If he travels a lot for work, he needs this upgraded (limited-edition!) weekender bag from Away.
3/57
Picnic Time
For the Grill Master
I can't guarantee that he won't turn into his dad after you buy him this set.
4/57
Fellow Stagg [X] Pour Over Set
For the Coffee Drinker
Now he can wow you with his coffee skills in the morning instead of running out to Starbucks.
5/57
Byredo Bal d'Afrique Body Wash
For the Self-Care Guru
Who doesn't love a guy who uses something other than a two-in-one body wash and shampoo?
6/57
Apple AirPods (2nd Generation)
For the Guy Who Hates Wires
Let wires be a thing of the past this year thanks to the brand-new AirPods you're going to gift him.
7/57
URBAN ARMOR GEAR MacBook Air 13-inch Case
For the Clumsy Guy
If he's prone to dropping things, he'll thank you for getting him this life-proof case.
8/57
Jason Markk Essential Shoe Cleaning Kit
For the Clean Freak
If you're dating the kind of guy who cleans in his spare time, gift him this sneaker cleaning set from Jason Markk.
9/57
CARROTS BY ANWAR CARROTS Signature Pullover Hoodie
For the Guy who Lives in Hoodies
Upgrade his day-to-day style by gifting him this luxe navy blue hoodie.
10/57
GOODEE x The Organic Company Canvas Apron
For the At-Home Chef
Let him show off his cooking skills in this brand-new apron in the new year.
11/57
Icecream No Dice Cotton Graphic Tee
Or, if he's more of a graphic tee type of guy, give him this one from Icecream.
12/57
Barbour Mixed Tartan Lambswool Scarf
For the Guy Who Only Wears Black
A classic scarf like this one from Barbour will last him a lifetime.
13/57
Caputo & Co. Stone Bead Bracelet
For the Accessories Guy
He'll never have a reason to take this beaded bracelet off, so he'll think of you every time he looks down.
14/57
Palm Angels Classic Logo AirPods Pro Case
For The Hype Beast
Not everyone can have a boyfriend as fashionable as yours. Show him that you have been paying attention to his streetwear-focused rambles by gifting him this AirPods case.
15/57
Daniel Wellington 'Classic Sheffield' Leather Strap Watch, 40mm
For The Classic Guy
If he just started a new job and wants to look fresh, he's going to love this classic watch from Daniel Wellington.
16/57
Paul Smith Three-Pack Striped Socks
For The Sock Collector
A man can never have too many socks, so gift him this three-pair set from Paul Smith.
17/57
Amazon Kindle Paperwhite
For the Avid Reader
If he goes through books faster than he can buy them, gift him a Kindle.
18/57
Apple AirTag (1 Pack)
For the Disorganized Guy
He'll never lose track of his phone (or his wallet, or his keys) ever again thanks to you and this Apple AirTag.
19/57
Star Wars Pajama Set
For the Star Wars Superfan
Let him lounge around the house all day in this Star Wars-themed PJ set and he'll love you forever.
20/57
Hydro Flask 32-Ounce Wide Mouth Cap Bottle
For the New Boyfriend
If you have no idea what to get your new boyfriend, buy him something he'll use every single day, like this Hydro Flask.
21/57
Tumi Delta ID Lock Shielded Money Clip Card Case
For the Guy Who Carries Nothing
Why would he need a wallet when he can just carry around the essentials in this sleek-as-hell card case?
22/57
Vuori Sunday Performance Jogger Sweatpants
For the Casual Guy
Sweatpants season is here, people! Upgrade his old faithful pair with this new version from Vuori.
23/57
Five Two by Food52 Silicone Oven Mitt Set
For the Baker
Put on an episode of The Great British Baking Show and let him get to work on his famous rough-puff pastry in these new oven mitts.
24/57
Good Man Brand Quilted Cotton Stadium Jacket
For the Guy Who Likes to Dress Up
This quilted jacket is just a step up from his favorite hoodie, so he'll look so cute on your next date night.
25/57
BREVITE Jumper Photo Compact Camera Backpack
For The Cameraman
This backpack from Brevite will make him look put together—and will keep all his gear safe.
26/57
Casper Sleep Sleep Weighted Blanket, 15 lbs
For the Guy Who Has Trouble Sleeping
A weighted blanket is basically a must-buy for anyone dealing with stress in 2022. Cheers to deeper sleep!
27/57
Elemis Aching Muscle Super Soak
For the Gym Buff
A soothing after-gym bath plus this Elemis Aching Muscle Super Soak equals a perfect afternoon, right?
28/57
Scotch Porter Immunity Boost Beard Health Kit
For The Bearded Guy
Keep his beard in check and feeling smooth all winter long with this kit from Scotch Porter.
29/57
POWERHANDZ Z POWERFIT TKO 4-Piece Fitness Bundle
For the Workout Buff
If he can't seem to make it to the gym before or after work, he'll love this at-home workout set.
30/57
Brooklyn Brew Shop FarmSteady Fresh Cheese Making Kit in Red at Nordstrom
For the DIY Guy
Go ahead—make cheese on your next date night. It's unexpected but surprisingly fun!
31/57
Dualsense Wireless Controller for PlayStation 5
For The Gamer
Even if he ordered a PlayStation 5 forever ago and still hasn't received it, buy him this controller to hold him over.
32/57
Printworks Classic Chess Set
For the Chess Buff
If he watched The Queen's Gambit and thought "I could do that," he'll love this chess set.
33/57
Newgate Echo M Mantel Clock in Cave Black at Nordstrom
For the Guy Who Just Moved
This clock will make his barely-decorated apartment look a little more put together, I promise.
34/57
Sephora Favorites Holiday Cologne Sampler Set
For the Guy Who Likes to Smell Good
Help him find his signature cologne in 2022 by gifting him this sampler set from Sephora.
35/57
Furmax Office Desk Leather Chair
For The Guy Who Works From Home
Hear me out—he probably needs a new desk chair. This one is reasonably priced and makes a great last-minute gift idea.
36/57
On Cloudflow Running Shoe
For the Runner
This sleek pair of sneakers from On will basically become attached to his feet in 2022—that's how comfortable they are.
37/57
TRUFF White Truffle Hot Sauce
For The Spice Fan
If too spicy is never spicy enough for your favorite guy, give him the gift of this truffle-infused hot sauce.
38/57
UGG Tasman Slipper
For The Guy Who Likes to be Cozy
Who needs sneakers when he can just live in this pair of UGG slippers while he works from home?
39/57
Nike Blazer Mid '77 Vintage Sneaker
For the Sneaker Head
Behold: A slick new pair of white sneakers to replace his favorite (ratty) pair.
40/57
Montblanc Meisterstück Gold Coated Classique Ballpoint Pen
For the Classy Guy
A pen this fancy deserves to be held by your most favorite guy.
41/57
Nordstrom Inset Curb Chain Ring
For the Jewelry Fan
Start off his ring collection strong by gifting him this chunky silver ring. He'll never want to take it off.
42/57
Timberland 6 Inch Premium Waterproof Boot
For The Rugged Guy
You can't go wrong with a pair of Timberland boots in the wintertime—they're a classic for a reason!
43/57
Frye 'Logan' Leather Billfold Wallet
For the 'Succession' Super-Fan
Throw out the old wallet that he's had since high school and replace it with this leather one that Logan Roy would approve of.
44/57
Rails Harding Wool Blend Sweater
For The Guy Who Loves His Basics
In all honesty, he probably doesn't own a simple gray sweater because he probably keeps forgetting to buy one for himself.
45/57
Threshold 5pc Stainless Steel Bar Tool Set with Stand
For The Bartender
If he's dying to learn how to make a martini at home, show him the ropes with this bartending set.
46/57
HARLEM CANDLE CO. Langston Nightclub Map of Harlem Candle
For the Candle Lover
This candle features notes of sandalwood, vanilla, and clove. Yum!
47/57
UGGR Robinson Robe
For The Guy Who Loves Being Comfortable
Prepare to never see him without this UGG robe on.
48/57
Fjallraven Mini Kanken Water Resistant Backpack
For the On-The-Go Guy
These lightweight backpacks have been my own boyfriend's go-to for years—so trust me, they're a good buy.
49/57
Crosley Radio Record Storage Crate
For the Record Collector
Move his record collection from that pile in the corner of his apartment into this chic crate from Crosley Radio.
50/57
Shinola Rail Road Leather Apple Watch(R) Strap
For The Apple Watch Wearer
Upgrade his Apple Watch situation with this leather band from Shinola.
51/57