Editors handpick every product that we feature. We may earn commission from the links on this page.
The Best True Crime Books of 2020
Because sometimes current events aren't scary enough.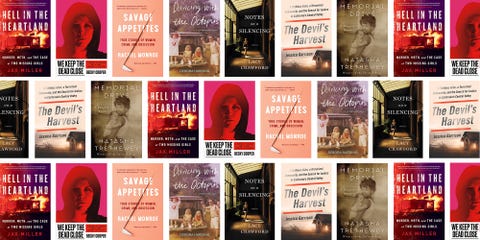 Courtesy of the publishers
Say bye-bye to 2020, a year that was truly criminal, by reading this stack of books about people behaving badly and, sometimes, getting caught. According to research published in Journal of Radio and Audio Media, the true-crime podcast audience is predominantly female (73 percent). The question of why women love true crime has launched many a thesis, dissertation, and study. Is it because true crime books are scary fairy tales, cautionary stories that reinforce our fears? Or are they how-to manuals, chock-full of tips on how to escape evildoers?

Interestingly, most of these great new true crime books were written by women. And this year's crop of genre bests is full of riveting memoirs, documenting—sometimes with great pain—crimes women observe; experienced themselves; or tried to learn from. The takeaway could be this: Increasingly, and in keeping with current events, women are speaking out about crime. They are reckoning with their fears and trauma. Instead of keeping silent, women are telling their stories and speaking their truths. And that's not the worst takeaway from the year 2020.
This content is created and maintained by a third party, and imported onto this page to help users provide their email addresses. You may be able to find more information about this and similar content at piano.io