The Best Celebrity Reactions to Same-Sex Marriage Being Legalized
PARTAY!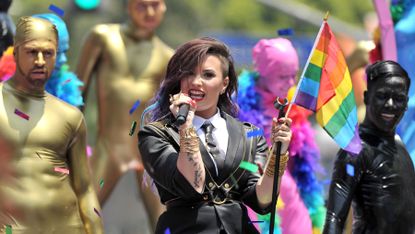 (Image credit: Archives)
Today matters for two reasons: 1) It's Friday, but more importantly 2) the Supreme Court has officially legalized same-sex marriage in America. IT'S ABOUT DAMN TIME, AM I RIGHT??
Now that you've caught your breath, texted your mom, and high-fived your co-worker, here's how all your favorite celebrities have responded to the landmark decision that'll change our country forever.
Proud to celebrate a historic victory for marriage equality—& the courage & determination of LGBT Americans who made it possible. -HJune 26, 2015
See more
👏👏👏👏💍💍💍💍💍💍😍😍😍😍🌈🌈🌈🌈🌈🌈🌈🌈🌈🌈🌈🌈🌈🌈🌈🌈🌈🌈🌈🌈🌈🌈🌈🌈🌈🌈🌈🌈🌈🌈🌈🌈🌈🌈🌈🌈🌈🌈🌈🌈🌈🌈🌈🌈🌈🌈❤️❤️❤️❤️❤️❤️❤️🌈🌈🌈🌈🌈🌈🌈🌈❤️💙💚💛💜 PROUD to be American today.June 26, 2015
See more
Wow. Another historic day for #MarriageEquality! https://t.co/rkeVQUWb6rJune 26, 2015
See more
Huge day for America.. Happy to see the news. All the loveJune 26, 2015
See more
Today is a big step in our march toward equality. Gay and lesbian couples now have the right to marry, just like anyone else. #LoveWinsJune 26, 2015
See more
So proud of our country & grateful to all who worked so tirelessly on behalf of equality. #SCOTUSMarriageJune 26, 2015
See more
When I'm not stalking future-but-never-going-to-happen husbands on Facebook, you can catch me eating at one of NYC's B-rated or below dining establishments—A-rated restaurants are for basics. Fun fact: Bloody Marys got me into eating celery on the regular. And for your safety, please do not disturb before 10 a.m. or coffee, whichever comes first.