The Best Comedy Movies of 2017
We've included Fifty Shades Darker, because LOL.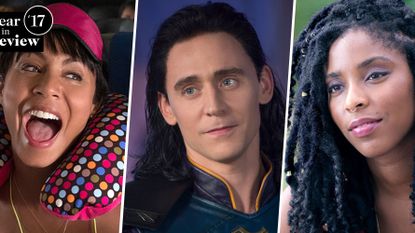 (Image credit: Universal/Disney/Netflix)
If you desperately need a reason to laugh, hello, and welcome to the funniest movies of 2017. Now, please keep in mind that many of these movies are not technically "comedies." In fact, some of them are dramas. But all of the below have one thing in common: they inspired us to actually crack a smile and—in some extreme cases—become the human version of this little dude: 😂 .
Thor: Ragnarok
Thor: Ragnarok was so much funnier than you could ever expect it to be, and it's all thanks to the genius of Jeff Goldbloom combined with the genius of Taika Waititi—the latter of whom both directed the movie AND played a extremely ernest dude made out of rocks.
The Meyerowitz Stories (New and Selected)
This Noah Baumbach Netflix film is both funny *and* award-worthy, which means you can feel really smart while you chuckle.
The Incredible Jessica James
But honestly if you want to laugh your way through a Netflix original movie, please just watch The Incredible Jessica James because it's a delightful romantic comedy that blows everything else out of the water.
Baby Driver
Baby Driver is so much fun. And while it's not necessarily non-stop capitalized LOLs, it's definitely non-stop lowercase lols, complete with "this movie is completely badass" vibes. And speaking of Baby Driver, please head over this way for our exclusive interview with director Edgar Wright, who broke down the movie's easter eggs.
The Big Sick
If you like your comedy with a side of heart-warming feels and poignant cultural commentary, please look no further than The Big Sick, about a comedian who falls in love with a heckler. Their backgrounds could not be more different, which is relatable to anyone in a mixed race relationship (*waves hi*).
Guardians of the Galaxy Vol. 2
One of the things that makes Guardians such a great superhero franchise is its sense of humor—which is full of self-deprecation and sarcasm. It's not like you're going to watch this movie and laugh your way through it, but you'll at least have some moments of "ha ha, Groot," and "lolololol Chris Pratt."
The Lego Batman Movie
Did you write The Lego Batman Movie off as kids-only? Biggest mistake ever. This movie—nay FILM—is a witty feat of hilarity, full of dry humor and moments of comedy gold. Basically, if you like Will Arnett in Arrested Development, you will like this.
Girls Trip
Look up "side-splitting humor" in the dictionary and you should probably come across the trailer for Girls Trip, which is the funniest movie of 2017, no contest. Do not @ me, this is a fact.
The Beguiled
The Beguiled wasn't exactly advertised as a comedy, but it contains moments of subtle humor that had audience members in the screening I went to laughing out loud. See: The dinner scene where Nicole Kidman and her crew try to impress Colin Farrell, or all the footage of him doing yard work as a living, breathing thirst-trap.
Landline
The only family comedy/drama (ugh, fine, dramady) you need to see this year. Also, head this way for MarieClaire.com's profile with Jenny Slate.
Get Out
Okay, so for the most part Get Out was just straight terrifying, but part of what made the film so succesful was the balance between humor and terror. Not many movies can make you laugh and scream in the span of three minutes, but this one can.
Spider-Man: Homecoming
The new Spider-Man reboot is the best yet, and it's mostly because the movie is funny AF. Like, Breakfast Club meets Ferris Bueller's Day Off meets Freaks and Geeks funny. More superhero movies need to be like this.
Fifty Shades Darker
"Fifty Shades Darker is not a comedy," you say. Fine, so explain to me why I laughed the entire way through it.
RELATED STORIES
Mehera Bonner is a celebrity and entertainment news writer who enjoys Bravo and Antiques Roadshow with equal enthusiasm. She was previously entertainment editor at Marie Claire and has covered pop culture for over a decade.