Why Renee and Carter Were Cut From 'Love Is Blind' Season 5
They got engaged and made it all the way to the altar—and ended up on the cutting room floor!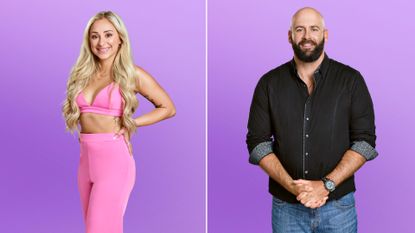 (Image credit: Monty Brinton/Netflix)
Casual viewers of the Netflix reality phenomenon Love Is Blind know that not every couple that gets engaged in the pods make it to the wedding—but only those who keep up with the off-camera discourse know that some of the engagements don't even make it on camera. Since season 1, the Love Is Blind creative team has a wide choice of couples who decided to get married sight unseen, with the producers deciding (based on an unknown criteria) to follow certain pairs throughout the show's process. The couples who don't make the cut are typically sent home to proceed with their engagements at their own natural pace. (Two members of the cast of Love Is Blind season 5 Paige Tillman and Josh Simmons, confirmed in a joint Instagram post that they got engaged and even began planning their wedding, before eventually splitting several months after the pods.) However, season 5 marks the first time (or at least the first time fans have gotten public confirmation) that a couple was filmed all the way throughout the process, and even made it to the altar, without any of their scenes making the final cut.
Following season 5's premiere on September 22, Redditors and TikTokers began speculating that Renee Poche, a 32-year-old veterinarian, and Carter Wall, a 30-year-old construction worker and fitness enthusiast, had gotten engaged but were edited out of the show. One notable post, shared on September 29 and titled "Release the Renee Cut," claimed that several sources had confirmed the pair made it all the way to the altar. Several fans pointed out Renee's presence at the wedding dress fitting, where she was dressed in white, as well as the pod reunion in Houston, where she appeared to be wearing an engagement ring.
All of the fan speculation ended last week, when Renee confirmed in a PopSugar interview that the news about her and Carter's engagement were true. So why were the couple cut from season 5? Did they end up together following filming? Here's what we know about where Renee and Carter are now.
What happened with Renee and Carter's engagement?
Renee revealed to PopSugar that she and Carter did get engaged in the pods, and that they were among the couples chosen to go to Mexico. They made it through the show's process all the way to the wedding day, where she turned him down at the altar.
"We were very excited about everything, and things went really well in Mexico as well," she told the outlet. "We were always very pleasant, funny, happy, and enjoyed each other's company. But once we got back to Houston and back to the real world, I started noticing things that I kind of ignored or blew off that were red flags I should have picked up on. And eventually I did say 'no' at the altar."
Renee said that she was "just as shocked as everybody else" to see that her and Carter's story was completely cut out of the season. "I got a call a couple months before the show aired, in August, to let me know that our story wasn't going to be a big focus," she explained. "What I was told was, 'We'll just, point blank, say that Carter was awful and we don't want you to have to relive that. That's just not going to be a big focus.' They also said timing was an issue, so they decided to cut our story. That's what I was told."
She continued, "I did ask for clarification because I was so confused at first. My first question was, 'Wait, the wedding's not going to be shown?' She was like, 'No, no wedding.' So I kept asking more and she was like, 'I think it's going to be more like, you guys are friends from the pods.' It was very vague, and I still thought that possibly we were going to be engaged on the show and then kind of cut down from there."
The veterinarian did share that she believed they were cut for a reason than what she was told, adding that she would get into it "eventually, but not now." She added that viewers missed out on "so much."
"It was an emotional roller coaster. There were ups and downs. There were tons of funny, even better moments than the few little clips they showed. It would've been amazing to watch even through the really rough parts, which I will get into, but not right now," she said.
Carter has yet to give any interviews or speak out on his and Renee's engagement, nor on his experience filming season 5.
On the day that the season 5 weddings aired, Renee took to Instagram to share some behind the scenes pics from her unseen wedding-dress fitting, including pics where she, Lydia, and Stacy pose in matching jean jackets bedazzled with the word "BRIDE." Her carousel ends with a photo of a camera shot of Renee getting her hair styled, likely on her wedding day.
"Wish everyone could have seen this wild journey. Regardless of the up and downs I had a blast filming with my girls!!," she captioned the post.
A photo posted by missreneepoche on
Where are Renee and Carter now?
Even though things didn't work out with Carter, Renee did find love soon after season 5 completed filming. She confirmed to PopSugar that she has gotten married since the show was filmed in early 2022. Though she revealed that she tied the knot in March 2023, she didn't share the name of her husband due to his desire for privacy. Renee also responded to fan speculation that she and Carter may have been cut if she'd been in a secret relationship during filming.
"I was never in a relationship, she told the outlet. "During casting, I was single, and we didn't film for about eight months after, and I was single that whole time. I think that rumor came from people seeing that I got married later on, so they were like, 'It just has to be that this was during the same time.' But no, I was single, and I even think Carter would say, there were other issues, maybe, but definitely not that."
She also said of her husband, "He doesn't want to be a part of any media. He thinks the whole thing's wild — he doesn't even want people knowing his name. But I'd actually known him for a while. We matched on a dating app years ago, and then we met and went on a couple of dates, but that was that. It wasn't until months after filming that we actually did go on more dates. We finished filming in June, and we didn't go out until September or October. I think I was in that spot where I was so ready for a real relationship and so excited for everything, and he saw the chance, so we did it! I want to keep our engagement private, but we got married in March."
As for Carter, he has remained private while Love Is Blind season 5 has aired. His Instagram primarily consists of fishing photos and pictures with his friends.
Marie Claire email subscribers get intel on fashion and beauty trends, hot-off-the-press celebrity news, and more. Sign up here.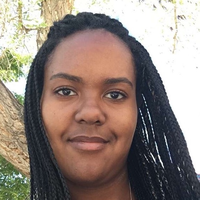 Contributing Culture Editor
Quinci LeGardye is a Contributing Culture Editor who covers TV, movies, Korean entertainment, books, and pop culture. When she isn't writing or checking Twitter, she's probably watching the latest K-drama or giving a concert performance in her car.