'You' Season 4 Part 2: When Will It Return?
Here's when we'll get answers after that ending.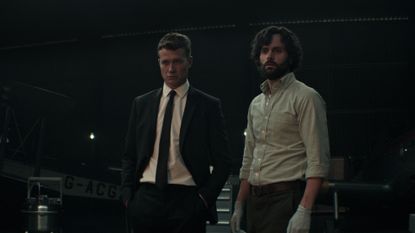 (Image credit: Courtesy of Netflix)
Marie Claire Newsletter
Celebrity news, beauty, fashion advice, and fascinating features, delivered straight to your inbox!
Thank you for signing up to Marie Claire. You will receive a verification email shortly.
There was a problem. Please refresh the page and try again.
Spoilers for You season 4, part 1. It's now been a few days since You returned to Netflix, with the hit thriller following Joe Goldberg (Penn Badgley)—er, excuse me, Jonathan Moore—as he begins his new life as a literature professor in London, and immediately finds himself dealing with dead bodies. This time, the hunter has become the hunted, with Joe waking up from a debaucherous night to find his new frenemy Malcolm lying dead on his kitchen table. Surprisingly, Joe didn't do it, and is instead being blackmailed by someone who wants to kill all of the wealthy socialites in London. (The perp is succinctly named the Eat the Rich Killer.)
Season 4 builds off that premise to transform the show into a hedonistic whodunnit, as Joe ingratiates himself into a group of asshole aristocrats (seriously, all of them except Phoebe and Kate are the worst) to discover who among them is the killer, while also hopefully keeping more of them from ending up dead. There's even a good amount of romance in this wild premise, as Joe begins to fall in love with Malcolm's former girlfriend Kate. Unfortunately, fans diving into this season found that they finished their binge in half the time, as the streamer has broken this season into two parts.
There are a lot of questions to be answered, so read on to find out when the second half of the season will air, and how big of a cliffhanger did the five-episode drop end on. (Also, [spoiler] is coming back?!?!?)
When does part 2 of 'You' season 4 premiere?
Netflix isn't making us wait long for Joe's next steps to take down the Eat the Rich Killer. The second half of season 4, comprised of five more episodes, will be released in exactly one month on March 9.
This two-part formula has been used before with some of the streamer's most popular franchises, including Stranger Things and Ozark. As You creator Sera Gamble wrote back in September, it gives us "time to process… and maybe place a few friendly bets about where it's all going."
Is there a trailer for 'You' season 4 part 2?
Yes! Netflix dropped an official trailer today expanding on the sneak peek included at the end of the five-episode drop. The clip, which is soundtracked by a creepy rendition of "Always Something There to Remind Me," shows Rhys popping over to Joe's flat, explaining that he's looking for a friend who shares his homicidal interests, and with whom he can share his secrets. Later on, Joe assures Rhys (in tears) that he's not some "cold-blooded psycho"... right before it cuts to him burying yet another body.
How does 'You' season 4 part 1 end?
Joe's attempts to find the Eat The Rich killer have been...not great by the end of Part 1. By the final episode of the five-part drop, three members of the wealthy clique have died and the rest have turned on Joe, with Roald (Ben Wiggins) literally hunting him down through the woods. Their chase ends in a surprising twist when Rhys Montrose (Ed Speelers) shows up, and reveals himself as the Eat the Rich Killer and Joe's stalker.
During his supervillain monologue, Rhys explains that he wants Joe to embrace his true, serial-killing self, and join him in his plans to kill everyone who stands in his way. When Joe refuses, he also threatens to pin all of the Eat The Rich murders on him, and tells the American that he'll see him back in London, if he can make it out of a dungeon fire. Of course, since this is only the first half of the season, Joe makes it out. The episode ends with Joe watching Rhys on the TV, as the author announces his candidacy for Mayor of London, as Joe narrates his intentions to expose him.
What will happen in 'You' season 4 part 2?
Joe previously met his match with his ex-wife Love, but now the serial stalker may be going toe-to-toe with a nemesis who's smarter than he is. Rhys has widespread popular acclaim in London, the power of a political campaign behind him, and expert sneaking skills since he was able to get away from the fire without Kate or anyone else spotting him. Now that he's set to continue blackmailing Joe, it's likely that the new mayoral candidate will expand his murderous sights beyond just Kate and Phoebe's crew.
Speaking of Kate, it's likely that she and Joe won't be able to stay away from each other very long. They're in close proximity as neighbors, and Joe will probably need to keep his place as part of the clique (someone needs to give him some dirt on Rhys). Even though Joe's resolved to focus on taking down Rhys, his ability to stay away from the women he's interested in has historically been paper-thin.
Lady Phoebe is another standout character from the new season, along with her unnervingly-charming boyfriend Adam.
Is Love returning in 'You' season 4, part 2?
Netflix included a trailer for the next installment at the end of Part 1, narrated by a determined Joe, who re-dons his stalking cap to keep an eye on Rhys. The clip shows flashes of some scenes, including a confrontation between Joe and Rhys, a disheveled Phoebe, a running Nadia, and Joe drawing a knife out of his waistband. It also reveals a surprising familiar face: Love (!) sitting in a chair in what appears to be a makeshift library inside Joe's cage.
Before everyone's head begins exploding with theories, Love is very much dead. Gamble confirmed it in multiple interviews back in October 2021, even telling Entertainment Weekly that both she and Pedretti knew from early on that Love was going to perish. "We're so trained to do that that people have asked me if she's really dead, and I'm like, 'Her corpse is on camera. You watch him deliver the lethal dose. She's lying there for an entire scene, and then he sets her on fire,'" the showrunner told the outlet. "It's like, 'She's dead.'"
So what's she doing in this teaser then? It's very likely that Love will only appear as a hallucination, like how Guinevere Beck showed up ghost form to remind Joe what he's capable of in season 2. Love will probably appear in a similar context, reminding Joe that he isn't as selfless as he's trying to be. Either way, it'll be great to have Pedretti back!
Celebrity news, beauty, fashion advice, and fascinating features, delivered straight to your inbox!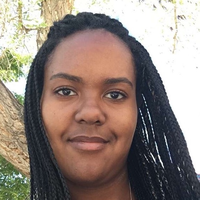 Contributing Culture Editor
Quinci LeGardye is a Contributing Culture Editor who covers TV, movies, Korean entertainment, books, and pop culture. When she isn't writing or checking Twitter, she's probably watching the latest K-drama or giving a concert performance in her car.