Trend to Try: Color-Blocked Nails
Take a cue from the fall runways, and test out color-blocking on your fingernails. After all, Beyonce tried it!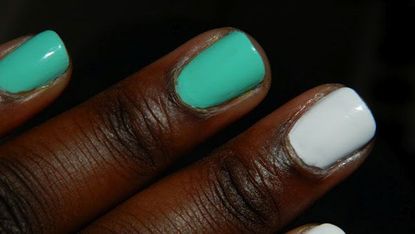 (Image credit: Archives)
When it comes to experimenting with trends, translating them onto your nails is the best (and probably cheapest) way to get your fashion fix. From polka dots to stripes, there is no limit to nail art. Right now, I'm crazy for color-blocking. Spotted at Phillip Lim, Elie Saab, and Diane von Furstenberg, there was no shortage of fun shade combinations on the fall runways.
Though perhaps difficult to pull off on a skirt, when applied to nails, color-blocking is easy to do and simple-looking, yet nonetheless eye-catching. You can go about it two ways: wear two colors on each nail, or paint two of five fingers a completely different color. I tend to go with the latter.
I first experimented with this trend last summer, and instantly fell in love with the look. Sporting the perfect pair of nail lacquers is like picking a great outfit. You need to opt for colors that will complement you and each other. Beyoncé, our favorite diva, showed off a pink and orange combo during her Atlantic City performance in May, but I went with a more summer-esque duo. The white is SpaRitual White Light ($10) and the teal is Nicole By OPI My Lifesaver ($7).
What do you think of this look?
Dara Adeeyo is a nail polish junkie who blogs her beauty diary on Dark Berry Beauty.