WTF, Kendall Jenner Somehow Made Her Powerpuff Costume Sexy *and* Punk Rock
This is NOT the same Buttercup from the cartoon, fam.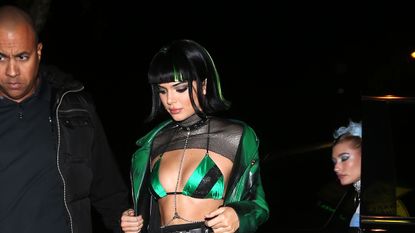 (Image credit: Getty Images)
Kendall Jenner celebrated her 22nd birthday (which actually takes place on Nov. 3) on Halloween night with a costume party at a club in L.A. For her own ensemble, Kendall went as Buttercup, or "the green one" from the iconic Cartoon Network show, The Powerpuff Girls.
But while most would just put on a mod mini dress, a pair of Mary Janes, and call it a day, Kendall did not do that. Her version of Buttercup may be a little into bondage and like to attend punk rock concerts. It's a vibe!
Hailey Baldwin, who went as Bubbles, or "the blue one," was equally hard core and sexy.
"The pink one," AKA Blossom, was not actually there, though Kendall's friend Justine Skye did attend in a purple Powerpuff Girl-esque getup and called herself "Bliss." Same thing? I don't know!
I'm Cosmopolitan's fashion editor—you can follow me on Instagram at @racheltorgs. I love plunging necklines, wide-leg pants, and any excuse to wear something comfy. I consider prosecco to be a major food group.