Kendall Jenner Ran Into Someone Wearing "Kill the Kardashians" Shirt
This is disturbing.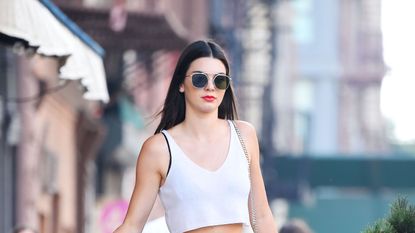 (Image credit: Getty Images)
Kendall Jenner was trying to live her life and do "normal people" things like go grocery shopping yesterday, when she ran into a rather disturbing (to put it mildly) situation. According to her Instagram story, Jenner went out to buy milk and spotted someone wearing a "Kill the Kardashians" tank. The model posted the quick snap on her social media account:

My first thought was "OMG" followed by "That is so disturbing" and then, "I never want to be famous." The worst thing that ever happens to me when I run out to buy milk is that a neighbor spots me in pajama pants, so I can't even imagine how Jenner was feeling when she saw the shirt.
I'm sure the shirt was meant as a "joke." But no one is laughing—especially considering the threats that have been made against the Kardashian family in the past. Kylie Jenner reportedly received kidnapping threats for daughter, Stormi, which prompted her to delete most of the photos of her infant from her social media earlier this month. In 2016, Kendall Jenner had to testify against a man accused of trespassing and stalking her, telling the judge, "I've never been so scared in my life." And Kim Kardashian has shared that she was convinced she was going to die when she was robbed at gunpoint in Paris in October 2016.

"That's when I saw the gun." Kim breaks her silence about the robbery on #KUWTK next Sunday, March 19 only on E!. pic.twitter.com/sR5afijaFYMarch 13, 2017
See more
"I was looking at the gun, looking down back at the stairs," Kim told her sisters, recounting the incident on an episode of Keeping Up With the Kardashians. "I have a split second in my mind to make this quick decision. Am I going to run down the stairs and either be shot in the back—it makes me so upset to think about it—but either they're going to shoot me in the back or if I make it and they don't, if the elevator doesn't open in time or the stairs are locked, then I'm f*cked! There's no way out."
"I just knew that was the moment," Kim said of the moment a gun was held to her head. "They're just totally going to shoot me in the head. I just prayed that Kourtney's going to have a normal life after she sees my dead body on the bed...I have a family. I have my kids, my husband, my mom—I'm not going to make it out of here. I know how these things go."

So, yeah, not funny.
RELATED STORIES
Marina Liao is the former fashion news editor at MarieClaire.com, where she covered celebrity style (from Meghan Markle to Katie Holmes), fashion trends, and shopping advice, plus conducted original interviews with industry insiders. She's also had many opportunities to write content in other areas such as beauty, food, tech, and even home. Her previous fashion stints include POPSUGAR and Cosmopolitan.