Wildfang's "I Really Care" Jackets and T-shirts Give The Finger to Melania Trump
The limited-edition line sold out in an hour.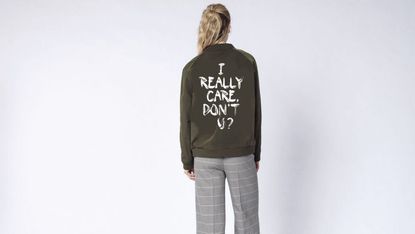 (Image credit: Wildfang)
When Melania Trump flew to Texas from Washington, D.C. wearing a Zara jacket with the slogan, "I REALLY DON'T CARE, DO U?" on the back, it drew the ire of the internet. That's because Melania was on her way to visit one of the immigrant detention centers that's currently housing over 2,000 children who have been separated from their parents as a result of her husband's zero-tolerance immigration policy. The separation policy has been so universally unpopular that President Trump backpedaled and signed executive order to stop the separations. The jacket felt like an intentional slap in the face to those children.
Later, Donald Trump tweeted that the, uh, statement garment was an eff-you to the "Fake News Media." But even if that were true, the optics were horrific. And though Melania took the jacket off when actually meeting with children, she made sure to get photographed with it back on later.
But in a move that's as classy as it is clever, L.A.-based clothing brand Wildfang released a limited run of t-shirts and bomber jackets Thursday night, all emblazoned with the phrase, "I REALLY CARE, DON'T U?"
Even better, 100 percent of the proceeds—$40 for shirts, $98 for jackets—go to the Refugee and Immigrant Center for Education and Legal Services (RAICES), which has been providing legal help and financial assistance to families that have been separated by ICE.
According to site Them, the entire collection sold out in an hour, and a second run of the pieces sold out overnight. "Within a few hours we decided as a team we wanted to do something — this could not go unnoticed — so we put our heads together and went with impact," Wildfang founder Emma Mcilroy is quoted as saying.
It's an awesome move on Wildfang's part. Gotta love any gesture that can provide actual help to people while also dragging the Trump administration.
Here's a list of things you can also do to help migrant families.
Celebrity news, beauty, fashion advice, and fascinating features, delivered straight to your inbox!
Cady Drell is a writer, editor, researcher and pet enthusiast from Brooklyn.