Serena Williams Wore a Lavender Tutu and Fishnets to Win Her Second U.S. Open Match
Winning in style.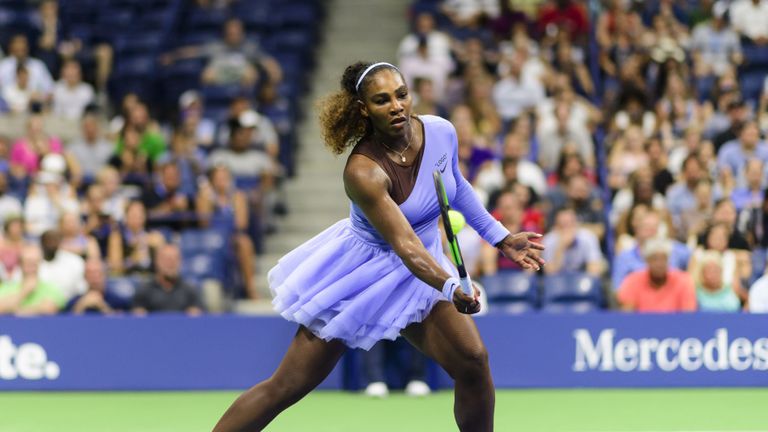 (Image credit: TPN)
On Wednesday night, Serena Williams won her second match at the U.S. Open against German pro Carina Witthöft. Williams wore another tutu, this time a one-shoulder lavender piece, also from the Virgil Abloh x Nike for Serena Williams line. Underneath her tutu ensemble, she wore a pair of black fishnet tights. Several Twitter users pointed out that this pair could be compression tights—a type of footwear she's worn numerous times in the past to prevent blood clots.
In an interview with NPR, Williams revealed that she suffered post-pregnancy complications—blood clots in her lungs— and that she nearly died from the experience. "I've had a lot of problems with my blood clots, God I don't know how many I've had in the past 12 months," she said at a May conference. "I've been wearing pants in general a lot when I play so I can keep the blood circulation going."

Hence the famous catsuit she wore back in May at the French Open. Since then, however, The French Tennis Federation president, Bernard Giudicelli, announced a controversial catsuit ban from future French Opens. Williams gracefully addressed Giudicelli's comments over the weekend and said, "Everything's fine, guys," while sharing she found other ways, a.k.a. the black tights, to address her health issues.
At the U.S. Open on Monday, where Williams won her first match, she wore a black tutu from the Nike x Virgil collab, Nike trainers, and her fishnet compression tights.
Don't worry. Nothing will keep Williams down.

RELATED STORIES