The DVF x Girl Scouts Scarf Is the Perfect Mix of Nostalgia and Fashion
The limited-edition silk accessory is perfect for spring.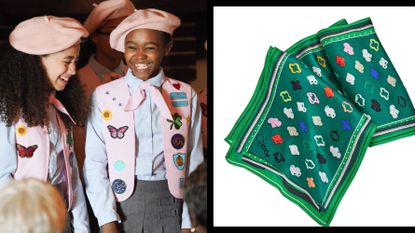 (Image credit: Girl Scouts/Getty)
Marie Claire Newsletter
Celebrity news, beauty, fashion advice, and fascinating features, delivered straight to your inbox!
Thank you for signing up to Marie Claire. You will receive a verification email shortly.
There was a problem. Please refresh the page and try again.
Today, two powerhouses are launching a collaboration intended to honor and inspire the next generation of female leaders. With International Women's Day around the corner, Girl Scouts of the USA and Diane von Furstenberg are teaming up for a limited-edition silk scarf and wristlet collection. Both accessories come in "Girl Scouts Green," and are adorned with von Furstenberg's creative take on Girls Scouts' iconic trefoil.
The organizations share a passion for championing female voices and inspiring the next generation of young girls to be the women they want to be. Von Furstenberg and her brand are committed to motivating girls and women to be #InCharge, and this aligns with Girl Scouts' mission to help build girls of courage, confidence, and character who make the world a better place.
The Diane von Furstenberg collection launches today, March 3. Every purchase of the scarf or wristlet is an investment in the girls determined to become the next wave of bold and influential leaders. They're exclusively available on girlscoutshop.com.
Marie Claire sat down with both Diane Von Furstenberg and Sylvia Acevedo, the CEO of Girl Scouts, about the collaboration.
MC: How did this collaboration come to be?
DVF: Collaborating with Girl Scouts is a true honor for me, and an opportunity to allow young girls and women to feel #InCharge.
MC: How do you think these young girls will be inspired by the collaboration between DVF and GSUSA with the #InCharge mission in mind?
DVF: It's important for any woman of any age to be #InCharge. If you own your imperfections, they become your assets, and that's really the lesson here. Owning who you are.
MC: How do you hope to be a good role model for these young women?
DVF: The only way to be a role model is to talk about your vulnerabilities and challenges because it is that that's inspiring, not your successes. I've always been open.
MC: What advice would you give to these young girls about following their passions?
DVF: Be true to yourself. If you're true to yourself then you can follow your dreams.
MC: How do you hope to influence the next generation of young girls who will eventually graduate from the GSUSA and enter the workforce on their own?
DVF: I hope that the way I speak candidly and openly will help them to be themselves and build their own strength within themselves. That's what's so important.
MC: What are your favorite Girl Scouts cookies ?
DVF: I like coconut, so Samoas!
MC: What qualities do you see in Diane that make her a great role model for GSUSA?
SA: Diane believes in championing and shaping the next generation of female leaders, and that's exactly what we do every day at Girl Scouts. She's bold, she's fearless, and her achievements have had an incredible impact. In a world that undeniably needs more female leaders, she's a positive influence on girls everywhere.
MC: We know you have had fashion collaborations in the past with Bill Blass and Halston. What made DVF a natural partner for you?
SA: Both Halston and Bill Blass reimagined our uniforms to reflect the historical American fashion trends of the era. Looking forward, we knew Diane would understand the power and history behind our logo, the trefoil, and bring it to life in a way only she can. We admire her as a trailblazer, and her commitment to female ambition reflects the same values we've instilled in our girls for over 100 years.
MC: How has this partnership differed from those in the past?
SA: This collaboration is a great opportunity for Girl Scout alums and women of all ages to show their support for Girl Scouts and the next generation of female leaders by proudly wearing these original designs.
MC: How will being a Girl Scout serve young women later in their lives?
SA: We prepare girls to practice different skills, explore their potential, and take on leadership positions for their entire lifetime, whether they're running a business or a household. The possibilities are endless! We've seen girls go from running their own cookie business to becoming CEO of a Fortune 500 company, or from lobbying the city council with her troop to holding a seat in Congress. In fact, 52 percent of female business leaders, 69 percent of female U.S. Senators, and 100 percent of female U.S. Secretaries of State have been Girl Scouts. No matter which path she chooses, she'll thrive.
MC: What are your favorite Girl Scout cookies?
SA: Thin Mints! I will say, I love following the cookie debates on Instagram with celebrities like Justin Timberlake, Reese Witherspoon, and Jennifer Garner weighing in. No matter your favorite, with each purchase you're helping the next generation of young female entrepreneurs get an important taste of what it takes to be successful.
For more stories like this, including celebrity news, beauty and fashion advice, savvy political commentary, and fascinating features, sign up for the Marie Claire newsletter.
RELATED STORY
Celebrity news, beauty, fashion advice, and fascinating features, delivered straight to your inbox!
Taylor Ayers is a fashion editor at Marie Claire, covering the new editorial fashion trends, looks, and contemporary styles.