What Daily Harvest Founder Rachel Drori Wears to Work
The CEO spices up monochromatic looks with food-patterned sweaters.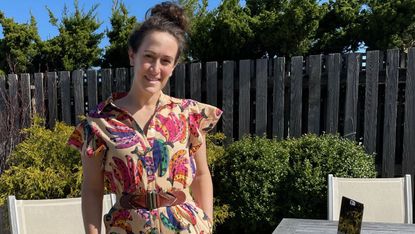 (Image credit: Courtesy)
It's hard to believe that Rachel Drori, the founder and CEO of the wildly popular food subscription company, Daily Harvest, used to sustain herself on the stale birthday cake and trail mix that she'd find leftover in her office building's pantry. "I would go from one meeting to the next feeling like crap," says Drori, 38. But then again, maybe it's not so hard to believe—after all, the best business ideas often emerge from the biggest gaps in the market. And Drori found a huge one: There wasn't food that was both healthy and convenient. "I knew what I should be eating, but I never had time to actually eat that way," she says.
When she started to investigate her options, she was shocked at the state of the food system in the U.S. Not finding a solution that ticked all of the boxes (quick, easy, delicious, and sustainable) she launched Daily Harvest in 2015. Since, the plant-based, sustainable food subscription and delivery service has become a a go-to for busy folks. According to Forbes, since its launch, Daily Harvest has grown into a $250 million company, based on 2020 sales, and has raised more than $43 million in funding.
At the start of the pandemic, everyone was panic-stocking their freezer and getting their food delivered, and Daily Harvest experienced a massive surge. The demand hasn't let up, and Daily Harvest hasn't slow down: The company doubled their team over the past year and even launched new products, including a plant-based milk alternative called Mylk and vegan ice cream.
To take on her packed days, Drori needs style that's just like her food: easy, but with flavor. Here, she shares what she wears to work, including the kitschy-cool fruit-patterned sweaters she swears by. (You are what you eat, I guess!)
Her Morning Routine:
There's nothing glamorous about it. Every morning, I am in full-on survival mode. I have two boys, one is 4 and one is 6, and they are roosters. They wake up every morning before the sun rises. I feel very grateful that my husband is a morning person because I am not. Usually by 6 a.m. we're up, and then it is just full steam ahead.
I prep the kids' breakfast the night before. I put it out for them while I make my matcha, because I can't survive without matcha in the morning.
I really focus on that hour before they're off to school—in person or Zoom—as being as present as I can. It's not always easy, because invariably there's an email that was sent the night before that I'm like, "Oh God." Between email, Slack, and social media [the distractions] just get constant. But I do try to be really present for them, because that's the quality time that we spend together. My husband and I tag team getting them ready: getting them dressed, fed, and packed for school. Then when it comes to turning my attention to me, I usually get dressed while sipping on my second matcha of the day.
What She Puts On First Thing:
I've adapted over the past, probably, two years, but it served me really well this year, and maybe this is gross, but I wear clothing that I can exercise in all day long. I have to be opportunistic. I can never schedule a workout. If I'm dressed in my sports bra and something that I can sweat a little bit in, then whenever break I get—like if a meeting gets canceled—I can fit in a little workout on my spin bike.
Her Go-To Look:
I wear a lot of black t-shirts, because they look good on Zoom, and they are simple. I love the Everlane t-shirts. Sometimes I'll throw on a sweatshirt from the brand The Great. Their sweatshirts are really yummy. As I said, I always wear a sports bra. I've just given up on everything else. I also love the [comfy brand] Pangaia.
On bottom, I have Nike cropped sweatpants that I love. I also have a few pairs of these pants from James Perse that are like half sweat pant, half hard pant.
Her Secret to Looking Put Together (While Being Comfy):
I tend to dress very monochromatically. It just makes life easier. I wear a lot of classic pieces and solid colors. I also focus on things that are, as I said, comfortable. I try to find clothing that's made of sustainable fabrics as well.
On the Power of Prints:
I do have a quirky side and I love things with fruits and vegetables on them. It's a little embarrassing or maybe a little cheesy, but I don't care because I think they're cute. I'm obsessed with Farm Rio. I'll wear my simple, monochromatic outfit and then I'll put on [a fruit-printed piece] like a pair of slides with embroidered fruit on them or a Farm Rio jacket, which is so loud and so obnoxious, but I wear it with really simple clothing. One of my favorite sweaters is covered with strawberries. I may or may not have a plant milk costume that I made.
Her No-Fail Zoom Outfit:
I usually throw on my black t-shirt or sweater. Theory has this really great black, cashmere cardigan that I've been obsessed with. Naadam also has some really nice basics that I like that are more on the sustainable side. They bring a little texture to a look.
On (Her Lack of) Accessories:
I wear zero jewelry. I even replaced my wedding ring with this tiny piece of wire, from Etsy. But I do [occasionally] wear a long, colorful beaded necklace.
Three Words to Describe her Personal Style:
Simple, monochromatic, and effortless. But also, sometimes, quirky. [Four, but we'll allow it!]
Her Power Outfit:
I have a few: I have this ridiculous Chinti & Parker cashmere sweater. It's a black sweater with strawberries printed on it. I'll put that on with a pair of black pants and it always looks good. I splurged on this dress from Zimmerman. It's long and so flattering. I also have a dress by A.L.C. that I'll wear when I'm speaking on a panel.
Her Summer Staple:
A shirt dress.
On the Power of Personal Style:
When you don't feel put together and when you don't feel like you look good, it's hard to be confident. Style makes you feel good so that you can take on the day. It's almost like if you get it right, it's one less thing to worry about. It's an expression of who you are and it's a way of, through visual cues, letting somebody know who you are and what you stand for.
Shop Some of Drori's Favorite Styles
RELATED STORIES
Celebrity news, beauty, fashion advice, and fascinating features, delivered straight to your inbox!
Megan DiTrolio is the editor of features and special projects at Marie Claire, where she oversees all career coverage and writes and edits stories on women's issues, politics, cultural trends, and more. In addition to editing feature stories, she programs Marie Claire's annual Power Trip conference and Marie Claire's Getting Down To Business Instagram Live franchise.