Coco Rocha and Carre Otis Talk Modeling Controversies with Anderson Cooper
Two supermodels tackle one of the modeling industry's toughest questions: How young is too young?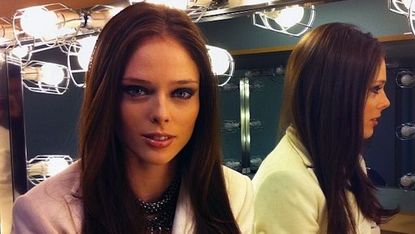 (Image credit: Via @cocorocha)
Anderson Cooper invited models Coco Rocha and Carré Otis to drop by his daytime talk show Anderson yesterday, and the hard-hitting host wasted no time in addressing two of the modeling industry's most controversial aspects: weight and age.
Rocha, the 23-year-old Canadian stunner who has become a fan favorite in the fashion industry, reveals that she started modeling when she was 15, and that she's been turned down for jobs in the past for being "too big." Both women defend the recent CFDA ruling that forbids models under the age of 16 from walking in shows, mostly due to the fact that beginning a career too young can be detrimental to their health and body image.
"It's really unrealistic — we're only 17 and size 2 for a year, and then it all changes," Otis explained, referencing the girls who start working before they hit puberty. Rocha adds, "They're not told you're supposed to get hips and boobs and turn into a woman. Instead they believe, 'I need to be a stick... so I can continue working.'" The industry vets mention that while some models have had the courage to speak out and some designers have come forward as mentors, many of these problems could be avoided if girls started working when they were older and wiser.
Watch the ladies' interview above and then tell us: Where do you stand on the issue of age in the modeling industry? How young is too young?
video platform (opens in new tab)
video management (opens in new tab)
video solutions (opens in new tab)
video player (opens in new tab)