The 32 Best Red Carpet Fashion Moments of All Time
From Lady Gaga's meat dress to Elizabeth Hurley's safety pin Versace.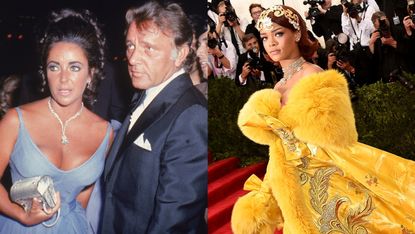 (Image credit: Getty Images)
To get a "red carpet gown for the ages" title is harder than it looks. You're up against some stiff competition—literally decades of dresses have come before you, so it's hard to stand out. And if you have the cache to pull a couture gown, you also have to style it correctly; Too much drama, and you look silly, but not enough drama and you'll blend in. There are some common factors at play here for those who manage to pull off this tricky balance: Oftentimes, the person is either a style icon or about to become one. They're working with an incredible designer who understands their aesthetic. And it's usually at an event to match the over-the-top vibe (meaning, you'll see a bunch of Met Gala and Oscars outfits on here, but then again, there will also be some less formal, more fun events on here too).
Keep scrolling to bear witness to the most gorgeous, over-the-top, and in some cases wackiest outfits that the red carpet has ever blessed us with.
Billy Porter at the Oscars, 2019
While not the first man to wear a dress on the red carpet, or even the Oscars red carpet, the innovator in genderless fashion told Vogue in 2019 that he'd always wanted to wear a big gown but didn't know when he'd get the opportunity. The Oscars, and this Christian Siriano custom gown, was the answer. He admitted that he knew "people are going to be really uncomfortable" but that "it's not anybody's business but mine."
Björk at the Oscars, 2001
From dismissed out of hand as silly and performative, to appreciated in hindsight as iconic, Björk showing up to the (normally black tie) Oscars wearing a swan was innovative fashion at its finest. It was also perfectly on brand for the swan-obsessed singer, including pretending to lay an egg on the red carpet (lol). It's been mimicked and referenced a lot in popular culture, so much so that it's completely turned the corner and now appreciated as a strong artistic choice.
Britney Spears and Justin Timberlake at the AMAs, 2001
Denim has never been so memorable. Britney Spears and Justin Timberlake, who were dating at the time, matched absolutely head to toe—like, including their accessories—in the light blue fabric. Spears has said that the outfit was her idea; Costume designer Steven Gerstein told Jezebel, "It was kind of like their prom. They had an idea, and we did what they wanted as opposed to the other way around," adding, "The rest is history."
Lil Nas X at the MTV Video Music Awards, 2022
Lil Nas X has shown himself a fashion innovator many a time, but nothing was more iconic than turning out the VMA black carpet with a feathered dress and headpiece that was literally several feet long. The Harris Reed look, which was (by Nas' own admission) very heavy, helped the star in his own words "feel amazing" as he explained on the red carpet. He absolutely made the most of showing off the outfit from every possible angle, too.
Courtney Love at the Golden Globes, 2000
Courtney Love is no stranger to controversy, but she might have hit her peak in this dress from the Christian Dior's "homeless" collection—which even at the time was dubbed "tasteless chic." She even remembers being shocked by the dress when it arrived, telling The Guardian in 2019, "The dress arrived and it was ridiculous...I remember thinking: Okay it's crazy-looking, but I'll make it work." To the best of her recollection, she had to glue it in place.
Celine Dion at the Oscars, 1999
Celine Dion's white John Galliano tuxedo shouldn't have turned heads as much as it did—except that the singer decided to wear the blazer backwards for a back-revealing look. Not many people liked it at the time, but she told People in 2017 that she has absolutely zero regrets: "When I wore that, everyone was wearing dresses, not pants...I was the only one with pants in a backward suit from Galliano and if I would do this today it would work."
Cher at the Oscars, 1986
Cher and longtime collaborator Bob Mackie joined forces to create this peak Cher look. Apparently the look was a form of "revenge" dressing, since she had been snubbed at the Oscars that year. Cher said she always felt like an outsider at the awards—not chic enough to fit in, in other words—and so when it came time to wear a black Oscars dress...this is what happened. Mackie told The New Yorker his response to the critics was, '"Of course it's not fashion. It's a crazy getup for attention.' And it did get attention—people talk about it still."
Madonna at the Oscars, 1991
An icon inspired by another icon, Madonna's Marilyn Monroe outfit was an absolute showstopper. The elements were all there: Taking Michael Jackson as a date. Having Bob Mackie design her Marilyn dress. Wearing $20 million in jewelry, reportedly. Playing coy about whether it was actually a date with Jackson, and whether they were in a relationship (Madonna: always very good at the rumor mill!). She really did channel a modern Monroe.
Lady Gaga at the MTV Movie Awards, 2010
Perhaps one of the most controversial red carpet dresses of all time ever, it's hard to overstate the impact this dress had on the cultural conversation. From vegans talking about its poor taste, to people calling it a form of modern art, the meat dress was, in fact, made out of flank steak. Lady Gaga later explained the significance to Ellen DeGeneras, saying, "If we don't stand up for what we believe in and if we don't fight for our rights...pretty soon we're going to have as much rights as the meat on our bones." Fun fact: It was preserved into jerky and displayed!
Grace Kelly at the Oscars, 1955
Wearing a light green-blue Edith Head dress when she won an Oscar for The Country Girl, the dress was apparently originally designed for the movie's premiere that Kelly then rewore to the ceremony. It was made from a bolt of satin that cost $4,000 (which, by the way, means it cost a lot by 1950s standards), and thus was one of the most expensive gowns made at the time. Much like Kate Middleton does today, Kelly would rewear the dress again—and for good reason.
Elizabeth Taylor at the Oscars, 1970
Obviously the rich light blue Edith Head gown is a stunning choice for Elizabeth Taylor (and a bit unusual for the buttoned-up event), but what really turned heads was the 69-carat diamond Burton had purchased for her. Originally made as a ring, Taylor felt it was too heavy and made into a necklace. The "Taylor-Burton" diamond was reportedly in the top 20 of largest diamonds in the world, at least when it went up for auction.
Sharon Stone at the Oscars, 1998
Before high-low fashion was a thing, Sharon Stone was shocking fashion critics and fans by pairing couture and retail outfits. The first time, at the 1996 Oscars two years earlier, it was a clothing snafu that forced Stone to pivot by picking a shirt out of her own closet. People ended up loving it so much she recreated the idea here with a Vera Wang skirt and white button-down shirt from the Gap. Even thought it's more ubiquitous now, at the time it was a wild choice.
Cindy Crawford at the Oscars, 1991
One of Versace's most well-known red dresses ever, Cindy Crawford knew what outfit she needed to debut her relationship with actor Richard Gere. It helped raise the profile of both of them, not just because the look was very daring for the Oscars (the slit up the back is...very, very high), but also because, according to Crawford in an Instagram post, it was the first time a Versace gown had been worn on a red carpet. It was a history-making moment.
Lupito Nyong'o at SAGs, 2015
In 2014, Lupita Nyong'o was still an up-and-coming fashion maven, so she needed a showstopping gown for the 2015 Screen Actors' Guild awards. It was an absolutely standout piece and cemented her status as fashion icon. Her Fred Leighton jewels included a 2.5-carat diamond and onyx ring alongside Art Deco-inspired earrings. She liked the pattern so much, apparently, that she wore a shorter version of the dress at the afterparty. A multifunctional fashion for the win!
Julia Roberts at the Oscars, 2001
Julia Roberts won an Oscar in this Valentino dress, which was actually a vintage gown from their 1992 archives (and modeled by Christy Turlington, another icon, originally). The whole vibe was very "old Hollywood with some modern touches," including the y-shape top and the white stripes through the train. Valentino cited it as one of the high points of his career, and Roberts told Marie Claire UK in 2023 she keeps it under her bed for her daughter to wear one day.
Angelina Jolie at the Oscars, 2012
It might not be the dress itself that set the internet aflame, but it was the way Angelina Jolie posed in it: with her leg extended far from the rest of her body and a mysterious smile. Jolie told People in 2019 that of two dresses, she'd chosen the more comfortable one. "I think when you feel comfortable, when you feel yourself...you embrace it. And sometimes, maybe it appears to be a thing, I don't know."
Farrah Fawcett at the Oscars, 1978
"Disco chic" hit its natural peak when Farrah Fawcett, huge star at the time, showed up in a gown that matched her fabulous fringey hair. The Stephen Burrows gown was immediately copied all over the place. The gown both solidified Fawcett's burgeoning reputation as a serious actor, but it also raised Burrows profile (he was already a huge designer, but this made his gowns a must-have). The perfect pairing.
Zendaya at the Met Gala, 2019
It's really hard to pick a single Zendaya red carpet gown for this list—she's been innovating for years. But probably the one that people most know her for was her Cinderella-esque gown that she wore to the Met Gala, complete with fairy godmother (stylist Law Roach) waving his wand and literally making the gown light up. Zendaya later admitted in a British Vogue video that the dress wasn't finished, and that "it needed a week more" and was supposed to do way more in terms of lighting.
Halle Berry at the Oscars, 2002
Even though it's hard to believe now, the Elie Saab dress that Halle Berry won an Oscar in was considered a little unusual at the time. That particular awards ceremony was still not a place where you could debut a ton of netting, but that's exactly what Berry did. And then she went on to win an Oscar in it—the first Black woman to win a Best Actress statuette. The dress is now seen as so iconic that it's displayed in the Academy Museum.
Penelope Cruz at the Oscars, 2007
The reason you've probably seen this cut and style of dress on countless red carpets is, in part, because Penelope Cruz helped popularize it in this Atelier Versace gown. Believe it or not, some people didn't love the feathery look in the train of the dress, which were made of tulle, silk chiffon, and organza. Now, of course, it's a classic Oscars-worthy dress (cited often as a favorite of all time), and it would kick off more amazing red carpet style from Cruz.
Reese Witherspoon at the Oscars, 2011
Reese Witherspoon normally has a pretty laidback red carpet style—but when you're going to the Oscars, you have to dress it up, and Witherspoon absolutely delivered. The stark Armani Privé black and white gown plus high ponytail was an unusual look for the starlet, but immediately made it onto "best-of" Oscar looks, both then and now. The trick was to keep things simple, with a little Neil Lane jewelry but otherwise letting the dress do the talking.
Gwyneth Paltrow at the Oscars, 1999
The '90s didn't necessarily feature a lot of bubble gum pink, much less big, flouncy ballgowns...that is, of course, until Gwyneth Paltrow wore this pink Ralph Lauren to the Oscars (and it certainly helped that she won the Best Actress statuette that year for Shakespeare in Love). True to form, the dress was divisive at the time, but clearly enough people saw something they liked, because the dress was copied a lot for prom and formal gowns everywhere.
Audrey Hepburn at the Oscars, 1954
Hepburn's Edith Head gown (now considered one of the classic "Oscar dresses" of the twentieth century) was actually a rewear for the actor, who first donned it in the last scene of Roman Holiday, according to British Vogue. It was the right choice for the year where she took home the Best Actress award (also for Roman Holiday). The tea-length dress was a little shorter than more common floor-length styles, and she called it her "lucky" dress.
Michelle Williams at the Oscars, 2006
This Vera Wang gown is technically a rich saffron color, even though it's stored in some people's (read: my) memory as "that gorgeous custom-made yellow gown Michelle Williams wore to the Oscars." It's got the old Hollywood glamour of the ruffles and knotted fabric at the waist, but the distinctly modern touches (the red lipstick, the deep neckline) make it the perfect fusion of traditional and contemporary.
Elizabeth Hurley at the 'Four Weddings and a Funeral' Premiere, 1994
The so-called "safety pin" dress (for obvious reasons) might be the most important Versace to ever grace the red carpet. Elizabeth Hurley, who wasn't as well-known in the United States, immediately became a known entity thanks to the revealing gown that had gold pins looking like they were literally holding the gown together (because they were). It takes quite a gown, but at the premiere exactly no one was looking at Hugh Grant.
Nicole Kidman at the Oscars, 1997
To wear a color like this chartreuse at the Oscars was unusual for the time (Joan Rivers famously shouted at Nicole Kidman that it was an "ugly color," then pretended to puke, which...ouch), but the gown is now known as one of the best Oscar dresses of all time. The Dior gown, designed by John Galliano, was a difficult color for most to pull off, but Kidman absolutely makes it look effortless. It raised the profile of both her and Galliano.
Blake Lively at the Met Gala, 2022
If you've never seen this dress move from rose gold to torquoise (mimicking the oxidation process, like that of the Statue of Liberty) it's worth looking the video up on YouTube: It took three men to unfurl the gown while Blake Lively was literally in the middle of the red carpet. It was two dresses in one, cleverly concealed! Even for Met Gala veterans, the look blew attendees' minds. Lively, who was attending as co-chair along with husband Ryan Reynolds, nailed the assignment of wearing a showstopping gown worthy of her role.
Jennifer Lawrence at the Oscars, 2011
Jennifer Lawrence has given us a lot of top-notch red carpet moments, but her first Oscars really set the stage for future greatness. The red custom Calvin Klein Collection dress (which hearkens back to the brand's heydey in the '90s, where literally everyone was wearing one) helped the young star become an immediate icon. In terms of making the young 20-something seem like she was already an awards-season veteran, they nailed it.
Cardi B at the Met Gala, 2019
Wearing a red carpet on a red carpet? Only Cardi B could! The rapper is constantly seeking to outdo herself, and this Thom Browne gown made of tulle and silk organza (then filled with down, because it's basically a duvet) also featured, per Vogue, 30,000(!) dyed feathers in the design. It needed a 10-person entourage to wrangle around the Met Gala carpet! This wasn't Cardi B's first Met Gala appearance, but it's arguably her most memorable.
Princess Diana at the Vanity Fair Party at the Serpentine Gallery, 1994
Ah yes. The pinnacle of revenge dressing! Shortly after then-Prince Charles admitted that, yes, he'd been unfaithful on national TV, Princess Diana wore this black dress and basically made international front page news. Diana had originally planned to wear Valentino, but switched the dress when the details were leaked to the press. Per William Ivey Long, costume designer for the Broadway musical Diana, the Christina Stambolian dress was originally deemed as "too much," but became exactly right for her purposes.
Jennifer Lopez at the Grammys, 2000
Fun fact: Jennifer Lopez has had a long-standing friendship with Donatella Versace, and this chiffon gown was one of the products of that friendship. Believe it or not, Spice Girl Geri Halliwell (and Donatella herself) had previously worn the same dress at red carpets, but the moment J. Lo stepped out in the naval-baring gown she became a fashion icon. In 2019, J. Lo closed the Versace spring-summer fashion week show in Milan, wearing an almost perfect replica of the original dress.
Rihanna at the Met Gala, 2015
Rihanna was turning up the fashion volume at the Met Gala before everyone else was doing it. This yellow Guo Pei was revolutionary at the time, for its size, scope, and color. Rihanna told Access that she felt super-insecure originally. "I was driving past the red carpet, and I was just seeing like gowns, and I was like, 'Oh my god, like, I'm a clown. People are going to laugh at me. This is like, too much.'" But then she decided to just go for it—and has no regrets. It's one of the most gorgeous gowns of all time.
Marie Claire email subscribers get intel on fashion and beauty trends, hot-off-the-press celebrity news, and more. Sign up here.