Beyoncé's 32 Best Red Carpet Moments
Matching your outfit to your awards: check!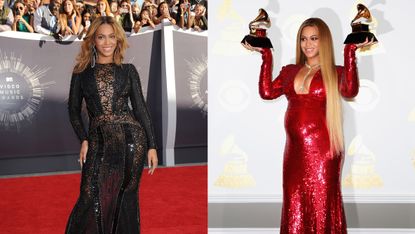 (Image credit: Getty Images)
It's no secret that Beyoncé has major staying power, not just with her music but fashion. After she began her solo career in the '00s, she debuted a personal style that was luxe and glamorous—a departure from the all-matching outfits of her Destiny's Child days, and a sign that she was coming into her own as an artist. Several years of incredible outfits followed, leading to her winning the Fashion Icon Award at the 2016 CFDAs. Part of the reason she's such a style maven is because she's remarkably consistent and intentional: she loves wearing low-cut, form-fitting dresses with strong embellishments.
The funny thing is: Beyoncé actually stopped walking the red carpet as much starting in the mid-to-late '10s. Instead, she self-shot photos of her look and shared them on her Instagram, then made a quiet entrance to the event itself. Given how mean-spirited and sometimes racist the coverage of her outfits could be in the '00s and '10s (people even debated in 2014 whether she even deserved to be called a fashion icon at all), it's not terribly surprising that Queen Bey debuts her outfits for her fans instead of photographers. As Elite Daily noted when people started to notice her red carpet absence, Beyoncé and Jay-Z are the king and queen of the music industry—so if they don't want to, they simply don't have to walk the red carpet.
If you care about seeing every one of Beyoncé's iconic outfits, Instagram is the way to go. Nevertheless, her body of red carpet work is impressive even so. Below, see 32 of the best outfits she's ever worn.
At the 'Austin Powers In Goldmember' Premiere, 2002
I had to include this sweet '70s look—how adorable does she look here?? While this isn't necessarily representative of Bey's trademark look (she rarely goes for a minidress or such big hair) it absolutely works for the movie she starred in. In case you missed it, Austin Powers travels back to the '70s and meets with former lover, Foxxy Cleopatra (lol). Anyways, Bey drew comparisons to Tina Turner, for good reason, and it's one of the first times people started to recognize her red carpet style.
At the 2013 Grammy Awards
This is a bit of an unusual look for our fashion queen, who often opts for a big gown. This black and white Osman jumpsuit has a geometric black and white top and black pencil-style bottoms, with high black heels on the bottom. Paired with the perfect red lip and matching accessories, it's actually the type of look that I'd love Bey to bring back into rotation. After she won her award for best traditional R&B performance, she perched it on her shoulder—the perfect accessory.
At the Golden Globes, 2003
Since Bey was still figuring out her signature style in the early '00s, this dress is somewhat of a departure from her core aesthetic. Sure, the dress looks a little bridal, but the white princess ball gown with tulle skirt and flowers on the bodice is a strong start for the (at the time) up and comer. Some of the pieces are still there, though: It's tightly fitting through the top and flowing out towards the bottom. And, as always, Beyoncé gives the look 100 percent energy.
At the Grammys, 2014
Doily dressing may have become popular in the 2020s, but Beyoncé was out here doing it ages ago! This custom ivory Michael Costello sheer gown doesn't just have strategically placed floral appliqués: It also has an open back, which gives it a gorgeous dramatic touch. Totally custom, Costello told the L.A. Times: "I like that it has the feeling of flowers and leaves falling from a winter wonderland onto the nude-illusion fabric." It wouldn't be the first time Bey would experiment with this style, but it is one of the more memorable dresses she's worn.
At the Met Gala, 2012
The first of five times that she would wear Givenchy, this dress for the "Schiaparelli and Prada: Impossible Conversations" Met Gala would also be a moment she popularized her signature "naked dress" look. She was also doing a long, impressive train before it became a thing (in case you missed it, Rihanna's huge train wouldn't debut until 2015). In this royal purple color, it would kick off a several-year run of daring and gorgeous looks at the event.
At the 2005 Vanity Fair Oscar Party
After performing a record three times at the 2005 Oscars, Queen Bey celebrated by changing into a baby blue Roberto Cavalli gown that looks as comfortable as it is chic. In a rare vulnerable moment, she admitted to Oprah at the time that "I was at a party, and I sat down, and the boning curved because I was sitting down...On my way out, all the paparazzi were still outside, and I said, 'Oh my god, they're going to say that I'm pregnant.'"
At the 'The Lion King,' 2019
Wearing a matching outfit with daughter Blue Ivy on the red carpet, this Alexander McQueen tuxedo gown has so much happening: A sheer bedazzled tulle skirt! Crystals on crystals on crystals in the jacket! Huge jewelry! For one of her first red carpet events since 2016, Bey went maximalist in the best possible way (the look was inspired by a similarly maximalist 1920s aesthetic). And it's a testament to her special skills that she makes it look effortless.
At the 2016 MTV Video Music Awards
I mean, Beyoncé always soars, but remember when she arrived to an awards ceremony wearing actual wings? Don't forget the $12.5 million in Lorraine Schwartz jewelry she has on (really, it's worth a zoom in on her emerald and diamond earrings)! This Francesco Scognamiglio dress and plumage neckline was absolutely fitting for the 11 nominations she had that year, and she looks thrilled to be wearing such a standout piece.
At the Grammys, 2015
In the wrong hands, this might look funereal, but Queen Bey brings her magic to it. The Proenza Schouler looks like it was tailor-made just with her in mind, from the deep v-neck to the figure-hugging shape to the semi-sheer detailing at the bottom. She changed into a fun (and probably more comfortable) mini to accept her three awards that year, but this one marks the perfect way to make an impact on the red carpet before the fun and festivities begin.
At the Grammy After Party, 2008
Beyoncé has historically liked the color yellow, and this is the perfect way to deploy it. It's Georges Chakra, and it's got a corset-like construction with pleats at the bottom, sequined panels, and a matching scarf. (For the ceremony, Bey wore an ice blue Elie Saab with silver sparkles on the top half. It looked awesome, but for my money this is the better gown.) When she picks a color and wears it with her trademark confidence, it makes the look immediately memorable.
At the Met Gala, 2015
It feels like Beyoncé is one of a very few number of people who can pull off this "naked dress" style, which deserves applause all on its own (she's also one of the forerunners of the style—which is one of the reasons she's such an icon). The theme was "China: Through the Looking Glass" and, regardless of whether or not she was on theme, everyone was talking about the artfully deployed sequins that made the minimal but also gorgeous dress.
At the Met Gala, 2014
For the "Charles James: Beyond Fashion" Met Gala (James is often credited as the founder of couture), Beyoncé went very retro classic in Givenchy. Sartorially speaking, 2014 was a good year for Bey, and this sheer and embellished black sequin gown was one of the best gowns she wore in this year. Obviously, my favorite part is the netted veil in front of her face, matching beautifully with her black chandelier earrings and burgundy lip.
At the Met Gala, 2013
One of Bey's Givenchy dresses for the Met Gala, it may not hew exactly to the "Punk: Chaos to Couture" theme (unless you count the studded black belt around her waist), but who cares? She has flames running up the side of her dress and matching flame boots! How cool is that?? Bey uses the Met Gala to break out some of her more shocking looks, and this one is no exception. Designed by Riccardo Tisci, it's a standout.
At the 'Cadillac Records' Premiere, 2008
Playing the iconic Etta James in a movie means you have to wear a serious and gorgeous gown—enter this black Zuhair Murad dress. I love the contrast in textures, from the wet fabric look on the top and bodice, to the beaded and semi-sheer bottom half, to the train behind her. The gorgeous diamond earrings are the perfect counterbalance, and the singer-actor wore her hair in an old-Hollywood teased-up way, as befitting the role.
At the Golden Globes, 2009
Going with a much-beloved designer, Bey picked this champagne Elie Saab dress for the Golden Globes. I like it because it's a little more feminine and soft than we sometimes see on her—and she pulls it off. Obviously, the beading and design is lovely with a starburst pattern (and, true to form, it fits her perfectly), but feast your eyes on that gorgeous Lorraine Schwartz diamond loop design necklace. It's the perfectly complementary shape to the dress, but it's also a standout in its own right.
At the Academy Awards, 2007
I believe this exact color is seafoam green, but regardless: When Queen Bey opts for lighter colors, like this green Armani Privé, she absolutely nails it. While she doesn't always wear Armani, she sometimes goes to the couture designer for some of her more impressive events (including her first Met Gala and one appearance at the Grammys). The word goddess gets thrown around a lot, but I'll say it: She looks like a goddess. Full stop.
At the Academy Awards, 2005
Now this is pure old-Hollywood drama. This Atelier Versace velvet gown marks the start of a new era for Queen Bey: Destiny's Child would disband the following year (and she would go solo), she attended the event with then-boyfriend Jay Z, and she was attending the Oscars for the first time to perform. It's exactly the right choice for the moment, with a simple but gorgeous gown and some seriously major diamond earrings. A perfect Academy Awards debut.
At the Met Gala, 2016
At the "Manus x Machina: Fashion In An Age Of Technology" themed Met Gala (the last time she attended the event), Bey broke out this skin-tight, rose gold, beaded Givenchy. Known infamously as "the latex dress," she made sure every single attendee was looking at her. Obviously, the super-fitted, super-shiny gown looks incredible on her, but my favorite part might actually be the dark and dramatic eye makeup—a bit of an unusual choice for her—that she's bringing to the look.
At the 2014 MTV Video Music Awards
One of Bey's tried-and-true colors is black, and she usually deploys it in this exact way: fitted, semi-sheer, and with some fun visual details. This is one of her most successful black gowns, in Nicolas Jebran couture, and it's because the gown itself is impressively intricate (look at that webbed design!) and there's an impressive amount of sparkle. She pairs it with big and chunky earrings, making it look like the outfit extends all the way up to her head.
At the 'Beyonce: Life Is But a Dream' Premiere, 2013
For the premiere of her 2013 HBO documentary, Queen Bey broke out a favorite label in this Elie Saab spring 2012 couture gown. It's a fun, jewel-encrusted pick, and very on-brand for the singer and actor. It's somewhat of a muted color, but the fun is in the details: The dress has several layered sheer panels, which means that you have to look hard to see the semi-obscured jewels underneath the fabric. We love the multi-layered gown for the multi-layered star.
At the 2007 'Dreamgirls' UK Premiere
Dreamgirl!! (Sorry, just a little thematic humor there for you.) Dipping into one of her most-loved designers, this silver Elie Saab is exactly the right pick for the movie premiere. It's stylish and eye-catching, which makes sense since she's helping to headline the film, but it's also a nod to her more serious acting chops. When singers turn to acting—see also Lady Gaga and Madonna—they can debut a more serious and high-end red carpet style. This one's a perfect choice.
At the 2015 Vanity Fair Oscar Party
When Beyoncé chooses a sleek and minimalistic silhouette (which is not terribly often), she absolutely shows how brilliant it looks on her. This Stella McCartney dress is chic, sleek, and almost bare bones—although it's open at the back, which is a nice touch—which allows for the jewels and accessories to take center stage. Also, Beyoncé matched with husband Jay Z in a white suit for the party, so it was a glorious couple's outfit, too.
At the European Premiere of 'The Lion King,' 2019
I mean! This gorgeous gold Cong Tri dress is a thematically appropriate choice (gold: royalty, lion-like, one of her favorite colors, symbolically rich) but it also literally matches with the film's logo! Beyoncé is really out here doing it better than everyone else. It's also a superior shape, with the fabric flowing from off her shoulder, from shoulder to hip, and from shoulders all the way to the floor. In Queen Bey fashion—it's also got a glorious train.
At the Met Gala, 2011
For the "Alexander McQueen: Savage Beauty" Met Gala, Beyoncé really brought the glam in this black and gold Emilio Pucci dress. It's quite a complex construction, with scale-like sequins, high collar with cutout, and a tulle skirt. According to People, the dress structure made it super-hard to walk, and Queen Bey enlisted Ty Hunter and Jay-Z to help her get up the stairs (when in doubt, ask one's stylist and spouse to help!). This was only Bey's second Met Gala, and it was a showstopper.
At the 2012 BET Awards
This neon gown for some reason made some "worst of" style lists (what??), but I myself love this lime-green-with-a-hint-of-yellow Stéphane Rolland Couture gown. The metal belt feels like the perfect grounding accessory for a bold color, and the star wisely chose to keep things neutral in her accessories. The (other) star of the show is Queen Bey's hair, which feels appropriately big and a complementary shape to the more flowy dress.
At the 2011 MTV Video Music Awards
I love it when Beyoncé dresses in red. (Technically this is probably a little more orange, but my point remains the same.) Fun fact: This Lanvin gown has a secret, which wouldn't be revealed until her onstage performance of "Love on Top." In case you missed it, she sang about us feeling "the love that's growing inside of [her]," then at the end of her performance she whipped open her Dolce & Gabbana purple sequin blazer to reveal her burgeoning baby bump. Yes!!
At the Golden Globes, 2007
Ugh, I love this Elie Saab halter dress so much. Widely considered one of the best Golden Globe dresses of all time, this is probably one of the more perfect iterations of Beyoncé's classic styling choices. Her gown is (what else?) gold and shimmery and one of her fave designers—seriously, the more you look at it, the more you realize its intricacies. The cut is sleek, tailored, and revealing without ever being too much. Her hair is simple but perfectly complementary. And her face is sparkling.
At the Academy Awards, 2009
This is a Tina Knowles House of Deréon original design, and Beyoncé's mom clearly did right by her. Even though it (eyeroll) made some worst-dressed lists, it's stood the test of time: It's very Queen Bey in terms of color scheme, and it fits the singer like a glove. Originally debuted in 2006, the brand, spearheaded by Tina and her daughter, was designed to be "where the sidewalk and catwalk meet." It closed its doors in 2012, but this gown continues to live on.
At the 'Taylor Swift: The Eras Tour' Concert Movie World Premiere, 2023
Wow, what an iconic photo. Queen Bey broke her "no red carpet" rule to attend Taylor Swift's concert movie premiere in Los Angeles. It was a surprise appearance, which I love to see, and she's bringing the style in a black catsuit with chrome breastplate, matching metal sunnies, and flatform booties. What I particularly love about this look is that Swift, in Oscar de la Renta, is channeling totally different vibes, but the two look delighted to stand together nonetheless.
At Atlantis The Royal Grand Reveal Weekend, 2023
For the opening of a new Dubai luxury resort, Queen Bey really made the most of the red carpet. The Dolce and Gabbana gown had a top that looked like a breastplate in metal gold, with sequins and sheer panels in the skirt. But obviously the standout, and the biggest feature in this photo, is the overlaying coat-train, made of shiny gold that made a cool crinkly effect when she stopped moving. She kept everything else simple and matching (which makes sense when you look like a golden empress).
At the Grammys, 2017
I can't help but put this photo—even though it's technically not a red carpet photo, this absolutely show-stopping performance deserves a slide of its own. Peter Dundas, who's dressed her since the '00s, spoke to Vogue: The dress took 50 people a week to make, and includes "Gustav Klimt influence, Art Deco motifs inspired by Erté, and lyrics from Beyoncé's song 'Love Drought,'" as well as symbols of Oshun, African goddess, and embroidered details of Bey's own face in the center. Frustratingly, Beyoncé did not win album of the year (a slight that even winner Adele noted in her speech), but this outfit and performance spoke volumes.
At the Grammys, 2017
At the 2017 Grammys, Queen Bey won for Best Contemporary Urban Album (Lemonade) and Best Music Video ("Formation"). So naturally, her red carpet gown was the correct level of glam to make her look like a star (and match her awards, of course). Pregnant with twins at the time, the Peter Dundas dress accommodates her bump, and Dundas explained on his Instagram that it was his first eponymous collection look made especially for the icon—whom he named as his muse. Legendary.