Emma Roberts on the Magic of Feel-Good Fashion
The Kate Spade enthusiast talks dopamine dressing, polka dots, and her quirky early-aughts style.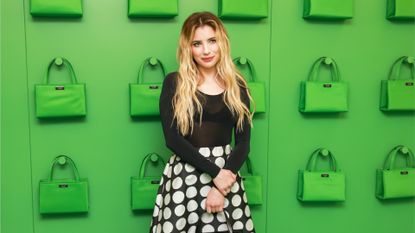 (Image credit: Kate Spade/BFA)
Marie Claire Newsletter
Celebrity news, beauty, fashion advice, and fascinating features, delivered straight to your inbox!
Thank you for signing up to Marie Claire. You will receive a verification email shortly.
There was a problem. Please refresh the page and try again.
Emma Roberts' 32nd birthday happened to be on the same day as Kate Spade's Fall 2023 presentation. For most fashion folks or show-going celebrities, having your birthday fall during New York Fashion Week would not be ideal, making the already pressure-filled few days all the more frantic. But the actor was unfazed. "I'm going home today, actually, back to Los Angeles," Roberts shared with a smile. "So this is my first and last event of NYFW." She was focused on savoring the moment, taking in the sweeping views from the top floor of the Whitney Museum of American Art and marveling over the clothes.
And the clothes were very easy to marvel at: Rainbow-colored suits, sequined sets, and eye-popping prints—the perfect celebratory pieces you'd want to wear (or at least look at, in Roberts' case) on your birthday. "The Fall 2023 narrative evokes the universal feeling of joy that the season brings—a renewed sense of energy," shared Kate Spade's senior vice presidents and heads of design, Tom Mora and Jennifer Lyu, in a press release. "There's an excitement about getting dressed again…whether meeting friends for drinks, discovering a new restaurant, or stumbling upon an art exhibit. This collection celebrates these moments in everyday life and the unexpected that can happen."
It was a quintessential display of dopamine dressing, with all its mood-boosting magic. "Kate Spade just makes clothes that make people happy," Roberts, a longtime fan of the brand, put it. Her outfit further proved her point about the joyful nature of the label's offerings: a polka-dotted A-line midi skirt, semi-sheer black top, and heeled loafers. (I'll admit that at one point, I paused our conversation and asked Roberts do a twirl—"It is a very twirl-able skirt," said the Maybe I Do star, laughing while indulging me with a dramatic spin.)
Between bonding about being name twins ("Emma, meet Emma!") and chatting about her birthday plans, I caught up with Roberts on feel-good fashion, her obsession with polka dots, and why she's still pulling style inspiration from Aquamarine.
Marie Claire: What are your favorite pieces from Kate Spade's Fall 2023 collection?
Emma Roberts: I'm obsessed with the blue sequin look. I think I need those pants for my birthday or for New Year's. Or for just, I don't know, like a random Friday because why not?
MC: Those are so good. I was thinking that they actually remind me of this trend I'm seeing called Mermaidcore, which is all about aquatic and sea-themed clothes.
ER: Oh, I'm obsessed with mermaids, so I'm very into that. Mermaidcore—I love it. I mean, who doesn't want to be a mermaid?
MC: Exactly! And I just have to say that Aquaramine was one of my favorite movies growing up. It was a very seminal moment for me in my childhood.
ER: Aw, I love that. Thank you.
MC: Speaking of trends, are there any you hope to see come back this fall?
ER: For me, I love polka dots, so I'm happy to see all the dots in [Kate Spade's Fall 2023] collection. Kate Spade always does a good polka-dot moment.
MC: And on the opposite end, what trend do you not want to see come back?
ER: I don't love flat shoes, and I feel like everyone's wearing ballet flats right now. And it's cool, but as a short person, I like heels. I like the height—I need the height!
MC: If you could go back and tell your younger self some style advice, what would you say?
ER: If I could tell my younger self something about style, I would say to just go simple. In the early 2000s, I think we really overdid it. So, I'd tell myself, "just wear a black turtleneck and a cute pair of pants and call it a day!"
MC: Do you have a go-to piece in your closet that you can put on and it will give you instant joy? A little dose of style serotonin?
ER: I love anything leopard. A leopard bag, a leopard coat, a leopard shoe—it just makes the whole outfit.
MC: As our conversation winds down, I'd like to pivot a bit away from fashion. I know you and your friend Karah Preiss started Belletrist, a book club and online community, five years ago. Do you have a favorite book that you've read recently that really stuck out in your mind?
ER: Oh my God. There are so many books. I mean, anything by Joan Didion because she is the best. And then in the last year, I read I Love You But I've Chosen Darkness by Claire Vaye Watkins. The title alone I'm dead for, but it's also such a great book.
MC: What's a classic you think everyone should read?
ER: Anything by J.D. Salinger. And, again, Joan Didion. She's a classic at this point and I just love all her work.
Celebrity news, beauty, fashion advice, and fascinating features, delivered straight to your inbox!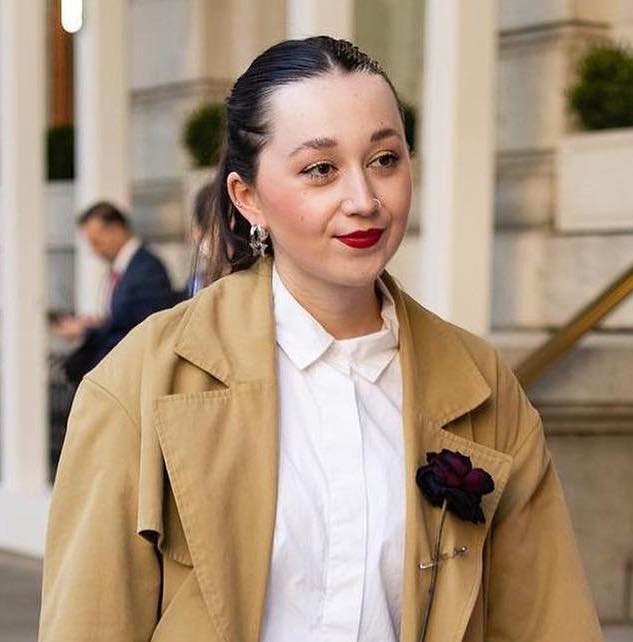 Emma Childs is the Style Editor at Marie Claire, where she researches up-and-coming trends, curates shopping guides, and gushes about the must-buy items she can't stop thinking about. She previously wrote for TZR, Editorialist, Elite Daily, and Mission Magazine and studied Fashion Studies and New Media at Fordham University. When she's not writing up fashion deep-dives or finding the season's best pieces, you'll find her fiddling around in Photoshop and perusing HBO Max for the next show to base her personality on (currently, it's "Succession").