14 Cool Bucket Bags You'll Want to Trade Your Canvas Tote For
This season's styles range from woven raffia to leather.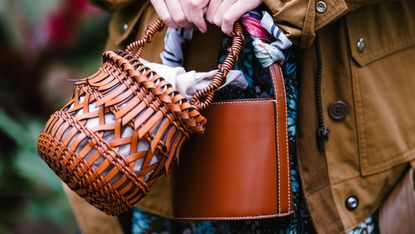 (Image credit: Kat Irlin)
Fun fact: The first bucket bag to appear on scene was in 1932 when Gaston-Louis Vuitton created the Noé as a utilitarian bag to carry champagne in without breaking the bottles. The wide reinforced base was designed to hold five bottles while the drawstring closure cinched the bottles together so they wouldn't rattle around. Genius!
Over the years, the bucket bag has evolved in color and vibe while still maintaining its iconic shape. Designers like Rachel Mansur and Floriana Gavriel of Mansur Gavriel have since made the classic style into their own. The duo introduced their brand by launching an iconic bucket bag in 2013. The minimalist accessory was so in demand that it garnered a waitlist and Business of Fashion dubbed it the "first post-recession It bag" in a 2015 article. Fast forward to 2020 and the love we have for the bucket bag silhouette is still going strong. It's become a constant in the fashion cycle and every few seasons, designers will churn out updates to this staple silhouette, whether it be a handwoven piece or an all-over logo style.
For this season, we rounded up our favorite bucket bags to shop right now. This handbag isn't going anywhere and yes, you can still totally use it to tote your bubbly around for the summer.
•••
For more stories like this, including celebrity news, beauty and fashion advice, savvy political commentary, and fascinating features, sign up for the Marie Claire newsletter (subscribe here).
1/14
Anthropologie Mindy Bamboo Bucket Bag
A Bamboo Bucket Bag
This bucket bag is made from multicolored beads and bamboo to give it natural-looking elements. It's perfect for those who want to dress up their summer outfits with an eclectic accessory.
2/14
Zara Tassel Mini Bucket Bag
A White Bucket Bag
I love a white bag for summer and this mini one from Zara is so chic. The tassel detail gives it an interesting look while the crossbody strap makes it super functional. Pro tip: Be extra careful when wearing this with jeans because who wants blue dye all over their white bag? Not me.
3/14
Nico Giani Top-Handle Tote
A Woven Bucket Bag
This bag is composed of brown straw with leather exteriors and a cotton lining for an earthy and polished aesthetic. The woven design is reminiscent of Jane Birkin's iconic basket bag. Pay homage to her iconic style by pairing this with blue jeans and a white shirt.
4/14
Staud Bisset Bag in Cognac
A Minimalist Bucket Bag
Complete your polished look with this leather accessory that is structured and understated. A styling tip: wrap a silk scarf around the handles to add a feminine touch.
5/14
Mansur Gavriel Black Bucket Bag
A Classic Bucket Bag
You can't talk about bucket bags without mentioning this iconic Mansur Gavriel piece. Launched in 2013, the Mansur bucket bag quickly garnered attention and a waitlist. The Los Angeles Times described the bag as "stealth luxe" for women who want low-key luxurious bags without overt logos and labeling. If that's your vibe, this classic Mansur Gavriel style is for you.
6/14
Soraya Hennessy Coqueta Bucket Bag
An Embellished Bucket Bag
When it comes to beach days, you have your beach bag (a huge tote filled to the brim with snacks and a towel) and then you have your fashion beach bag. The pearl straps on this bucket bag dresses up the laidback look of the woven fabric. With this little guy in the crook of your arm, you'll feel like you're in St. Tropez.
7/14
Louis Vuitton Noé
A Designer Logo Bucket Bag
The pioneer of bucket bags, Noé was first created in 1932 and the original style is still available to shop to this day. Though you may not use this bag solely to carry Champagne in, you can most definitely stuff it with a water bottle, umbrella, wallet, car keys, and more.
8/14
Les Petits Joueurs Baby Olivia Disco Bag
A Shiny Bucket Bag
Covered in microscopic gold mirror tiles, this bag SCREAMS disco. Fulfill your wildest Studio 54 fantasies with this glimmering bag the next time you go out with the girls. This accessory belongs under the lights of your favorite lounge or club.
9/14
Aqua Croc-Embossed Bucket Bag
A Croc-Embossed Bucket Bag
For the red hot lady, this bag adds a necessary pop of color to all your ensembles. We love the bold hue along with the mock croc for a textured flair. Bonus points: This bag is extra spacious and can fit all of your essentials.
10/14
Loewe Small Bucket Fringes in Tan
A Handcrafted Bucket Bag
This bucket bag is handcrafted to showcase a variety of weaving techniques. You're buying more than just a bag, you're buying a piece of art! You won't be able to resist the urge to Instagram this piece, so style with your favorite sundress and smile for the camera.
11/14
Ulla Johnson Sophie Mini Bucket Bag
A Feminine Bucket Bag
This bucket bag is suited for the girl whose style says "feminine flair" thanks to the dusty rose color, bow-shaped handle, and a single leather strap for toting.
12/14
Prada City Leather Bucket Bag With Rope Detail
A Rope-Detailed Bucket Bag
This structured leather bucket bag gets an ocean-inspired twist with rope accents. The knots add texture and flair to the designer accessory and complements all your summertime outfits, especially a cute all-white look.
13/14
Gucci Small Ophidia Bucket Bag
A Timeless Bucket Bag
How to spot a quintessential Gucci bag: Look for the iconic GG print plus red and green stripe details. You can wear this structured bag two different ways depending on the straps, which proves this designer item will be your new go-to year round. For a classic carefree look, rock the bag with a crisp white button-down, jean shorts, aviators, and white sneakers.
14/14
Longchamp Le Foulonné
A Navy Bucket Bag
What makes this bucket bag different from the others is in the details, like the chic silver carabiners that adjust the strap length. The navy color is also as easy to style with as black and looks sophisticated.
Shelby Comroe is the Credits Editor and Fashion Assistant at Marie Claire covering all things fashion and giving credit where credit is due. Check her out @shelbycomroe on Instagram if buying designer handbags is your idea of a retirement plan!