The Best Outfits North West's Worn So Far—and How You Can Copy Them
Um Northie, may I borrow your Birkin?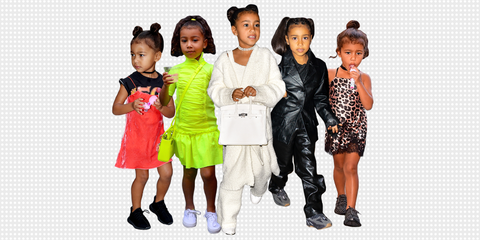 Design by Morgan McMullen
North West was always destined to become a fashion icon. Back in 2014, there were rumors that she had her own stylist (she was 16 months old at the time), she posed for her first magazine cover at age five in poppy neon outfits, and she has runway experience. To top it off, she offers free styling advice to her friends on the side. Northie's outfits, from her many sweatsuit sets to slip dresses, are always on point given she has access to all the best designers in the world and first dibs on her mom and dad's clothing lines. The little starlet knows what works for her six-year-old self and is a certified fashionista. Ahead, you'll find some of her best ensembles so far and shoppable pieces to recreate her enviable looks.
This content is created and maintained by a third party, and imported onto this page to help users provide their email addresses. You may be able to find more information about this and similar content at piano.io