Lady Gaga's 20 Most Fashionable Red Carpet Outfits of the Last Decade
From groundbreaking to breathtaking Lady Gaga has consistently secured her place in the annals of fashion—so what's next?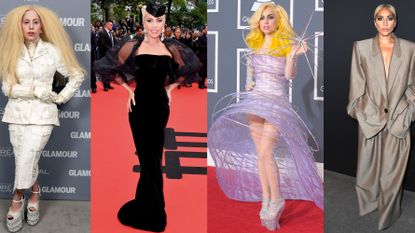 (Image credit: Getty Images)
The 2009 MTV Video Music Awards was a very big night for Lady Gaga. Not only was she handed the award for Best New Artist of the year, but it was on this night that the world at large was essentially introduced to Gaga, and her "expect the unexpected" aesthetic for the first time. From the moment she hit the red carpet wearing a Jean Paul Gaultier gown paired with a gilded neck brace, to her acceptance speech in an archival Alexander McQueen red lace dress paired with a matching, face-obscuring mask and crown, if you didn't know that Gaga had arrived to stake her claim as the next culturally significant visual artist of our time, you simply weren't paying attention.
Like Madonna before her, for the next 10 years Gaga took every opportunity at each red carpet event (not to mention new video, new live performance, new TV appearance, new street style moment) to help reinforce her position as chief avant-pop, fashion-freak, shit-stirrer who continued to keep her audience anticipating her next incarnation.
While we are all familiar with her myriad personas, it has truly been her turns on the red carpet that will remain most iconic for years to come. On her way to scoop up armfuls of accolades, Gaga has proved time and again that she can glam it up like the best of Hollywood royalty while always retaining some degree of her Mother Monster-ness.
Sadly, we were about to be treated to her newest incarnation as her sixth album, Chromatica was slated to drop on April 10th, but its release has since been been pushed back as Lady Gaga decided to re-focus her efforts on various COVID-19 initiatives. We did however, get a few hints of a new intergalactic, anime inspired, robotica persona from her "Stupid Love" video, but if we have learned anything from Gaga over the past decade, this was sure to be just the tip of the iceberg.
So, until we are again graced with Lady Gaga's next inspiring looks, let's take a moment to celebrate the last 10 years of her most fashionable red carpet star-turns. Rah-Rah-Gaga!!
1/19
January 31, 2010: The GRAMMY Awards
Kicking off the new year in an interstellar creation by Armani Privé. This look marked a change in form from the designer who epitomized '80s style with his power suits. This crystal-encrusted dress, complete with orbiting rings and a dangerous looking spiked-star "purse" showed Armani in a creative new light and became the first of many collaborations between the pop star and Milanese powerhouse.
2/19
February 10, 2010: amfAR Gala
As a MAC Cosmetics Viva Glam Spokesperson, Lady Gaga walked the red carpet at amfAR's annual gala as a living work of art. Her (real) pearl encrusted look was created as a collaboration between artist Terence Koh and Haus of Gaga.
3/19
February 16, 2010: The Brit Awards
For the Brit Awards, less than a week after her appearance at amfAR, Lady Gaga floated across the red carpet in this phantasmic
multi-tiered gown by Francesco Scognamiglio. Her towering wig and white lace mask, created by famed London milliner Philip Treacy, helped this look haunt our memories for years to come.
4/19
September 12, 2010: MTV Video Music Awards
In a beautiful tribute to the memory of her friend and collaborator, the late Alexander McQueen, Gaga paired a gown from an unfinished final collection by the designer, with the now iconic armadillo shoes from McQueen's Plato's Atlantis collection—where incidentally, Lady Gaga premiered her song "Bad Romance." She topped off the look with yet another Philip Treacy creation, this time, a gold feathered mohawk crown.
5/19
September 12, 2010: MTV Video Music Awards
Later, that same evening, Gaga wore the infamous meat dress designed by Franc Fernandez, to accept her Video of the Year trophy for "Bad Romance."
6/19
February 13, 2011: The GRAMMY Awards
For the 2011 GRAMMY Awards, Gaga went full-on extraterrestrial in MUGLER by Nicola Formichetti after hatching from an egg-like "vessel" created by designer Hussein Chalayan. Her look was heightened by facial (and shoulder) prosthetics for that extra alien touch created by famed makeup artist Val Garland.
7/19
November 11, 2013: Glamour's Women of the Year Awards
Ghostly Elizabethan looks for day? Why not?? This two-piece Thom Browne suit in cream and white lace, with pearl detailing could almost read as classic—even with the latex underpinnings. But when paired with heavily powdered makeup, a teased to the heavens fright-wig, blacked out sclera lenses, and 10-inch custom made pearl-encrusted sandals, the look went from "lady" to Lady Gaga instantly.
8/19
February 22, 2015: The Academy Awards
Who doesn't step up their game for the OSCARS? "You don't understand, this is an ALAÏA." While Gaga has been seen wearing the masterful designer's ready-to-wear in the past, this look marked the first time Mr. Alaïa created a look specifically for the red carpet. With Gaga as his muse, Mr. Alaïa and his team of 25 worked on this embroidered masterpiece for two weeks. (And yes, even the gloves.)
9/19
May 4, 2015: The Met Costume Institute Gala - "China: Through the Looking Glass"
Although, at the time, this Balenciaga (by Alexander Wang) look was derided by some critics for being more akin to a cross between a Japanese kimono and a Korean hanbok, her evening cape actually, more than anything, harkened back to the "egg coat" designs of Cristóbal Balenciaga himself from the 1960s. And while his tenure at Balenciaga was short, it was rather well-played of Gaga to support a young Chinese American designer in light of the evening's theme.
10/19
January 10, 2016: Thel Golden Globe Awards
Eat your heart out, old Hollywood. Slinking across the stage to accept her Golden Globe for American Horror Story in custom made black velvet Atelier Versace, Lady Gaga left mouths agape. Channeling Marilyn Monroe with her retro bob, she clearly came to win.
11/19
May 2, 2016: The Met Costume Institute Gala - "Manus x Machina: Fashion In An Age Of Technology"
Just when we were beginning to think Lady Gaga had gone full Hollywood, she took it back to her cyber roots with yet another custom Atelier Versace look based on a circuit board—perfectly on theme for the night.
12/19
January 28, 2018: The GRAMMY Awards
This Armani Privé black lace ball gown complete with a massive train certainly brought all the drama to the arrivals carpet, but it was when Gaga removed the skirt later in the evening to reveal that the look was, in fact, a long sleeve lace catsuit(!!) with detachable ball skirt that even the haters had to bow down.
13/19
August 31, 2018: The Venice Film Festival
A star is born, in Valentino Couture. The Venice Film Festival premiered A Star is Born, and this marked Gaga's first in a long series of press appearances for the film. When she hit the red carpet in this giant over-the-top dress made of organza embroidered with tiers of pale pink feathers, we knew we were in for quite an awards season. Oh, and extra points for looking like an angel during a rainstorm.
14/19
September 9, 2018: The Toronto International Film Festival
The drama continues on her press tour for A Star is Born, this time, once again, in black velvet Armani Privé. Never one to miss out on "a moment" Gaga, slipped off her tulle veil, mid-carpet to reveal it turns into a shawl, bringing into the spotlight a pair of very serious diamond shoulder dusters.
15/19
October 15, 2018: ELLE Women In Hollywood Awards
As she has demonstrated time and again, dress for your audience. While still on her press tour for A Star is Born, Gaga attended the the ELLE Women in Hollywood Awards, where she chose this oversized Marc Jacobs suit. She explained in her acceptance speech—where she would reveal her experience with sexual abuse and discuss mental health—that she selected the suit look (as opposed to the many dramatic gowns she has been wearing recently), to "take the power back." "Today," she said, "I wear the pants."
16/19
January 6, 2019: The 76th Annual Golden Globe Awards
Now THIS is a movie star. Lady Gaga shut down the Golden Globes red carpet in this custom-dyed lavender gown by Valentino Couture, and as a final touch tinted her hair to match, natch. The gown pays homage to the 1954 dress that Judy Garland wears in her version of A Star is Born.
17/19
January 27, 2019: The Screen Actors Guild Awards
Lady Gaga continued to channel that old Hollywood glamour in Christian Dior Haute Couture, but the shredded tulle and sky-high-slit nod to her rock and roll attitude. The blood red lips, nails, and super sleek hair reinforce her goddess-like look.
18/19
February 10, 2019: The GRAMMY Awards
In a break from her full-on movie star mode, Lady Gaga returns to form in this custom silver sequin gown by Celine. This dress was inspired by a look from Hedi Slimane's debut collection for Celine. Gaga was among the first celebrities to sport his collection and crushed it on the red carpet with her no-frills rock-and-roll hair, a smokey eye, and attitude to spare.
19/19
February 24, 2019: The Academy Awards
Returning once again to her favorite designer, Alexander McQueen to snatch that Oscar—although maybe not the one she was hoping for. After all the frothy creations Gaga had sported on her press tour for A Star is Born, this Sarah Burton for McQueen dres—with its sculptural padded hips and lengthy train—is far from demure. Oh, and in case you felt like maybe it wasn't enough of a look for you, how about the famous 128-carat canary yellow Tiffany diamond, previously worn by Audrey Hepburn? Casual.
Marie Claire email subscribers get intel on fashion and beauty trends, hot-off-the-press celebrity news, and more. Sign up here.
Joseph Errico is Marie Claire's Fashion Director. As a career-long fashion editor and celebrity stylist, he has had the opportunity to work alongside the world's top image makers and talent. He has styled editorial and advertising, red carpet, music videos, fashion shows and writes about fashion, culture and most anything bon vivant-y for marieclaire.com. He feels most at home in an airport lounge, a beach, a disco or gossiping front row at the collections. His blood type is Gaultier.