16 Chic Scrunchies You Didn't Know You Needed
And we don't mean in a VSCO girl way.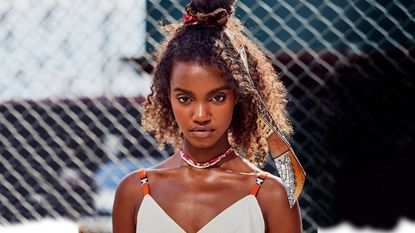 (Image credit: TYLER JOE)
Scrunchies have made a major and socially acceptable comeback, but why did they really ever go away? The scrunchie was an '80s and '90s accessories staple, but one so bold and so specific, it should never have ever really been "out." It felt like a real betrayal when accessories enthusiast Carrie Bradshaw infamously dismissed them in her review of Berger's book ("You have your leading lady running all over town wearing a scrunchie. A SCA-RUNCHIE!"). Why do you gotta be such a hater, Carrie? Scrunchies mysteriously look as good with a workout set as they do with a sexy slip dress—can many other accessories do the same?
That said, rocking a scrunchie is not for the faint of heart. It is a fun-loving accessory that commands attention, so it's important to play into that. Smaller, more subtle scrunchies don't really have the same effect. We've rounded up a broad selection of scrunchies in various prints, textures and levels of volume and encourage you to take it up a notch. Go big or go back to your regular elastic. Why? Because a scrunchie is simply not just a hair tie, it's a statement.
1/16
Rag & Bone Lambskin Leather Scrunchie
Luxe leather takes the scrunchie look from grade school to post-grad.
2/16
Lemlem Doro Hair Scrunchie
These summery striped scrunchies look even cuter when doubled up on a wrist like this.
3/16
Free People Spirited Away Scrunchie
Bandana print everything, always. And at 3 for $12, grab a few colors!
4/16
MYFAWNWY Marbled Silk Scrunchie
Marble is the chicer version of tie-dye. I said what I said.
5/16
Versace Baroque-Print Silk-Satin Scrunchie
A scrunchie in a classic Versace print takes your sweatsuit look up a real notch that involves zero percent effort.
6/16
Maryam Nassir Zadeh Carnation Silk-Satin Hair Tie
This "carnation" shaped scrunchie reads more floral than '80s, which solves the summertime problem of a fresh flower wilting in your hair.
7/16
Shashi Aurora Scrunchie
For an unexpected evening look, try this pearl-encrusted scrunchie around a topknot.
8/16
Miaou Scrunchie
Miao's Hawaiian print scrunchie is the ultimate summer MOOD, especially with the coordinating top.
9/16
Chan Luu Antique White Sleeper Scrunchie
This silk scrunchie with contrast piping is reminiscent of classic pajamas, which means it looks just as good with them at home as it does without.
10/16
Selva Negra Crown Scrunchie
I'll see your scrunchie and raise you a scrunchie HEADBAND. It can also be worn wrapped twice for an extra voluminous take on the classic ponytail holder.
11/16
Hermès Hermès Scarf Scrunchie
These scrunchies, made from upcycled vintage Hermès scarves, guarantee a one-of-a-kind look that feels exclusive but at the same time, satisfyingly sustainable.
12/16
Lele Sadoughi Eyelet Oversized Scrunchie
White eyelet, the less fussy, more countryside version of lace, is a super sweet addition to any ponytail.
13/16
Miu Miu Jewelled Striped Hair Band
If your summer look requires a crisp button down and chino shorts, add this preppy but playful striped scrunchie with a big pearl charm to really seal the deal.
14/16
Room Shop Vintage Giant Scrunchie in Heathers Red
Possibly one of the largest scrunchies in existence, this Insta fan favorite from Room Shop Vintage is EPIC.
15/16
Donni Terry Textured Scrunchie
Ideal for the beach, this terry scrunchie is like a personal towel for your wet hair pulled into a bun.
16/16
Horror Vacui Lu Scrunchie
Between the scalloped edge to the super girly print, this scrunchie feels super nostalgic but not too juvenile. It'll look best when paired with soft neutrals.
For more stories like this, including celebrity news, beauty and fashion advice, savvy political commentary, and fascinating features, sign up for the Marie Claire newsletter (subscribe here).
Julia Gall is the former Style Director at Marie Claire, covering all things fashion, as well as styling tips, wardrobe upkeep and sustainability. Check her out at @juliasgall.