Hudson Jeans Abandons Photoshop and Models for Its New Ad Campaign
And we've got exclusive pics.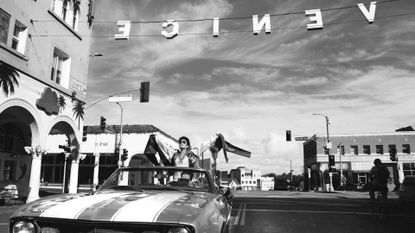 (Image credit: Hudson Jeans)
Hudson Jeans has a strict new policy: No more unnecessary Photoshop. Last fall, CEO and Founder Peter Kim decided to make a stand by re-launching Hudson, aiming to disrupt the denim market by pledging to use real people with compelling stories in future ad campaigns.
"I was watching a documentary called MissRepresentation and found myself mad at the world for how out of control this issue had gotten," Kim told MarieClaire.com. "I have two young girls of my own, and I thought about how this over-Photoshopped world was affecting them. Images that pump us full of self-hate and insecurity, and then capitalize on it. Then I realized that we too were participating in this,and could at least affect change through our own company."
Hudson's newest ad (shown exclusively here) is Kim's first example of a reimagined denim advertisement. Featuring Madeline Harmon—a vintage denim collector who wears it almost every day—and shot by Arto Saari, a photographer who also happens to be a professional skater, the ad is a big leap from what we normally see when it comes to jeans. There are no half-naked models with perfect behinds, no glimpses of what is typically depicted as the "ideal" body. It's just Madeline, looking pretty damn ecstatic.
You should also check out:
This Badass Designer Only Shows Clothes on Plus-Size Models of Color
A Plus-Size Blogger Asked 21 International Photoshop Experts to "Make Her Beautiful" and These Are the Results
12 Fashion Campaigns We Want to Live In
Colbie Caillat Takes a Stand Against Photoshop in New Music Video