Kate Spade Takes You Inside Her New Label
Get ready for Frances Valentine.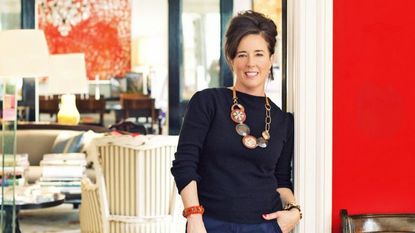 (Image credit: Jamie Beck)
On the heels of launching her accessories line Frances Valentine, the designer talks to Marie Claire's Nina Garcia about dinner-table traditions, OCD tendencies, and her family's go-to holiday escape.
Nina Garcia: What have you been up to since leaving Kate Spade 10 years ago?
Kate Spade: Spending time at my daughter Bea's school. I signed up for everything: library duty, general store, class rep—which I highly suggest not doing. Bea liked it, but now that she's 11, she's like, "Okay, you can step back a bit."
NG: Why did you name the label Frances Valentine?
KS: My brother, father, grandfather, and his father were named Frances. Valentine is on my mother's side—her dad's middle name was Valentine, because he was born on Valentine's Day.
NG: How are the two brands different?
KS: I'm reflecting on the past 10 years as a different person. I'd never been a mother; I'd never not worked. Starting at 11, I was a movie-theater popcorn girl, a babysitter, a sales clerk—in the Midwest, they start them early! Frances Valentine is where I am now. What I want to wear now.
NG: How has your style evolved?
KS: I was preppy, then suddenly switched around age 14. I asked my mother to go to this vintage store, and she let me buy a leopard swing coat, pink cigarette pants, and lime-green gloves. My mom was like the Diana Vreeland of Kansas City, Missouri. Out of place in big headscarves and pink lipstick, but I loved it. Our number-one bag is named for her—the "June." What's hilarious is she'd probably never wear it.
NG: How do you decide what to call each style?
KS: We name them after family and friends. People get invested. Like my sister Ann will say: "How's the Ann bag selling? I don't want my name on a bad bag!"
NG: Are you on social media?
KS: No. It's not me and I don't care. [My husband] Andy has Instagram—but he takes pictures of, like, weeds growing through cement. I can't imagine anyone would want to know what I was doing all day. My parents weren't photographing people. They were like, "Enjoy your moment."
"My mom was like the Diana Vreeland of Kansas City, Missouri. Out of place in big headscarves and pink lipstick, but I loved it."
NG: Whose style do you admire?
KS: Rei Kawakubo of Comme des Garçons. I love her twisted sailor tops. I once wore this red, cut-up cape to Bea's school Christmas party, and she was mortified.
NG: Where do you go to get away?
KS: We rent a house on the beach in San José del Cabo, Mexico, every Christmas. I invite all my family, their kids, their kids' friends. I like a full house because it's how I grew up. I'm one of six children. I'd love to sound educated and say I dive into a good book when I'm there, but in truth, I spend time with the kids playing cards, ping-pong, and board games.
NG: What's your favorite childhood memory?
KS: Eating dinner in front of the TV watching The Wizard of Oz. Now Andy, Bea, and I always have dinner at the dining room table. It's kind of our thing. There are no devices; we just sit and talk. We do "rose and thorns"—I've heard the Obamas do it—where we ask what the best and worst thing about our day was.
NG: What's your guilty pleasure?
KS: Popeyes and Taco Bell. I try to be healthy, but they're just so good.
NG: What about you might surprise people?
KS: People have this impression that I'm a little kooky, but I'm actually very OCD. I love order and organization. I'm a big list maker. But if I cross off too many tasks and it's hard to see the remaining ones, I have to start a new list. Now that's OCD.
1. Shoes $265. 2. Bag $195. Both items, Frances Valentine; francesvalentine.com.
This article appears in the October issue of Marie Claire, on newsstands now.
Celebrity news, beauty, fashion advice, and fascinating features, delivered straight to your inbox!